We use affiliate links. If you buy something through the links on this page, we may earn a commission at no cost to you. Learn more.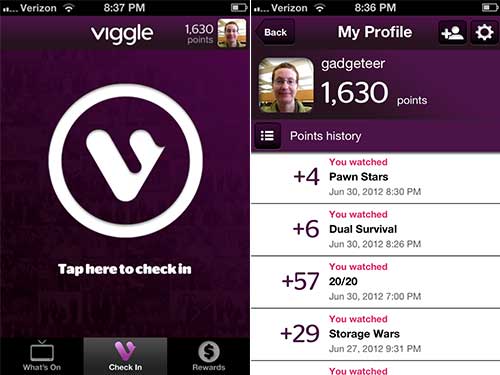 Damn you Viggle! I recently cut way back on the TV shows that I follow and now I learn about a free app called Viggle, that will let me earn points that I can trade for gift cards, movie tickets and even laptops, just for watching TV. I'm doomed…
The Viggle iOS or Android app works like SoundHound. You just hold it up while a TV show is playing, press the big button in the center of the screen, wait for about 15 seconds and it figures out what you're watching. I can understand how SoundHound works to figure out what song you might be listening to, but I don't know how the heck this app can figure out what TV show you're watching. I've tested the app for the last couple of days and it just amazes me how it guesses the show I'm watching. Although you do tell it your TV provider (DirecTV, cable, etc.) it can even guess when its a recorded show.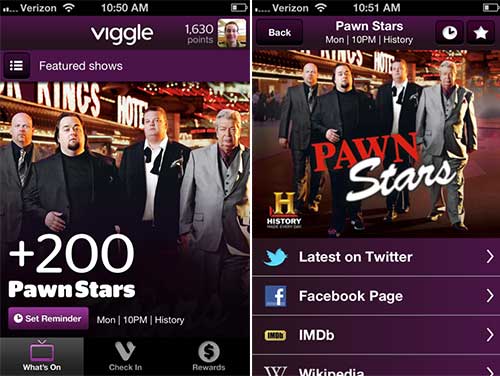 When you check in by having Viggle figure out the show you're watching you can find out more about the show by seeing recent tweets, the show's facebook page, wikipedia info and even related merchandise on Amazon. But even better, each time you check in, you'll earn points that can be redeemed for gift cards from all sorts of places like Starbucks, iTunes, Lowes, Barnes and Noble, etc. In addition to gift cards, you can enter contests and also trade your points for physical products like an iPod Touch or a even a Macbook Air.
Points vary depending on the show and prizes require a lot of points. For example, 1 movie ticket from Fandango requires 21,500 points. A Macbook Air requires a whopping 3,7 million points! But, you do start out with 1500 free points when you do your first check in and you are entered into a daily drawing to win 1 million points each day as long as you check in once.
It might take awhile to accumulate enough points to trade in for a prize, but it's free, it's easy and it's fun, so what the heck.