We use affiliate links. If you buy something through the links on this page, we may earn a commission at no cost to you. Learn more.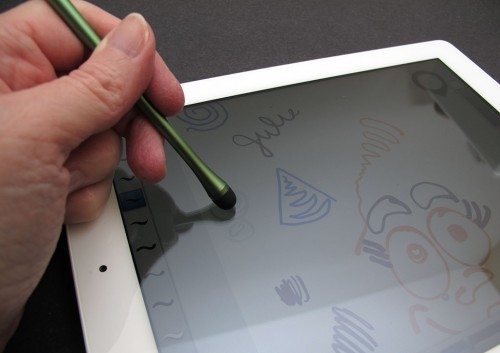 My quest for the best stylus continues as I keep finding new ones that look interesting enough to try. The latest one to glide across my iPad is the Monet stylus from The Joy Factory. Available in Green, Pink or Black, this stylus looks more like a drumstick than a capacitive stylus. Let's take it for a doodle and see if its unique shape is an upgrade to otherwise ordinary styluses.
Note: Click the images in this review to see a larger view.

Made of anodized aluminum with a smooth satin finish, the almost 7 inch long Monet stylus is longer and more slender than most.

Here's a comparison shot with the Monet on the Left, a Targus stylus in the center and an Adonit Jot Pro on the right.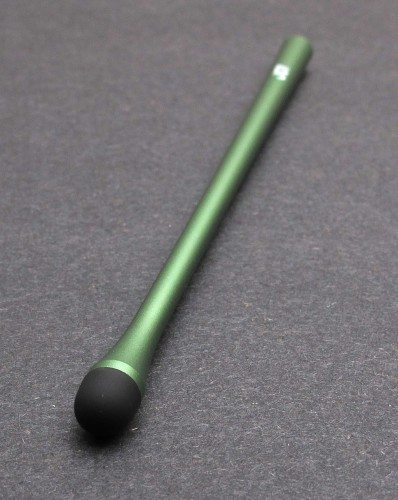 The Monet's claim to fame is its unique shape that provides a comfortable weight and balance. This stylus also features a black hollow rubber tip that feels like the same tip used on less expensive styluses. However, this tip is different because it can provide a 165 degree writing angle. That means that you can practically write with it parallel to the screen.
Here is a quick video so you can see it in action:
I'm not sure why a person would really need this ability, but having a greater writing angle is definitely not a bad thing.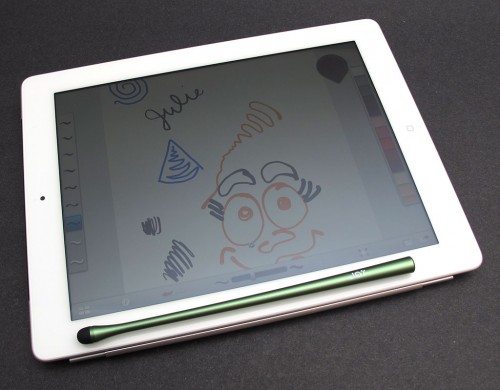 After using the Monet stylus for a few days, I have slightly mixed feelings about it. I like the feel of it as far as weight and balance, and I've come to appreciate the greater writing angle. But the tip has the same issue that other rubber tipped styluses suffer from… it's too large and gets in the way of what you're drawing when you're trying to do really detailed work. For less detailed work, it's great though. I'd really like to hear from some iPad/tablet artists to find out what their favorite styluses are.
Product Information
Price:
$29.95
Manufacturer:
The Joy Factory
Pros:

Nice weight and balance
Tip allows for 165 degree writing angle

Cons:

Tip is large and gets in the way