We use affiliate links. If you buy something through the links on this page, we may earn a commission at no cost to you. Learn more.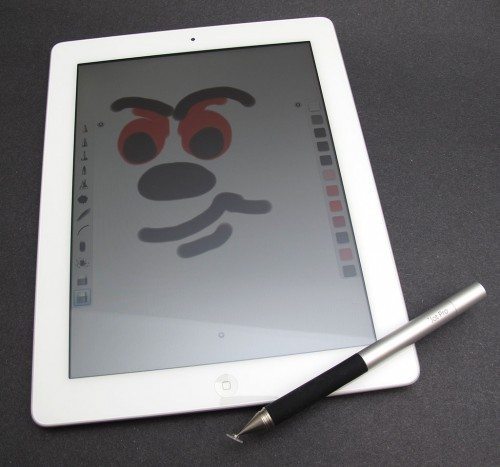 Accessories can sometimes be just as important to us as the gadgets themselves. I don't know about the rest of you, but I'm always on the lookout for a new favorite gear bag, wallet, writing instrument, phone case, etc. Lately I've been fixating on finding the perfect capacitive stylus that I can use for drawing and writing. When I came across the Adonit Jot Pro Stylus, I knew I had to try it. I actually purchased it with my own cash because I didn't intend to review it. But after using it for a couple weeks I knew I had to share my experience. So here goes.
Note: Click the images in this review to see a larger view.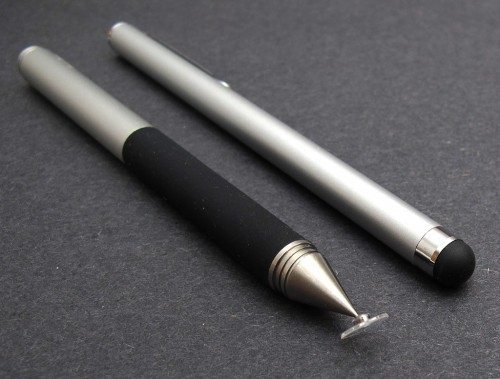 Over the years, I tried many capacitive styli with my iPad and Android tablets. With only a few exceptions, they've all been pretty similar. In the image above, you see the Jot Pro next to a Targus stylus. The Targus has a typical large rounded rubber tip. Although it works fine for writing and drawing, it's less than optimal because it's difficult to do really detailed work because it's hard to see what you're writing due to the large tip. The Jot Pro has a very unique tip which solves that problem very well.

First of all the Jot Pro is larger than the typical stylus. It's more along the lines of a pen or mechanical pencil. It is 6 inches long and .375 inch in diameter. It's also nicely weighted and balanced to give it a true pen-like feel.
The barrel is made of aluminum and is available in Black, Silver and Blue. A rubber grip around the bottom half of the barrel makes the stylus comfortable to use for long writing or drawing sessions.
It also has a magnet in the barrel that allows it to "stick" to your iPad.

I love love love that there's a threaded cap that protects the stylus tip when it's not being used and stores on the opposite end when it is in use.
Replacement caps are available in several colors for $6.00.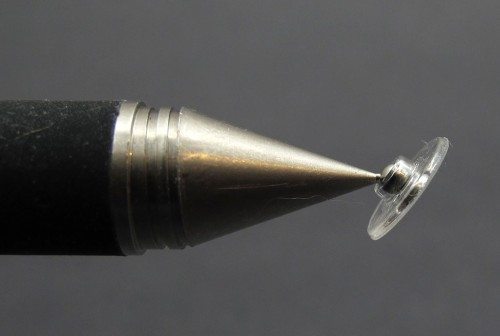 The tip of the Jot Pro is what sets it apart from the other capacitive styli I've reviewed. It looks like a finely tapered point with a plastic disc stuck to the end. But if you look really close, you'll see that the tip is actually a tiny ball.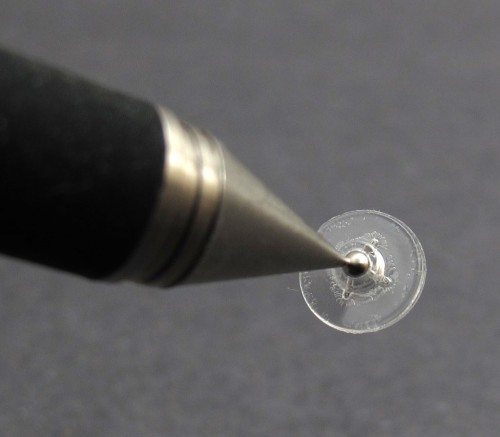 The transparent disc snaps on to the ball tip allowing it to swivel in a variety of angles.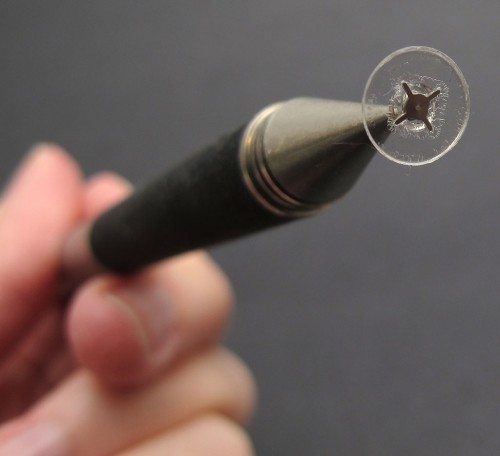 The bottom of the disk has a thin layer of plastic, so you don't have to worry that it will scratch your display. Replacement discs can be purchased at $8 for 2 discs.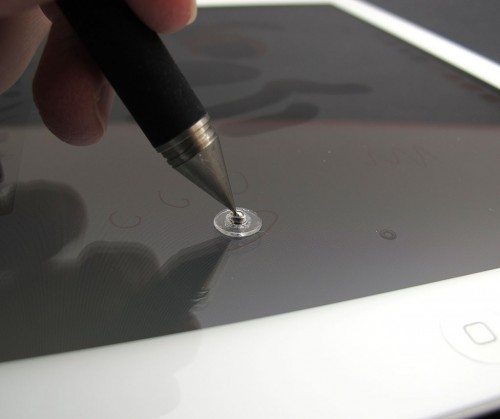 The Jot Pro glides effortlessly on an unprotected display. However, it didn't work well at all on a Pure Gear screen protector which I had on my iPhone. It felt sticky and wanted to drag across the screen. The Pure Gear protector is thicker and softer than other protectors I've used, so it's possible that the Jot Pro might work just fine with other brands of screen protectors.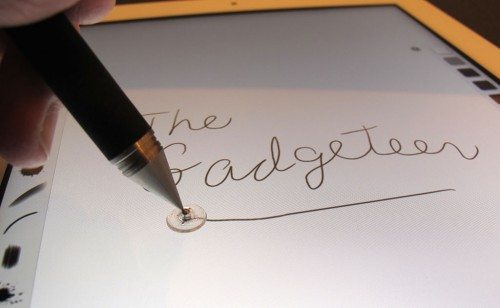 The swivel disc lets the stylus adapt to the way you hold it instead of you having to hold it in a certain way against the display.
The best thing about the Jot Pro is that you can see what you're writing and drawing through the disc. It really makes a huge difference when drawing and allows for more detailed work. I also found that the Jot Pro is the first stylus that actually feels like a pen when writing. In addition to the Jot Pro, Adonit also offers a classic (does not have the rubber grip or magnet) for $19.99 and a Jot mini that has a pocket clip (no pricing on that one yet). Even more importantly, Adonit will be offering a pressure sensitive stylus soon that I'm really looking forward to try. The Jot Touch will allow for varying line thicknesses when drawing depending on how hard to press it against the screen.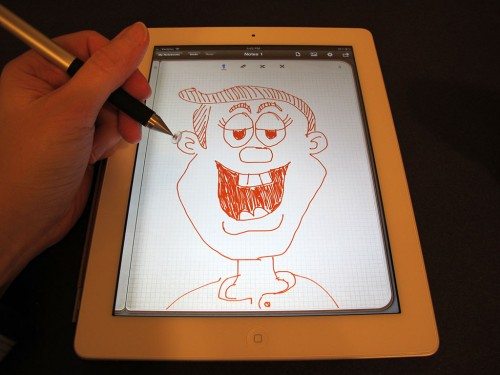 The Adonit Jot Pro is my new favorite stylus. What is yours?

Product Information
Price:
$29.99
Manufacturer:
Adonit
Pros:

Can use at any angle
Ability to see the "ink" under the tip

Cons:

Doesn't work well with some screen protectors