The Gadgeteer is supported by readers like you! If you buy something through links on our site, we may earn an affiliate commission. Thank you! Learn more.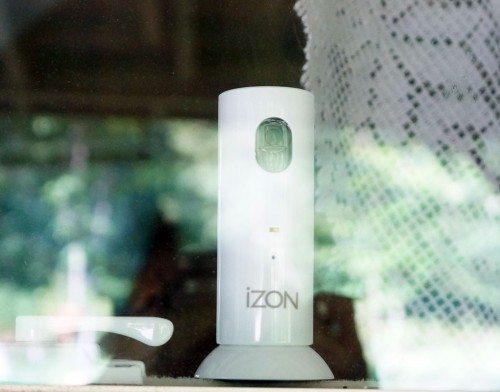 The Stem Innovation iZON Remote Room Monitor is a WiFi based camera that has been designed to work specifically with iOS devices. The idea is to place the iZON camera in a desired location and then view it remotely using your iPhone or iPad. I've been trying one out for a couple of weeks now and am ready to share my opinion on its features and performance.
Note: Click the images in this review to see a larger view.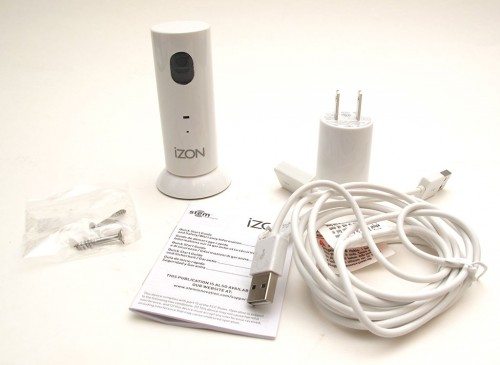 Package Contents
iZON camera & base
2 screws/wall anchors
Power supply
6ft USB cable
4in USB extension cable
Quick Start Guide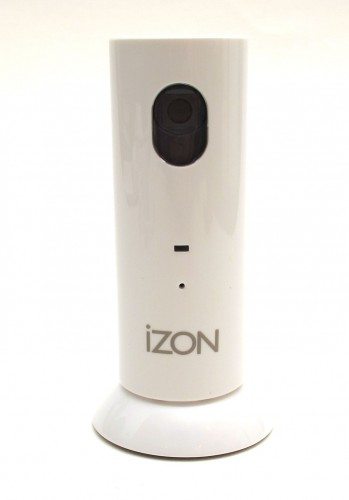 The iZON is a White tube shaped plastic camera with a microphone and status LED on the front.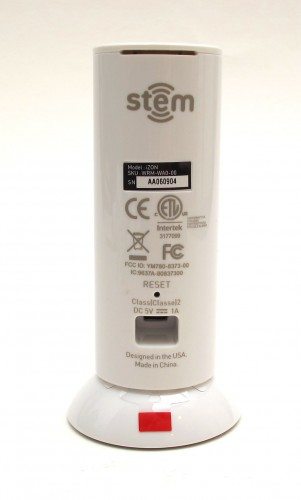 On the back you'll find a reset switch and USB connector.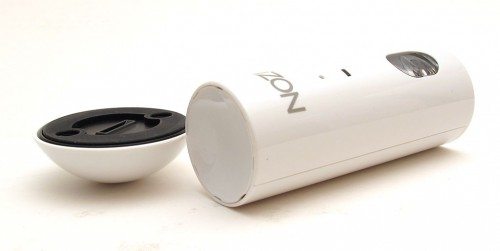 A magnetic base allows you to position the camera on any flat surface either freestanding or by permanently attaching the base with the included screws. Since the base is magnetic, you can easily adjust the angle of the camera. It's possible to attach the base to a wall, but it's not easy to position the viewing angle. Attaching it to the ceiling is a better idea as there is an option to flip the video. I actually think that  Vue has a better design of this same domed magnetic base idea.
Setting up  the camera is simple. First connect the iZON camera with the included USB cable and AC adapter into a outlet. Make sure your WiFi network is operational and then download and install the free Stem:Connect app on your iPhone or iPad and follow the prompts.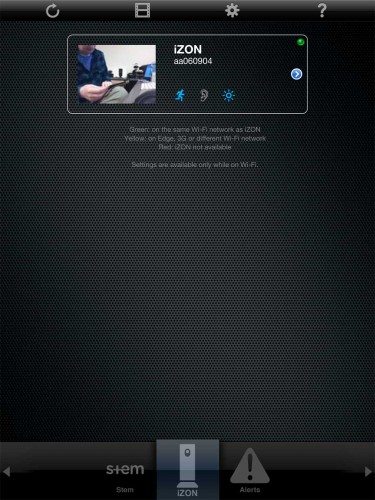 Once setup, you will see a thumbnail view of your camera in the app. The icons next to the thumbnail allow you to toggle motion detection, audio detection and the LED status light on the front of the camera. Tapping the thumbnail takes you into the live view.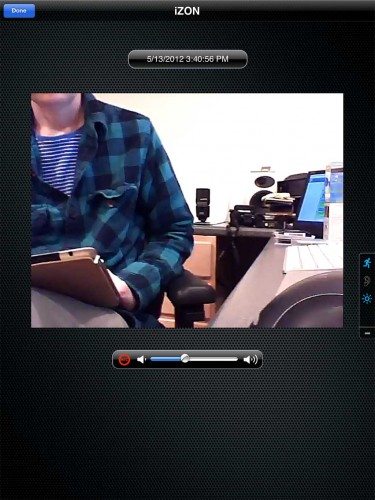 With the current app, the iZON captures QVGA resolution video at 10fps. QVGA is 320×240 resolution. A planned update to the app this summer is supposed to boost video to VGA (640×480) 30fps. While the video looks semi decent, the problem is that it's EXTREMELY laggy. I'm not talking 1 or 5 seconds, which would be completely forgivable. I'm talking 20-30 seconds and even long at times. I've reviewed a few different WiFi cameras and this is the first one that I've tested that is that slow. Stem Innovation states that a 802.11n network with upload speeds of 2 Mbps (384Kbps required) is recommended. I have a T1 line, which is 1.5 Mbps up/down and have no trouble with the Dropcam, Dlink or Vue cams.
If you can deal with the streaming lag, there is still more that may disappoint you. First of all you can only watch live video on your iPhone or iPad. There's no way to watch it on a webpage via your laptop, desktop computer or other non-iOS device. I guess this isn't a huge deal, but what is annoying is that you can only watch video for 5 minutes at a time when you're not watching it through the same network that the camera is connected to. They call the iZON a room monitor, but you can't really do serious monitoring if you can only watch it for 5 minutes at a time. You only run into this limitation when you're accessing the camera from your iPhone or iPad using 3G or another WiFi network.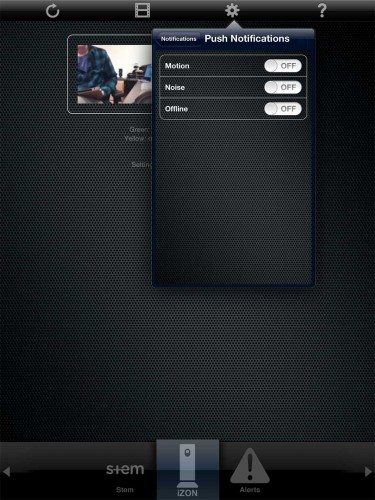 The app has the ability to notify you when it detects motion, audio or if it goes offline. The notification is just a popup message on your iPhone or iPad.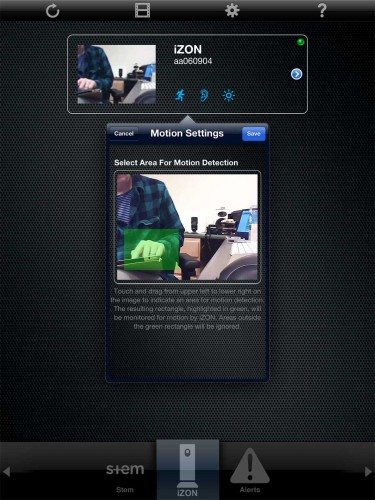 The motion detection feature can be customized to detect motion in a specific area of the camera's "vision".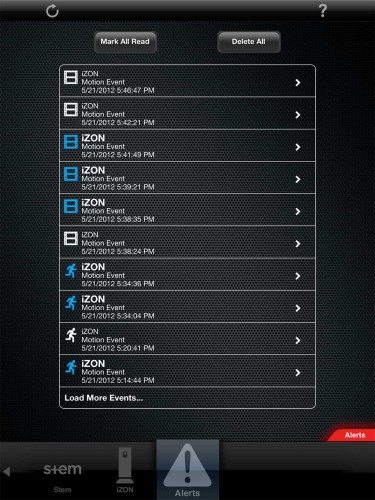 If you have a private YouTube account, you can have the motion alerts upload 30 seconds of video. Otherwise, the alerts are pretty useless because all they show you is the date and time the alert was detected. It doesn't show you the actual video clip unless you have YouTube uploading configured. That said, I connected the iZON to my regular YouTube acct and couldn't get it to upload video. I've even tried manually recording a clip by tapping the REC button on the streaming screen. Still nothing.
I finally decided to create a brand new YouTube account and try that, and it finally started working. But now I have another problem… I can't turn off video uploading because it keeps telling me it can't login to my YouTube account even though it's continuing to upload video every time motion is detected. 🙁
Here's an example of an uploaded video.
Watching the uploaded YouTube videos through the Stem:Connect app is painful as it continues to require me to type in my username and password each time I want to view a video. If that wasn't bad enough, after I type that info in, it takes another 15 or so seconds to connect.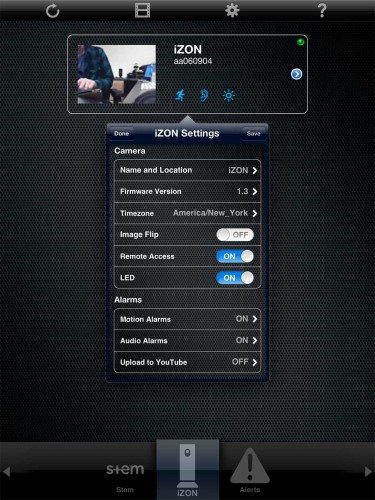 Just a note… The only settings that you can change remotely (when you're not on the same network as the camera) is to toggle the audio, motion and power notifications. You can't change any of the other settings, which is strange. And 7 times out of 10, I have problems  changing the other settings as the app crashes whenever I'd try to go into the advanced settings list.
The iZON has some potential, but as is, the iOS application is buggy and video is too way laggy. My advice is to skip the iZON for now and go for the Dropcam or Dlink, which have iOS, Android apps and can also be accessed through any web browser on any computer. My personal favorite is the Dropcam. See links for these other WiFi cameras below.
Support The Gadgeteer
:
The Gadgeteer is supported by readers like you! If you buy something through the links on our site, we may earn a small affiliate commission. Thank you! Learn more.
Product Information
Price:
$129.95
Manufacturer:
Stem Innovation
Requirements:
Pros:

Easy to setup
Small
Good in low light
Has motion and audio monitoring with push alerts
WiFi

Cons:

Very laggy live video streaming
Can't access live video from web
Can only view live video remotely (on other WiFi network or 3G) for 5 minutes at a time
iOS only