We use affiliate links. If you buy something through the links on this page, we may earn a commission at no cost to you. Learn more.
This post brought to you by POWOW Messenger. All opinions are 100% mine.

Do you enjoy texting your friends with your smartphone more than you do talking to them face to face? If you also happen to be an Android user, there's a free app from Handmark called POWOW Messenger for Android that provides an impressive set of features to elevate your texting skills and enjoyment to the next level. The app really comes in handy when you want to text a group of your friends because you can send one text to a whole group and then keep the conversation going on one scrolling screen of messages instead of popping back and forth between individual conversations. To test this app, I installed POWOW on my Motorola Droid X.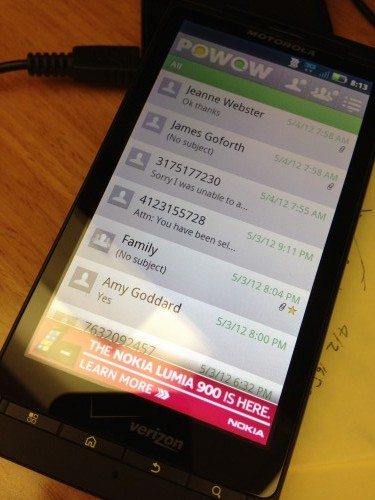 After installing the app, you will receive a text message with a link that you have to click to activate POWOW. Once activated, you can create named groups of your friends. Doing this will create a special phone number for that group. The app will send a message to everyone in your group using that number.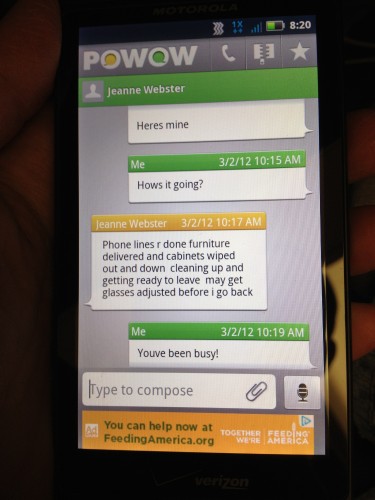 POWOW has an easy to use interface that isn't radically different than most stock messaging apps with a familiar speech bubble style. It has a few extra features that I don't have on my iPhone though, like the ability to attach, ringtones, slideshows and audio in addition to pictures and video to a text message. It's also easy to quickly sort your texts by individuals, groups and favorites.
Another nice feature is the ability to "mute" and blacklist people. If you mute them, you'll still receive their text messages, but you won't be notified that they are coming in. Messages from blacklisted people won't even show up, which is a nice option to block out your crazy stalker ex-girlfriend.
Other features that POWOW provides are:
• ZipIt – Blacklist unwanted texters so you don't see notifications or text messages from them OR "Mute" notifications message notifications for select contacts while retaining their messages in your history.
• PopUp Notifications: Instead of exiting an app or browser to see your new message, have it pop up right on your screen where you can decide whether to respond, ignore, delete, or call.
• Storage of Groups on Server: Quick retrieval of groups if you change phone or phone number.
• Favorites: Easily set your favorite contacts and filter messages without having to scroll through your entire history.
• Emoticons: Supports native emoticons (non-text) available for your Android device.
• Contact Pics: Import Facebook, Twitter, Google Contacts, and/or LinkedIn pics for use in your text conversations.
• Long Date/Short Date: Customize to show date/time in the fashion you prefer.
• Voice Text input capability: Utilize Google's voice input technology to speak your texts rather than typing.
• Easy Delete: Single-press delete of individual messages within a thread or complete conversations.
• Call shortcuts: Access your phone capabilities and make calls through a single click.
You get all of this for free. The only catch is that you have to put up with ads at the bottom of the display. Some of the ads are annoying as they can sort of trick you into clicking them because they look like a special feature of the application. So just keep that in mind. If you get tired of ads, there's an option where you can upgrade to POWOW Pro via an in-app purchase.
All in all, POWOW is a handy alternative for Android owning texting fanatics.