We use affiliate links. If you buy something through the links on this page, we may earn a commission at no cost to you. Learn more.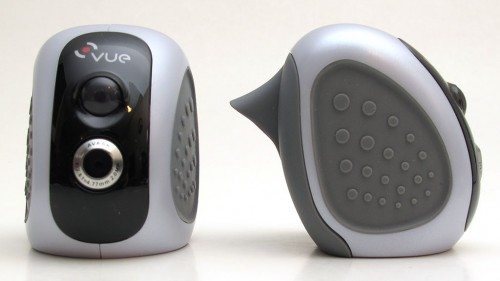 A couple years ago I had the opportunity to review the VueZone Personal Video Network System. I liked it for its ease of setup, but wished it could do a few things that it couldn't at the time. Fast forward almost 2yrs later and VueZone is now offering their 2nd generation motion detecting cameras and the features I asked for. Let's see if this updated system is a good solution for keeping an eye on your property when you can't be there.  Note: The images in this review can be clicked to see a larger view.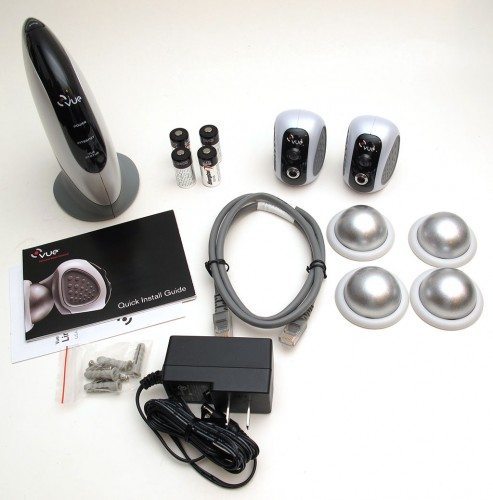 Package Contents
2 Motion Detection cameras
VueZone Gateway
4 Batteries (CR123 Lithium photo battery)
Ethernet cable
4 Magnetic bases with mounting hardware
Quick Install Guide
AC Adapter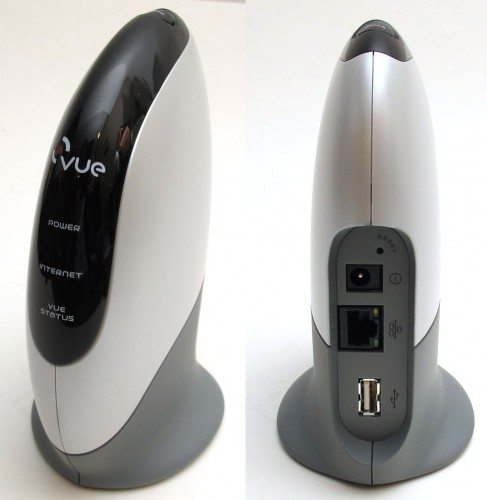 The VueZone system requires you to connect the gateway to your Ethernet router. You don't need a computer to actually run the VueZone system, but you will need one to set it up the first time. Setup is easy. The first step is to plug in the gateway to power and then connect an Ethernet cable from your router to the back of the gateway.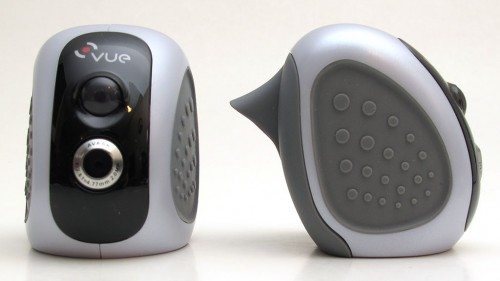 The new generation cameras are a bit wider than the first gen and have a motion detecting eye on the front.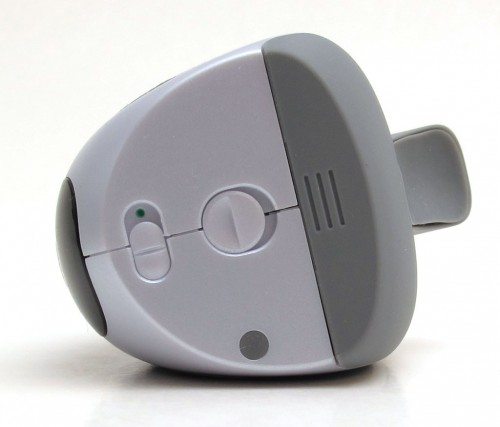 There's a power switch and battery latch on the bottom of each camera.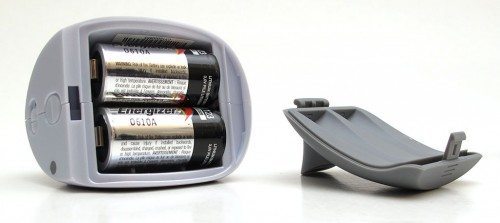 The cameras are powered by 2 CR123 cells. Luckily, 4 batteries are included in the package.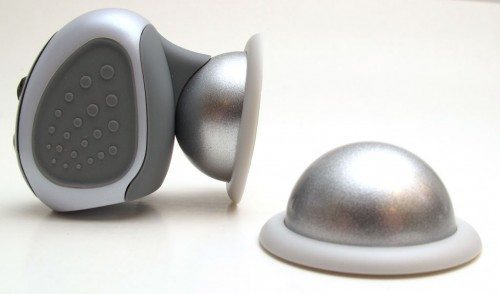 You can easily place your cameras on any flat surface as they have a nice wide base. Or you can use the magnetic dome mounts.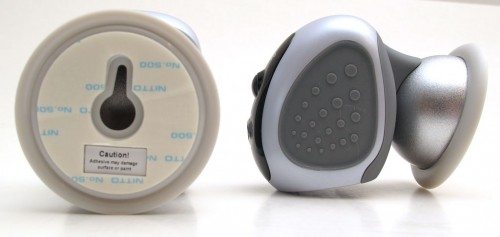 Four domes are included with the system. These domes have a nail slot and an adhesive sticker on the bottom so that you have different options for affixing them to a wall or other flat surface.
Once you have connected the gateway to your router, installed the batteries in the camera and turned them on, you just press the sync button on the top of the gateway so that it can recognize each nearby camera. The last step in setup is to register your system via VueZone's website. This just requires you to type in a special number that is associated with your system. Within a few minutes, you'll be able to remotely view video from the cameras.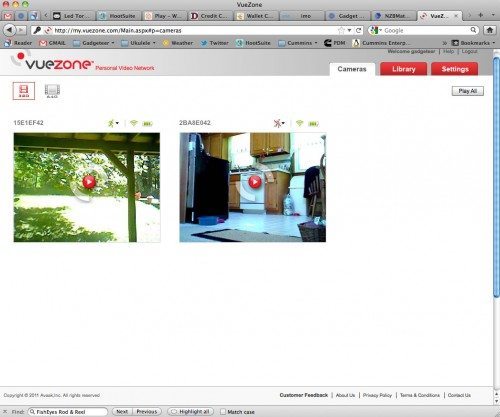 The online interface is pretty basic as you can see above. You're presented with small thumbnail images of each of your connected cameras. You can then click them to see a live view. Unfortunately, you can't view both camera feeds at the same time via the web interface.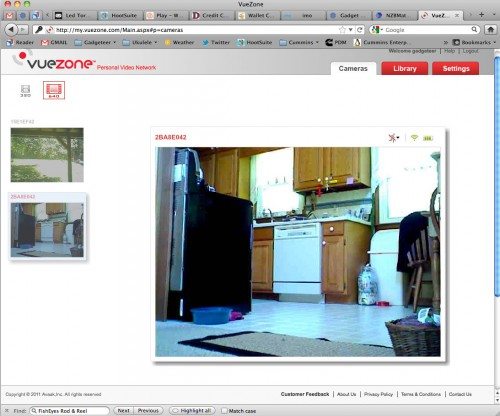 A larger (640 pixel) live view is also an option. Here's a view of my kitchen. The video / picture quality is pretty good when viewing indoors in normal light.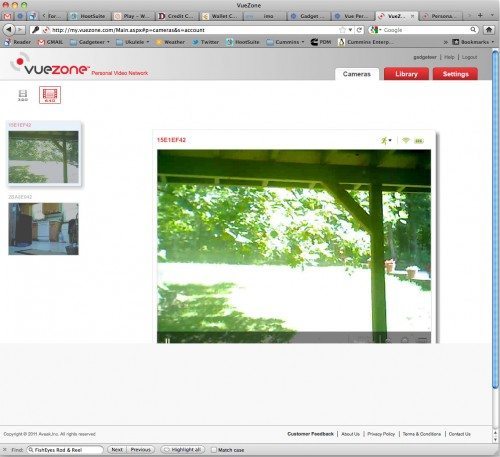 But viewing outdoors like we see here isn't too good at all. As you can see, the bright sunlight really washes out the picture. There are a couple lighting settings you can tweak to try to help the image quality, but I didn't find them to be very helpful in my situation. It's disappointing since my main use of these types of cameras is to monitor who is driving past or up to my house. The video quality looks much better on an overcast day or when the sun isn't glaring like it was when I was doing my tests. That said, I've reviewed another system (DropCam) that doesn't have this issue when used in the same location / time of day.
It's also very important to note that the VueZone cameras are not intended for continuous monitoring. Mainly because they run on batteries. I was hoping this 2nd generation would allow for an AC power option… New batteries should last 6 months with normal usage which is defined as 5 minutes of viewing or recording a day.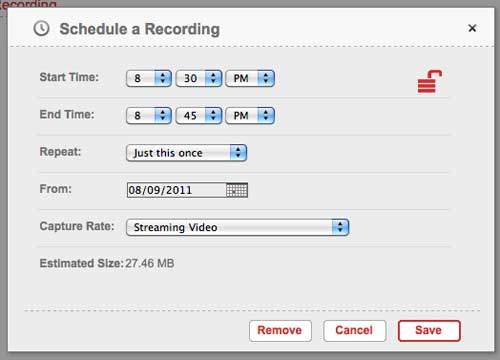 One the features that I am happy that has been added is a recording scheduler.
There are options for a one time recording, same time each day or same time Wednesday, etc.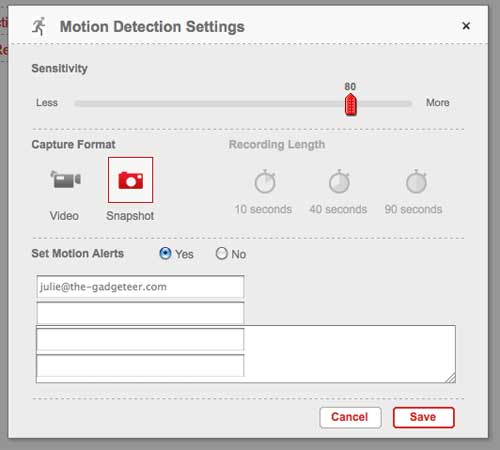 And of course there's the new motion detection feature too. You can use this feature to automatically capture video when motion is sensed, or grab a snapshot. Either option can be set to you via an email. The free basic service plan will allow for snap shot emails, while the advanced (paid) plan gives you either snap shot or video – your choice.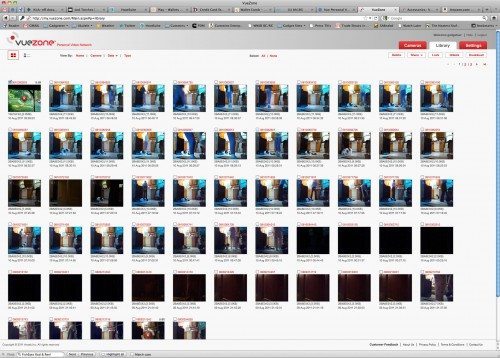 You can also view, share and download all the motion captured images and videos which are automatically stored in your VueZone library online. The images are stored as JPGs and the videos are stored as MPEG-1 files.
There are also free apps for your iPhone (no fullscreen iPad version yet), Android and Blackberry that you can use to remotely view your cameras from wherever you happen to be. These apps (at least the iPhone and Android) give you the ability to view both cameras at the same time – sorta… It actually updates each camera view every couple of seconds so it appears you're viewing them both live at the same time.
All VueZone systems include the features I've just described. For some extra features you have to pony up for a monthly service plan. If you're willing to pay $4.95/mo
(or $49.95/yr) you'll also get more storage online for your captured images / videos (2GB) and the ability to receive emailed videos when motion is detected, advanced smartphone alerts. You'll also get a pan / zoom feature which will allow you to zoom in on an area in the video with your mouse.
I like that the VueZone system is so easy to setup and requires no wires for the cameras. But just like in my original review, I still wish the VueZone had a way to power the cameras via AC so that you wouldn't need to worry about battery life. Better light balance for viewing out a window into a bright day really needs to be addressed and heck, let's wish for an audio feature too. All that said, the price of this system isn't bad considering the things you can do without having to pay a monthly fee. I will recommend the VueZone Motion Detection Personal Video Network for people that want an easy way to remotely monitor the interior of their home via the web or their smartphone. If you're looking for a system to monitor exterior of your home, you need to look elsewhere. Although there's nothing stopping you from setting one of the little cameras outdoors temporarily to try to catch some specific action. Just make sure it's in the shade so that you'll be able to see that action.

Product Information
Price:
$289.95
Manufacturer:
Vuezone
Requirements:
Pros:

Wireless
Easy setup
Apps for iPhone, Android and Blackberry
Free email alerts

Cons:

Cameras powered by batteries, no AC option
Video quality problems when in bright and low light locations
No audio