We use affiliate links. If you buy something through the links on this page, we may earn a commission at no cost to you. Learn more.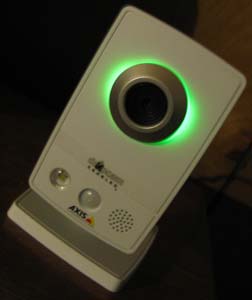 Do you worry about your property, pets, kids, parents, etc. when you're not physically with them? How would you like an extremely easy to setup security camera system that can show you a live view anytime you like from a PC or Mac browser, or from your iPhone and iPad? If that sounds good, wait till you hear about the other features that the Dropcam Echo Wi-Fi Security Camera can offer.
Last month Jeanne and I took a vacation to Sanibel Island, Florida. It was a wonderfully relaxing vacation and I highly recommend the location. But you know how it is while you're away from home, you sometimes wonder if everything is ok and wish you could 'see' inside your house. The Dropcam Echo allowed me to do just that from over a 1000 miles away.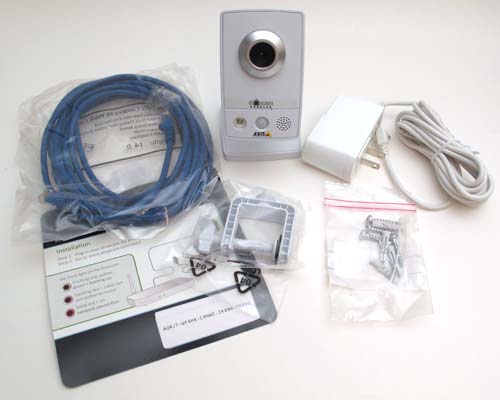 Package Contents
Dropcam Echo camera
AC adapter
Ethernet cable
C-clamp
Mounting screws
Instruction sheet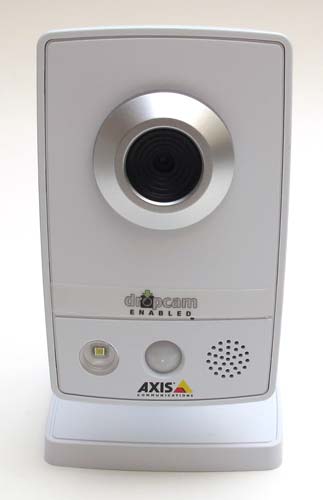 Dropcam offers two cameras solutions, both of which use the popular Axis brand of IP cameras. These are small plastic housed cameras that offer 320 x 240 resolution, 30 frames per second, and 1 lux. The Dropcam Echo will even capture audio as well as video.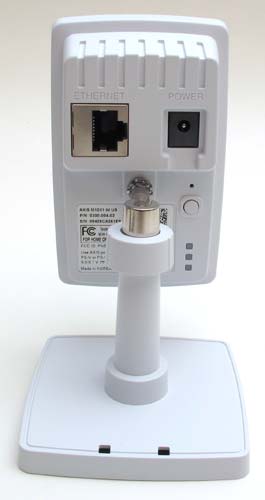 The camera sits on a swivel base that you can lock down with the included C clamp. Or you can even fasten the camera to a wall with the included screws.
On the back of the camera is an Ethernet port, reset switch, status LEDs and the power port.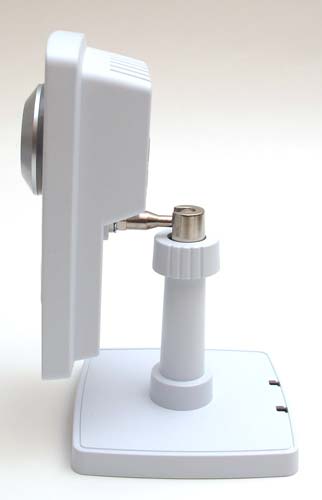 Setting up the camera is a snap. Probably the easiest such setup I've experienced. Using the included Ethernet cable, you plug the camera into your router and then visit a special webpage on the dropcam site to set up your camera. All you have to do is type in the supplied code to activate the camera. Once activated, you can unplug the Ethernet cable and go wireless. Simple!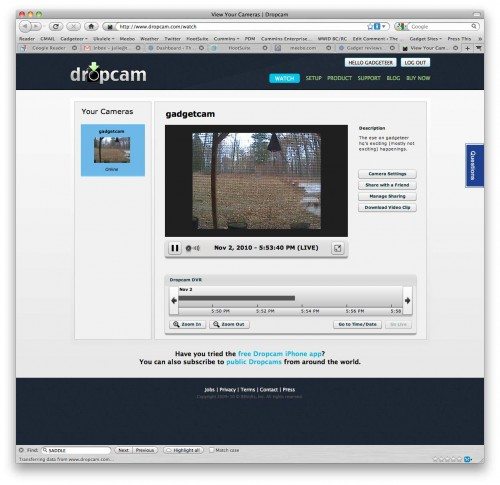 Using Dropcam's portal, you can view your camera(s) via your web browser. You'll see and hear a live view. One caveat is that the browser has to be able to use Flash. Yeah, you probably think that leaves out the iPhone and the iPad right?
Wrong 🙂 There's a free Dropcam app that you can use to view your cameras. It works great on the iPhone and iPad, although there's not an HD (full screen) version yet for the iPad. You have to view it in the mini mode or magnify it by pixel doubling. This is actually how I was able to view the camera while I was in Florida last month. It gave me a piece of mind to be able to check in at anytime I liked, just to see my house.
I like that you can see a thumbnail view of the sound and motion events that were captured (if you subscribe to the Plus or Pro plans).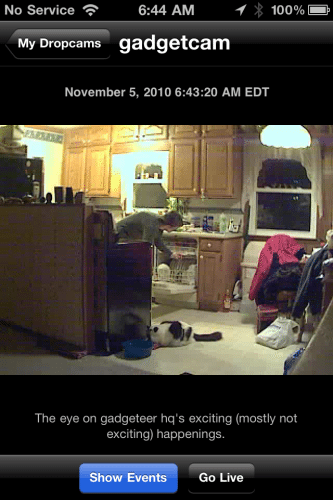 And you can watch a live view of your cameras with audio.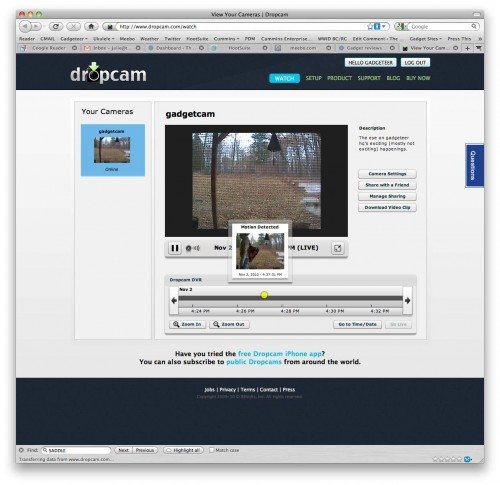 The iPhone app is nice, but viewing on a real browser does give you more options depending on which service plan you opt for. So let's talk about that subject really quick. Out of the box, you get a 14 day free trial of the Plus plan. The Plus plan is priced at $8.95 per month and it gives you 7 days of DVR access. That means that you can scroll through the time line to watch captured video…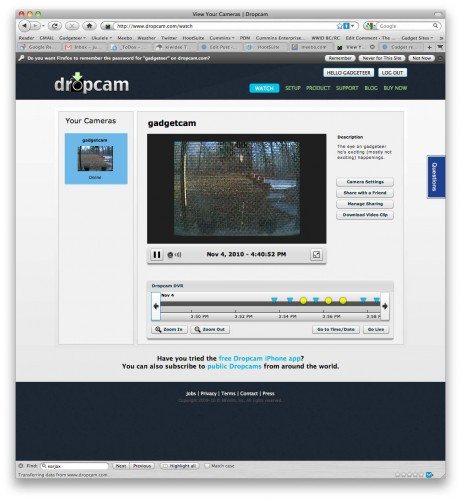 …and listen to captured audio. Motion events are designated with Yellow dots and audio events by Blue triangles. In addition, you can download screenshots or video clips to archive the footage permanently.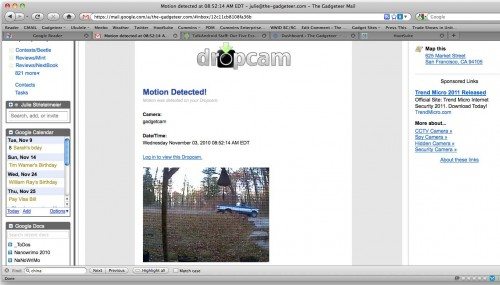 The Plus plan also allows for email alerts at for captured audio and / or motion events. The emails contain a snapshot as well as the date / time of the event. There's also a Pro plan that is $24.95 per month. The only difference between it and the Pro plan is the 30 days of captured video instead of 7 days.
If you don't want another monthly subscription fee, you can opt for the Basic plan. It doesn't cost anything and gives you live viewing on the web and through the iPhone app. You don't get the DVR feature or email alerts though…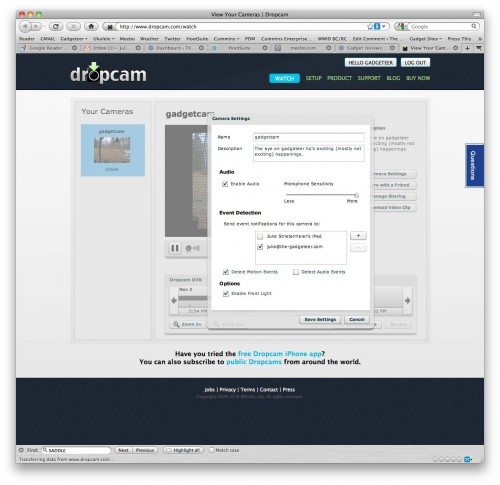 Settings can be modified to turn on / off email notifications for audio and motion events. You can also share your cameras with your friends so that they can also login to view them.
If you're a subscriber of the Plus or Pro plan, you can save video clips in 5 – 15 minute chunks. Here's an example:
I've had good luck with this camera. I've experimented with moving the camera to different locations inside my home and haven't had any problems with it capturing video via WiFi. Just for your info, my router is located in my basement and I generally keep the camera on the main level. It's also important to note that the cameras are meant for indoor use and aren't weather resistant.
So far I've only ran into one technical issue; I am unable to view my camera via Internet Explorer v8 under Windows 7 on the laptop at my day job. It will show a connection failed message in the live view window. I think this is a problem with the firewall and the policies of my company though and not the fault of Dropcam.
If I could be granted one wish it would be a way to host the camera on my own computer to be able to get around the monthly service plan fees. But other than that, I have really enjoyed reviewing the Dropcam Echo and would recommend it as an easy to setup solution for remotely monitoring your property or loved ones.
Product Information
Price:
$279 (DVR and Email aleart features require a monthly subscription)
Manufacturer:
Dropcam
Pros:

Fast and easy setup
Email alerts
Web accessible (must have flash)
iPhone remote app

Cons:

Web viewer requires flash
iPad app not full screen
No Android app
Camera resolution is low