We use affiliate links. If you buy something through the links on this page, we may earn a commission at no cost to you. Learn more.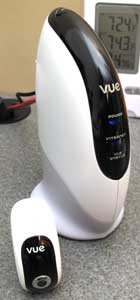 Being able to keep an eye on our pets and home when we're not there can be very useful for those of us that tend to worry. For those of us that don't have a worrying bone in our body (me most of the time), it's just fun to be able to check in and see if the cat is on the kitchen table or there's a package waiting at the front door. The Vue Personal Video Network can be used by those that worry and those that don't. It is probably the easiest remote video system that I've ever set up or reviewed. Keep reading to learn more.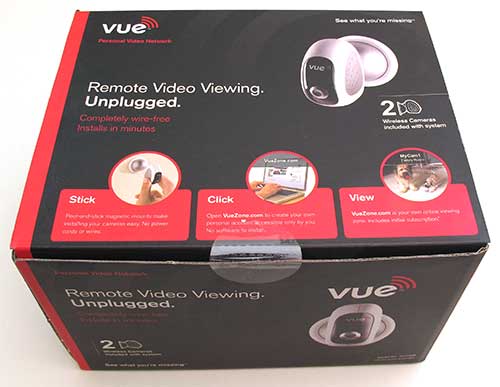 Hardware Specifications
Camera
Video Format: FLV (Flash Live Video)
Video Resolutions: VGA (640 x 480 pixels), QVGA (320 x 240 pixels), QQVGA (160 x 120 pixels)
Focus range: Fixed focus (60 cm to infinity)
Light sensitivity: High sensitivity (>2.0/lux-sec) Automatically adapts to changing light conditions
Battery: Lithium Ion CR123 Photo
Dimensions: 2.9 x 1.0 x 2.1 in.
Weight: 28 g (0.98 oz)
Gateway
Gateway processor and memory: XSCALE, 32MB Flash, 16MB RAM
Interface ports: Ethernet, USB (WiFi)
DHCP: Enabled
WiFi support: Yes – optional accessory required
Antenna: Internal
Wireless range: 300+ feet LOS1
Network data rate: 2MB/Sec
Number of camera supported: Up to 50
Power adapter: 110V-240V, 50-60 Hz, input
Dimensions: 5.0 x 2.9 x 4.4 in.
Weight: 12 g (4.5 oz)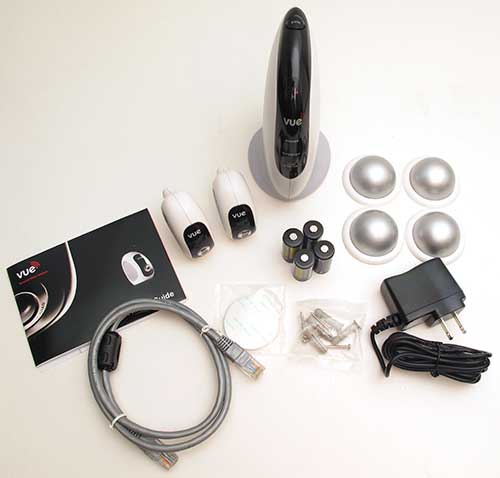 Package Contents
2 Vue wireless cameras
4 camera mounts with hardware
Network gateway
AC power adapter
Ethernet cable
4 CR123 Lithium batteries
Quick start guide
Setting up the Vue system is extremely easy and anyone can do it even if you have no prior networking or video hardware skills. There are 2 basic components to the system. The gateway and the camera or cameras.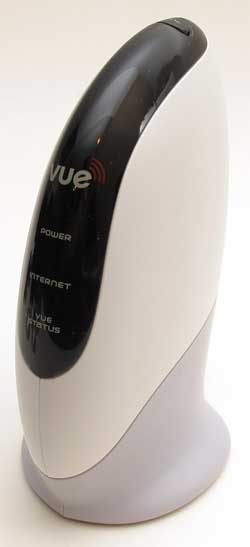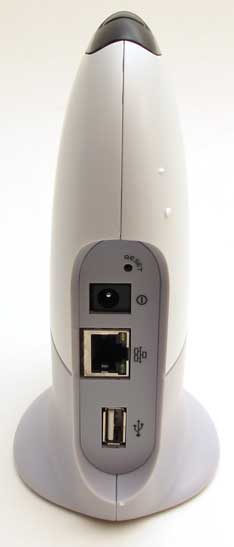 The gateway is the only part of this video viewing system that is not wireless (although it apparently can be wireless with an optional USB Wifi accessory that is yet to be offered for sale). All you have to do is plug in the included AC adapter and plug it into an open port on your router. They even provided you with an Ethernet cable.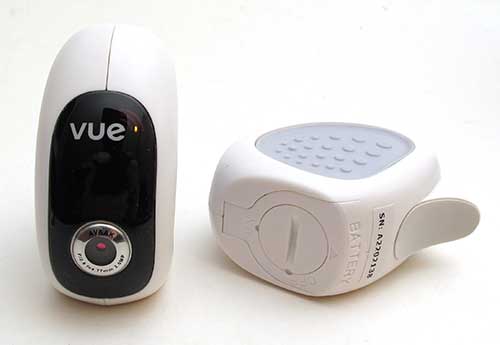 Two wireless cameras are included with the system. Additional cameras can be purchased for $99 each, which is very expensive in my opinion… The cameras have a White plastic body and are very tiny.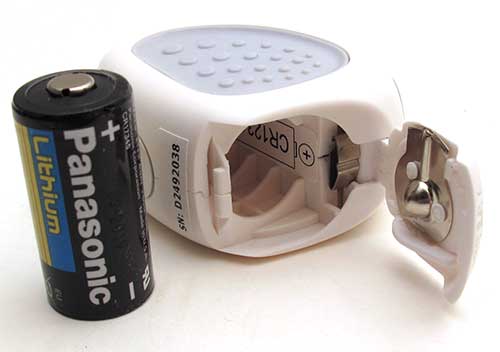 They are powered by 1 lithium battery (4 are included with the system) that should last for a full year when viewing is limited to 10 minutes a day. Unfortunately there isn't a way to power the cameras with an AC adapter. I'm wondering if someone with a little tech savvy could rig something though…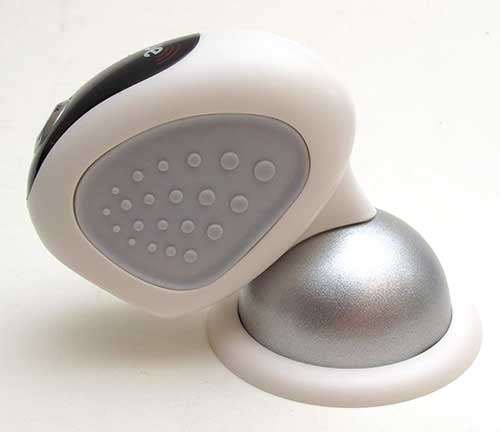 The curved fin on the back of the camera is magnetic. Using the included metal dome mounts, you can either stick the mounts on a wall…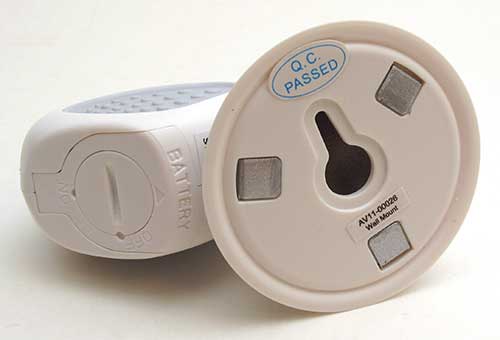 Or use the included hardware to mount them with a screw. The base of the camera is flat, so you can also just sit them on a shelf or any other flat surface. I do wish there was a mounting option for a window. Unless you have a sill, there's really no easy way to point a camera out a window.
After you have the batteries installed in the cameras and the gateway powered up and connected to your router, you just need to make sure you have an active internet connection and then you can press the sync button on the gateway. Doing so will communicate with the cameras and will then allow you to view them through the Vue website.
That's right, you are not able to view the cameras locally. You have to create an account on the Vue website. With the purchase of a Vue Personal Video Network System, you are entitled to a 1yr free subscription which allows you to view live streams, record up to 2GB of content and share the live and recorded content with your friends and family. The cost for the service after the 1st year is $19.95 per year.
The web interface for your cameras looks nice, but it's sluggish and kind of flaky. You can click on the screen shots to see full sized versions. The first thing I noticed was that you can only view one camera at a time even though both cameras are shown in the web view window. As soon as you click Play on a second camera, the other camera feed is stopped.
You can view the cameras in 3 different sized windows, but switching sizes is hit or miss. Sometimes it works, but most of the time it doesn't.
Viewing the video feed is a manual process. You have to press the Play button to initiate it. I started getting excited when I looked at the settings screen and saw a scheduling option. But then I was disappointed to learn that this feature is not available yet. I wish the cameras had a motion sensor and audio capabilities too.
You can view live streaming video from your web browser, you can snap a live picture and you can record live video. You can then share those pictures  and videos with Flickr, YouTube and via email. Sending your friends pictures and vids through email just gives them a link that they have to access with their browser though. It doesn't email them the actual picture of video file. I should also mention that at the moment, there's no mobile version of the website to view your camera feeds from your phone…
The Vue Personal Video Network System has some good things going for it. For one, it's so easy to setup that anyone could do it. The video quality is good and the ability to easily add more cameras is also good. What's not so good is that there isn't a way view feeds locally, power the cameras with an AC adapter, view multiple feeds at one time or schedule automated recordings. Out of that list of issues, the one I'd most like to see fixed is the scheduling issue. Having that capability along with motion sensor activated cameras would really take the Vue system from fun to play with, to really useful.
Product Information
Price:
$299.99
Manufacturer:
Vue
Pros:

Extremely easy to setup
Good video quality

Cons:

No local viewing capability
Can only view one feed a time
No scheduling feature available
Cameras can't be powered by AC
Additional cameras are too expensive
No audio