We use affiliate links. If you buy something through the links on this page, we may earn a commission at no cost to you. Learn more.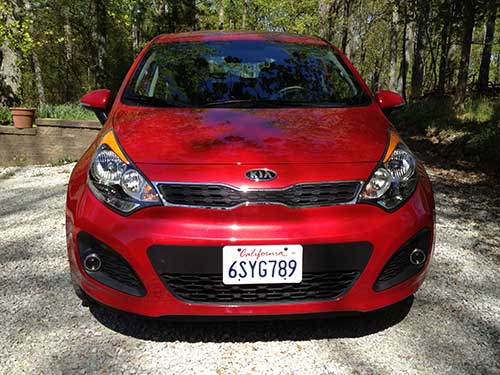 For the past 2 weeks I've been lucky enough to test drive a new car. The first car was a 2012 Mazda Mazda 3 and this past week it was a KIA Rio EX 5-Door. I loved the KIA Optima I test drove last year, so I was excited to try the smaller, more economical Rio.
Note: Click the images in this review to see a larger view.
I want to start this "review" out like I've done the other 2 test drive articles, by letting you know that this isn't going to be a super detailed vehicle review like you'd read in a car magazine or see on a car show. I don't know much about engines and don't care. I just like to drive cars and know what I like and don't like about them. If you want more info about gas mileage, horsepower, torque and all that, you're going to be disappointed in this article. But if you want to know what it feels like to sit in and drive the 2012 KIA Rio, you've come to the right place.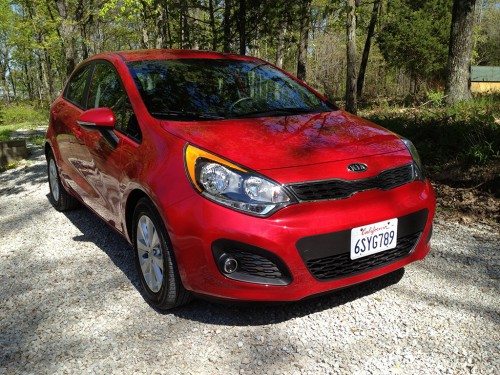 Style, Fit and Finish
The Rio is a cute compact car with a style that is familiar to me because it has the same hatchback shape as my 2006 Mazda Mazda 3 5-door. They brought me the Signal Red version of the Rio and the color is an eye turner.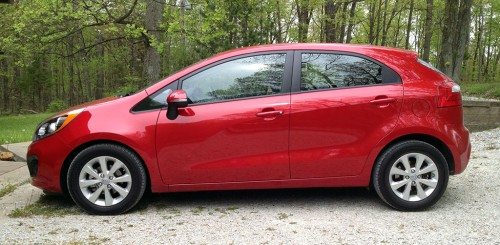 Close up, the paint has tiny sparkles, with flat Black accents in the grill and around the windows.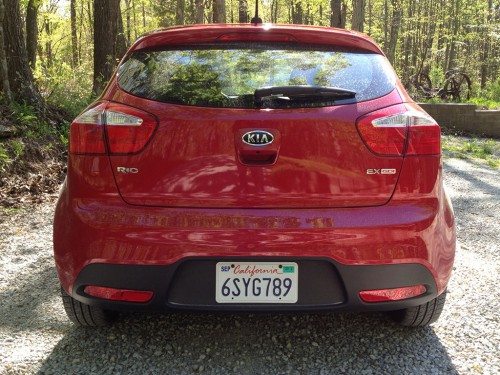 For such a small car, it has a nice sized trunk. I had meant to test loading some of my luggage, but completely forgot about it. Sorry. That said, it I had no problem loading it up with groceries one night.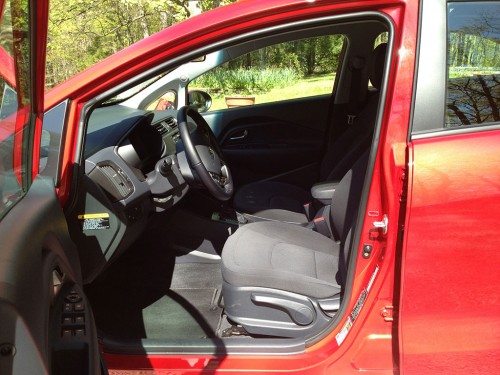 The Black interior which seems to be the norm for cars these days, feels roomy and comfortable. Although this Rio model lacks some luxury features like heated leather seats, I have to say that the cloth seats are probably the most comfortable that I've sat in. The driver's seat felt like it was made just for me and really contributed to how nice it felt to drive this car.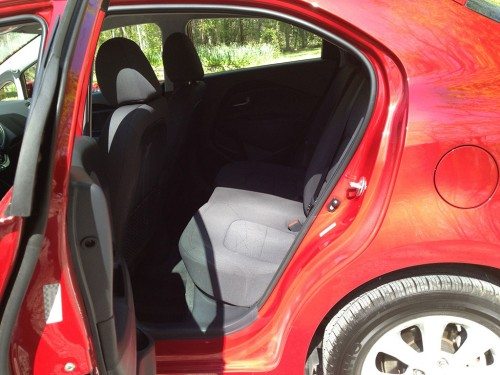 The back seat has a nice roomy bench seat.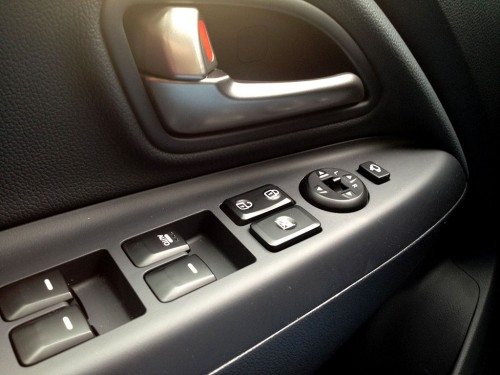 This is the first car I've driven that has a button that will automatically fold in the side view mirrors. I don't park in many parking garages or other tight spaces, but that feature would come in handy if you do.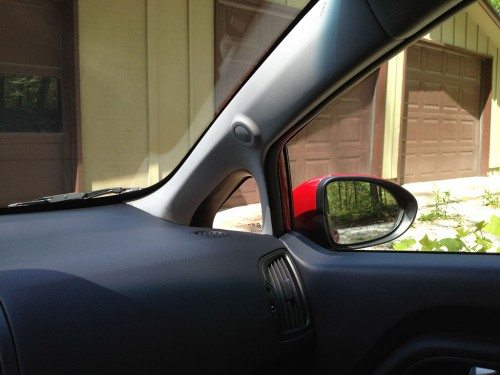 I liked the little extra bit of daylight offered in the front corner of the driver and passenger windows. I think it helps make the interior feel larger than it really is.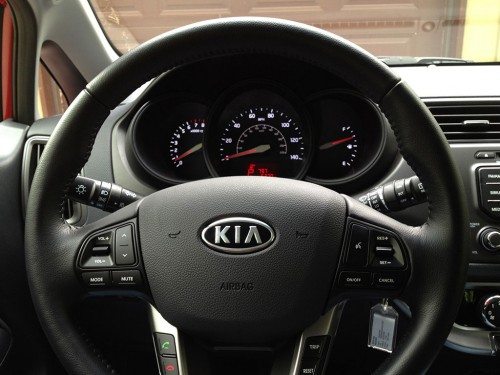 The optional leather wrapped steering wheel and gear shift knob add some class and comfort.
The gauges for fuel and speed are easy to see day or night.
Tech Bells and Whistles
I found the touch controls for the stereo and cruise control to be laid out well on the steering wheel. But I didn't like the location for the call start and end buttons because I couldn't easily activate them with my thumb while my hands were at the standard 10 and 2 positions.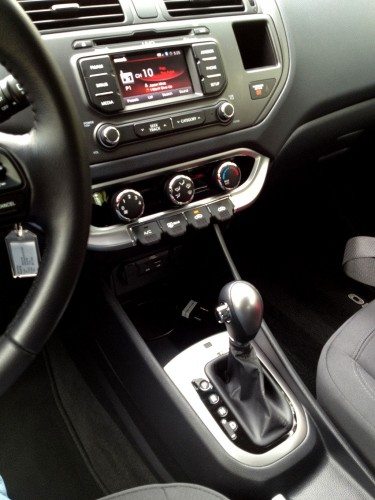 The temperature controls were easy to use and see in sunlight and darkness.
The week I had this car, the temps were pretty cool, so I didn't get a chance to really test the air conditioner.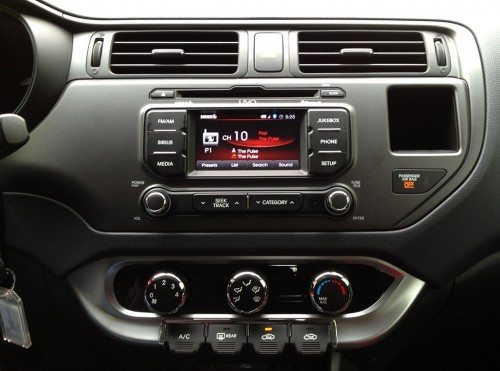 The SiriusXM stereo with CD/MP3 and 4 speakers is a standard feature on the Rio EX. New owners are eligible for a 3 month free subscription.
FYI, I have no idea what that square shaped slot is to the right of the stereo display. It's not quite wide enough for an iPhone. I'm not sure what it is meant to be used for.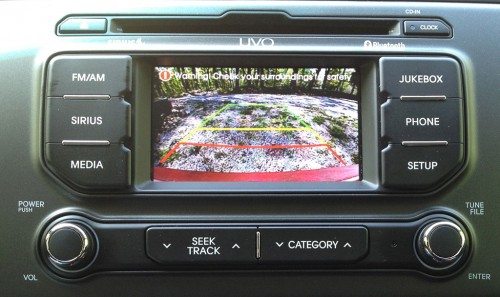 The standard radio didn't have a GPS navigation system, but it did offer a rear view back up camera which automatically switches views when you back up and goes back to the screen you were on when you put the car back into drive.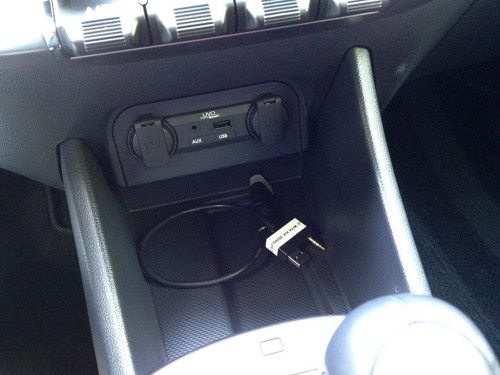 Also included is a Bluetooth hands free speakerphone that is controlled through the steering wheel and an Aux In/USB jack with 2 12V sockets. There's even an iphone sized tray in the center console area.
I made calls and streamed music using Bluetooth and my iPhone 4S and was very happy with the audio quality/clarity.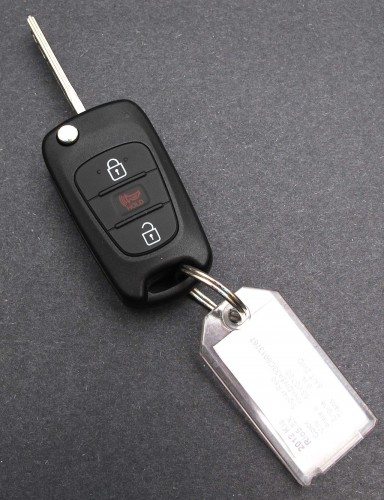 Behind the Wheel
All these switch blade style key fobs I've been seeing and using lately are making me jealous 🙂 I want one for my 2006 Mazda <pout>.
Driving the KIA Rio was much more fun that I thought it was going to be. After being slightly underwhelmed with the 2012 Mazda Mazda 3's performance, I didn't think the Rio was going to be exciting. I was really surprised to find its 1.6L 4-cylinder engine to be nimble and peppy. I had a lot of fun driving it around town, on the highway and on the curvy rural roads I live on. I felt comfortable driving it in the day time and night time. It had accurate steering, good brakes and just enough get up and go to make trips enjoyable.
I didn't have the Rio long enough to comment on gas mileage, but it's rated for 30 city / 40 highway.
I think KIA really knows what they are doing when it comes to designing cars. My Dad loves his 2012 Sorento, Jeanne still loves her 2007 Sorento, I loved the 2011 Optima I tested last fall and I wouldn't turn down the 2012 Rio EX 5-Door if someone wanted to give me one. When I decide to trade my 2006 Mazda for something new, I will definitely consider a KIA.
Product Information
Price:
Starts at $13,600. $18,345 as reviewed
Manufacturer:
KIA
Pros:

Comfortable seats
Peppy
Roomy for a small car