We use affiliate links. If you buy something through the links on this page, we may earn a commission at no cost to you. Learn more.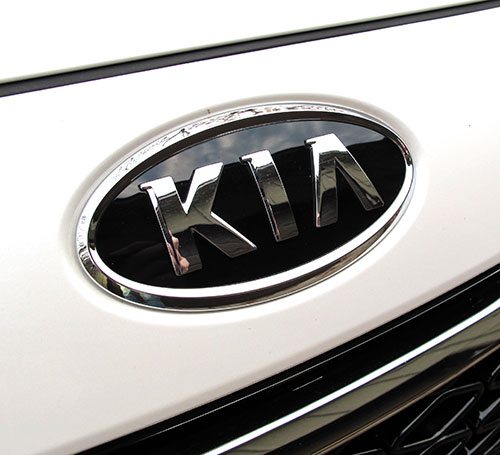 A few days ago I was given the opportunity to review a 2011 KIA Optima SX Turbo. This is undoubtedly the biggest and most expensive "gadget" that I've ever been offered to review and you all know that I didn't even have to think about it for more than a second before agreeing to a 7 day test drive period. I've been having a blast driving this car around for past week and will be sorry to see it go.
Note: Click the images in this review to see a larger view.
Before I get started, I have to tell you that this won't be a typical car review.  If you're expecting a highly detailed article about engine performance, gas mileage specs, etc, you won't get it here. I'm going to approach this review from more of a styling and overall driving experience angle.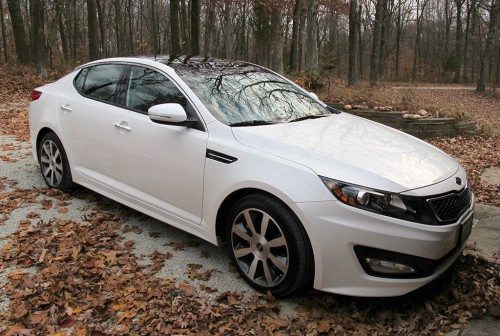 The 2011 KIA Optima is a winner of the Best Red Dot Design Award. The only other vehicle to receive this award in 2011 was the new BMW 5-Series. The Red Dot is an international competition that has been recognizing innovative styling and inspiring design since 1955. More than four thousand products entered the competition in 2011. Among the other winners are Apple's 13" MacBook Air and HTC's EVO mobile phone.
I can understand how it won because it's a nice looking car. I'll admit that the KIA Optima hasn't been on my radar though. I never really knew that KIA offered a luxury mid-sized sedan. It's interesting to note that my family owns 2 KIAs. My partner has a 2007 KIA Sorento that she really likes and my Dad just bought a brand new 2012 KIA Sorento that just happens to be the same color as this KIA Optima that I'm writing about – Snow Pearl White. I'd never considered buying a White car in the past. I always thought White was a really boring choice of car color. I have to say though that the White used on the Optima is really nice. It has sparkles in the paint like an opal, so it shimmers in the light.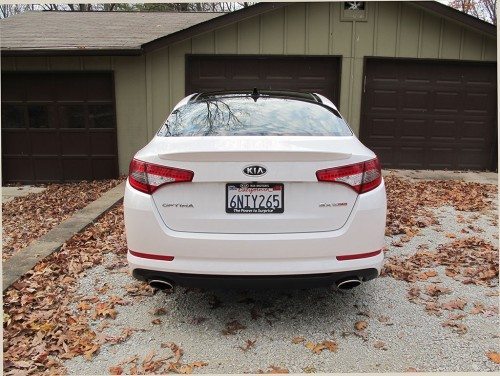 This isn't your grandma's 4-door sedan. The Optima has a very sporty design and the 6-speed Turbo Sportmatic transmission had me totally forgetting about my Zoom Zoom 2006  Mazda 3.
This car offered a lot of firsts for me…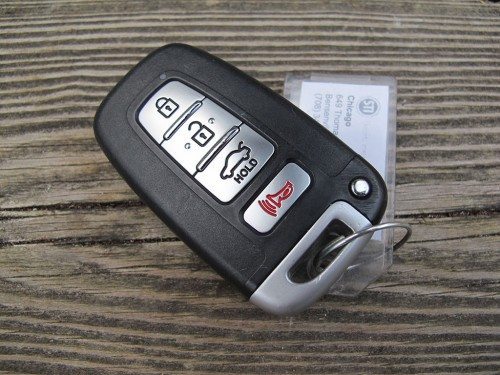 When they drove it down from Chicago last week and dropped it off to me at my workplace, I was excited to see the key fob. Or I guess I should say keyless electronic fob that allows you to open doors and the trunk without a key. My Mazda has a key fob that will do this too, but I still have to use a key to start the car. Not with this Optima, no key is needed…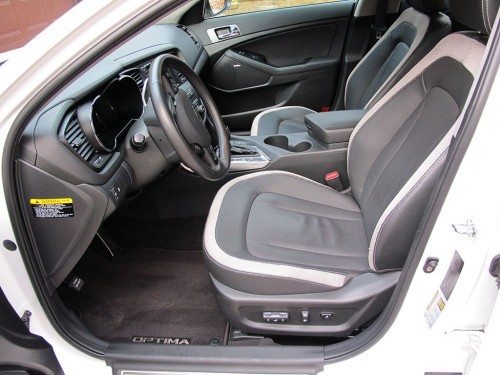 Opening the door reveals a roomy interior with leather bucket seats in the front. The driver's seat can be adjusted electronically and then the settings can be saved in case you have 2 drivers. Just get in the car press the button for setting 1 or 2 to reconfig the driver's seat to your personal preference, and just like Goldilocks, it will feel just right.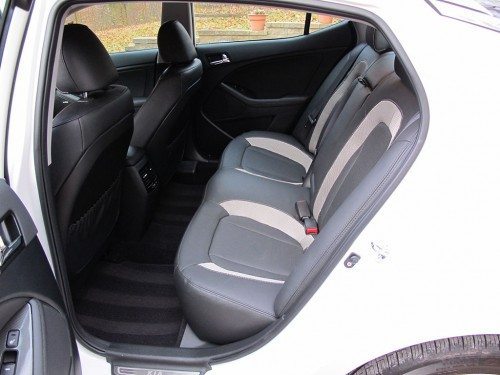 There's also a large leather bench in the back.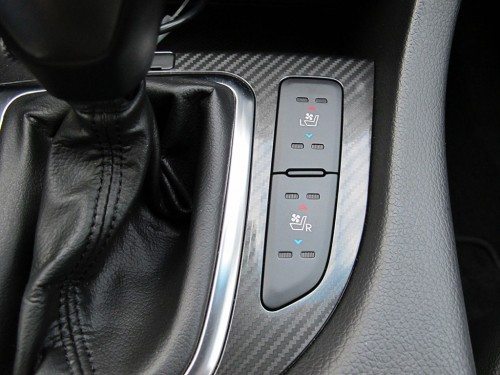 The front seats can be individually heated or cooled depending on the temperature needs of your tush.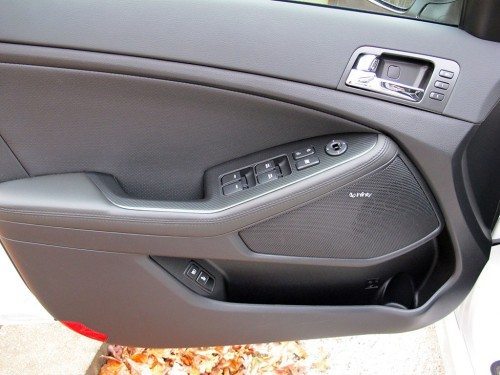 The gas and hood latch buttons are located in the driver's door along with the normal set of window, lock and mirror adjustment switches.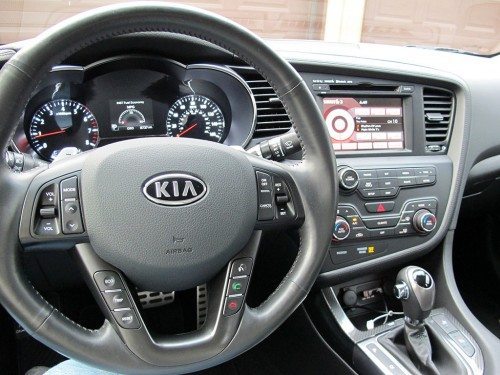 Being the geek that I am,  the things that make me like the KIA Optima most are all the electronics and connectivity features that are built into this car.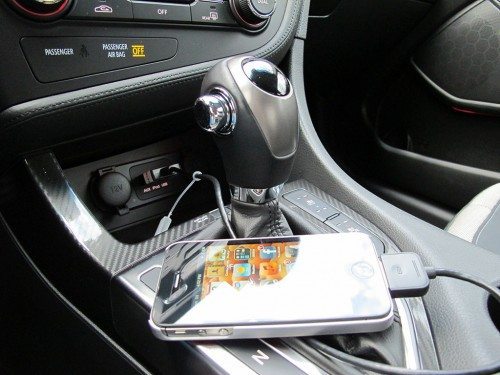 There's an iPod, iPhone cable that charges and routes the audio of your iPhone through the KIA's speakers.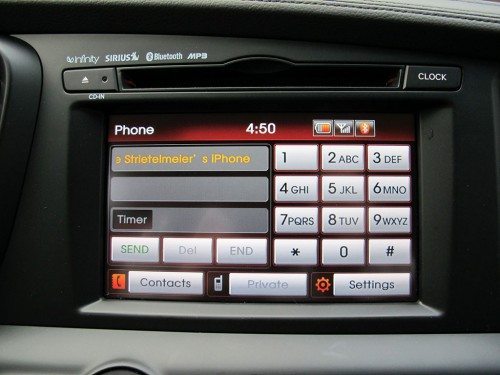 It also has Bluetooth so that you can make and answer calls by using the car's LCD touch screen.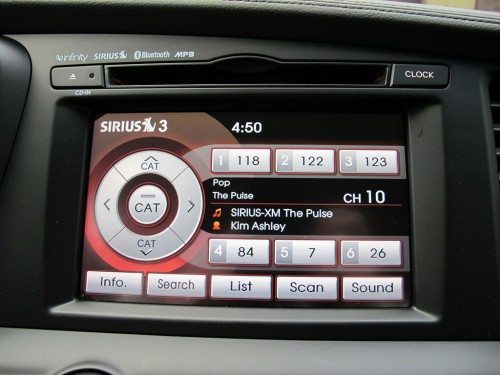 In addition to regular AM/FM radio, Sirius satellite radio is also built into the car and a GPS.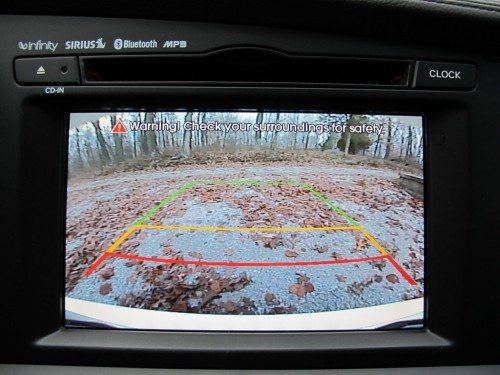 Another first for me is the back up camera that automatically displays on the LCD when you shift into reverse. It shows zones to help you determine how close objects are to the back of your car.
Other cool features are the rear view mirror with an LCD compass display in the upper corner and built in garage door opener buttons that will learn the codes from your existing opener.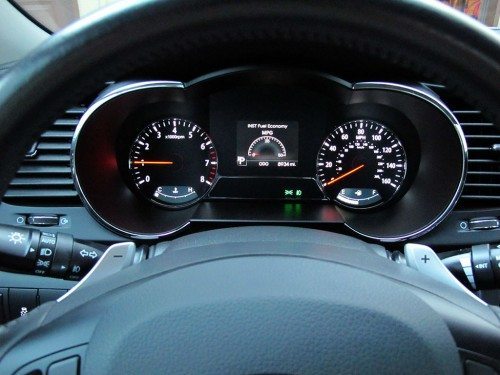 All the bells and whistles won't mean much if the driving experience is bad. I'm happy to say that driving the KIA Optima was very enjoyable. This car has a lot of spunk for a 4 door sedan. You'll notice the – and + paddles on the steering wheel. They let you shift up and down through gears like you might on a manual transmission. My Mazda has a similar feature on the automatic stick shift.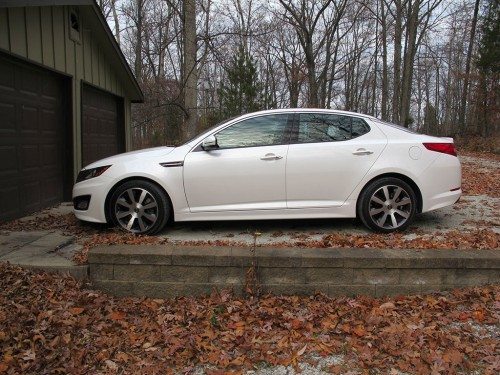 Driving felt smooth and effortless in this car. It's definitely a car that I could get in trouble with. The ride is so smooth that you don't realize you're driving 80 mph in a 65 mph zone till you look down at your gauges and suddenly notice.
I can't really comment on gas mileage as I didn't have the opportunity to drive it long enough to keep track. I'd be happy to test one for an extended period of time if the folks that let me borrow this car would like 😉
I like everything about the car – looks, feel, features, etc. It was hard to find any faults in it, but I do have one small thing that I can't even call a complaint… It's that the leather seats feel a little too firm to my buns. Maybe that's how all leather bucket seats feel though… I guess I'm just too used to the cloth seats in my Mazda.
Other than the seat issue, I'll be very sorry to see this car go back to the dealer. When I switched cars tonight to put my Mazda back in the garage in anticipation for driving it to work tomorrow, it felt really klunky compared to the KIA. The doors didn't feel as nice to shut, the stick shift didn't feel as smooth to move, etc. Sniff… Oh KIA Optima, I hardly knew ye…
Product Information
Price:
Depends on options. $30,840.00 as reviewed.
Manufacturer:
Kia
Pros:

Nav, Sirius Radio, Back up camera, Bluetooth features
Smooth snappy ride
Sporty style

Cons:

Leather seats felt a little hard to me