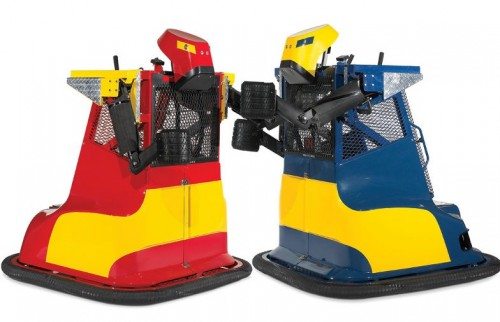 Hammacher Schlemmer has released the Bionic Bopper. The Bopper allows each driver to battle it out to deliver the round winning, chin-lifting uppercut. The driver sits inside the Bopper's protective steel cage cockpit and use two independent joysticks to maneuver while the thumb triggers activate two pneumatic powered , tire-treaded-fisted arms.
Powered by a Honda gas engine, the robots are capable of travelling at 3 mph.  A front display shows successful scoring hits. The fuel capacity allows for up to 5 hour bouts and a built-in rechargeable battery powers the electronics.  Made of sturdy steel with fibreglass and aluminium body panels, they measure 74″ X 59″ X 62″ and weigh in at 850lbs.
Available from Hammacher  for $17000. Order now and you can be duking it out over who gets the last Christmas pudding 🙂
Some of our links in posts like this one are affiliate links, which means that we may receive a small commission on purchases at no cost to you.