We use affiliate links. If you buy something through the links on this page, we may earn a commission at no cost to you. Learn more.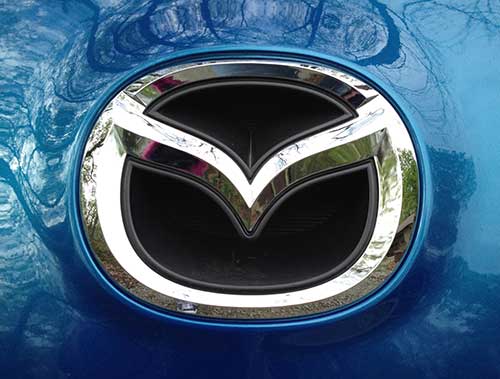 Last week the same people that allowed me to test drive a 2011 KIA Optima SX Turbo last Fall, contacted me with an offer to do another 1 week test drive. I had a lot of fun with the KIA, so I was happy to accept their offer to take  a look at a 2012 Mazda Mazda3 i Grand Touring 4-Door. I was anxious to see how this particular model has evolved in the last 6 years as I own and drive a 2006 Mazda3 5-Door which is essentially the same thing minus the hatchback. Buckle up and let's go for a ride.
Note: Click the images in this review to see a larger view.
I've been suffering from a raging case of the "I want a new car, but don't really need one" virus for several months now. Just when I think the symptoms have subsided, they come back again worse than before. So a 1 week test drive of a new car could not have come at a better time for me.
Like I mentioned above, my current vehicle is a 2006 Mazda Mazda3 5-Door. It's in great condition and only has 36,000 miles on it. I like everything about it except for the radio and the anemic air conditioning unit. Getting a chance to see what improvements Mazda may have made to this model was an exciting prospect.
They dropped the Mazda3 i Grand Touring 4-Door at my house last Thursday and I've been driving it to and from work and around town during this time. Before I start talking about my impressions of this car, I have to make it clear that this is not going to be a super detailed car review like you would read on a car review website or magazine. I'm not going to spout a bunch of specs and jargon about engine performance and car parts. I'm just going to tell you what I think and feel about this car after having driven it for the past week. So with that little disclaimer out of the way, let's get started.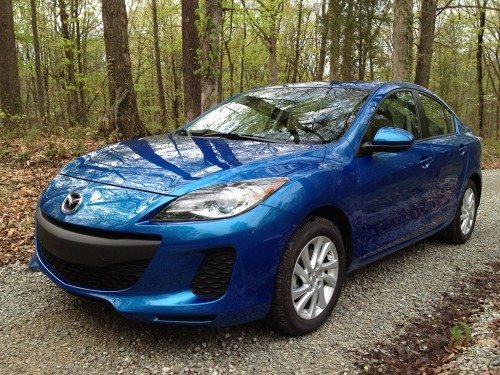 Style, Fit and Finish
The shape and style of the Mazda3 is sporty and youthful. So, it's probably not a car style that your 80yr old grandma would choose. The one I was sent is an eye turning Sky Blue Mica with flat Black accents.
In my opinion this car hits a sweet spot as far as size goes. It's not too small and definitely not too big. It's just right.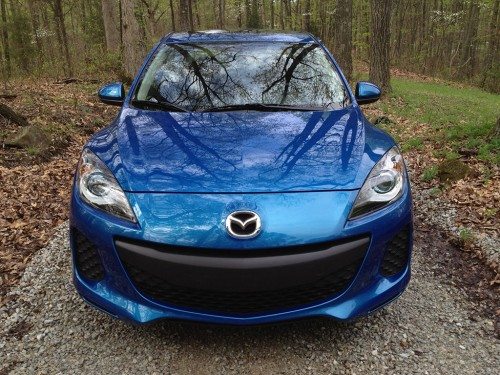 Is it just me or does this car have a huge smile?
I like that the bottom skirting isn't as low to the ground as my own Mazda, which I constantly scrape on parking curbs. Fortunately, I've not had that problem with this car.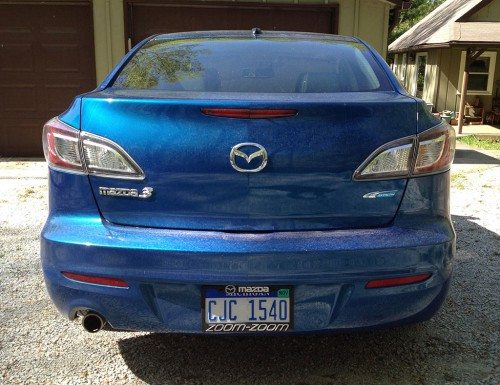 The color of this car is very pretty, but it shows dust badly. I live on a gravel road and this is what the car looked like after 2 days.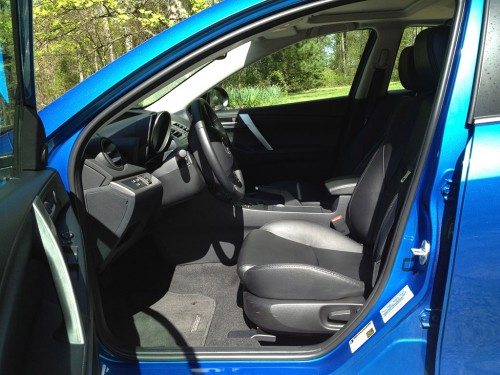 The interior is Black with Black leather bucket seats. Again, the color does show dust easily and seems to hold in heat on hot days. Speaking of heat, the seats are heated, which is a wonderful luxury that I have had the pleasure of using this week due to mornings that have been in the 30's (heated seats are not standard. They are an available option).
The seats are comfortable to sit in and the driver's seat was easily adjusted with the 8 way power settings (this is not a standard feature, but is an available option).
Mazda has added some nice little touches that I don't have with my older model. One thing I noticed the first morning I started it up, is that the floor area where your feet are is illuminated in Blue. It's hard to tell if it comes on due to a light sensor or if it is on all the time. It's not a feature anyone desperately needs, but it's cool.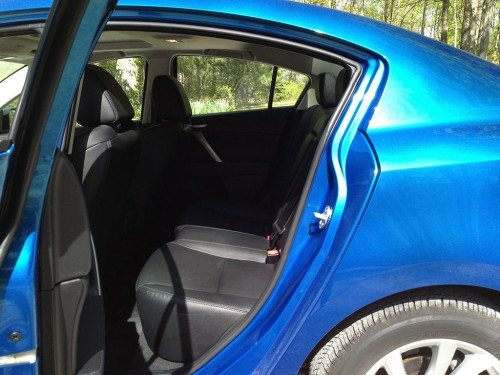 The backseat… There is a cup holder built into each door, both front and back. There are also 2 cup holders between the front seats. That makes a total of 6 holders.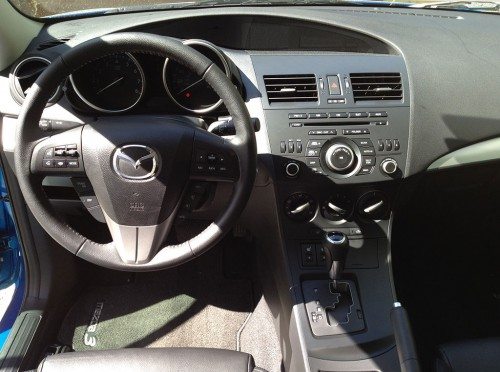 Tech Bells and Whistles
This particular model has all the bells and whistles including Bluetooth, GPS navigation, CD and SiriusXM satellite radio. There are controls on the left side of the comfortable leather wrapped steering wheel  that let you control Bluetooth phone answering / hangup, volume and initiate voice commands. On the right side are buttons that control the GPS and also let you toggle through the color LCD modes.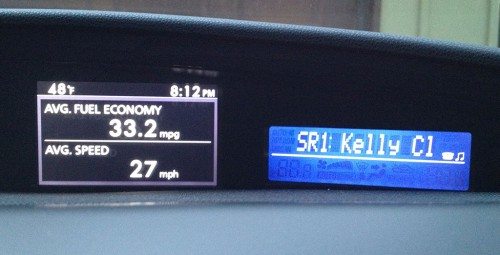 There are two LCDs situated side by side on the dash above the center air vents. These displays are located in the perfect spot on the dash. You don't have to look down, you can just flick your eyes to the right to see the info. The one on the right displays the radio info along with various status icons. The color screen on the left can be toggled between several views. Here you see the average fuel MPG info and average speed info. There's also a screen that shows a live view of the current MPG that constantly changes as you're driving. I'm not really sure how useful that particular screen is.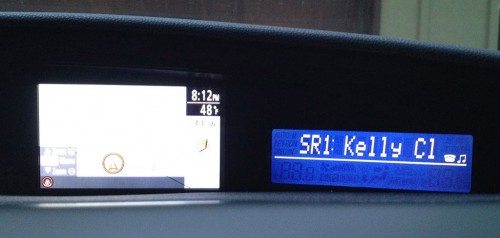 Here's the GPS view. I apologize for the image quality. The screen's background is white and I wasn't able to get a very good snap of it. The GPS is pretty basic. I'm not sure if I had something turned off or what, but I didn't notice any voice turn by turn directions. The directions were just on the screen.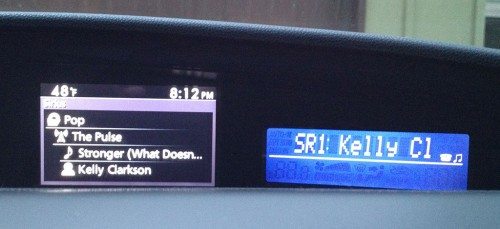 You can also view a more detailed SiriusXM radio display that lists the genre, channel name, song title and artist name. The outside temp and time are also shown in all modes.
I'm getting spoiled by these cars with built in satellite radio and am going to have to pull the trigger on a new head unit for my car soon. The standard Bose speaker system in this Mazda3 was very nice. Satellite radio sounded good and when I plugged my iPhone into the Aux In jack, it sounded exceptionally good. The Aux In jack is located in the center arm rest storage area. Next to it is a powered 12v port, which makes it very convenient for stowing an audio player to keep it out of sight.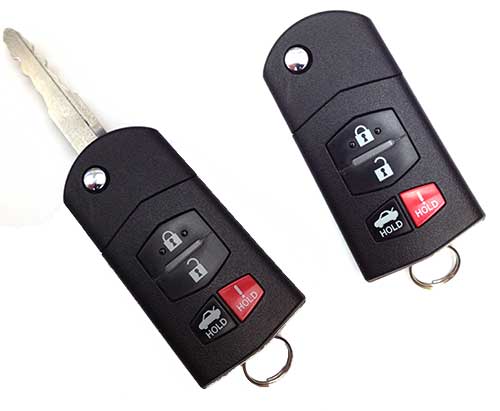 Behind the Wheel
Switch blade style keys seem to be in vogue lately. This car has one and so does the latest car I'm test driving (I'll be writing about the KIA Rio soon…). I love this feature and wish I could get one for my own 2006 Mazda. Maybe I can buy replacement fobs with a built in switch blade key and I just don't know about it…
When I first get behind the wheel of a new car, there is a short adjustment time where things just don't quite seem familiar. You know what I'm talking about… your buns don't feel like they fit perfectly in the drivers seat, the steering wheel feels wrong in your hands, the controls aren't quite where your fingers are programmed to find them. That wasn't the case with this Mazda. Everything felt very normal. Of course this is mainly due to the fact that I've been driving an older model of the car for the past 6 years.
The 2012 Mazda3 i Grand Touring model has a 155-hp SKYACTIV-G 2.0L 4-cylinder engine with a SKYACTIV-Drive 6-speed Sport automatic transmission that is rated for 28/40 mpg. My 2006 Mazda3 has a 160-hp 2.3L 4-cylinder 5-speed Sport automatic transmission engine. So it's not completely fair to compare the two as far as driving experience. I've been really happy with how smooth and zippy my Mazda is. The newer model is also a smooth ride. The car feels somewhat heavier though. Mazda is long known for being zoom zoom peppy. I'd have to say that in my week of driving the 2012 model, that it felt more like 1.5 zooms instead of 2 zooms. I really only noticed the acceleration lag when pulling out onto the highway or when driving up a hill.
Driving around town felt normal as did turning, braking, driving in reverse, etc. I only had the car for one week, but during that time, the miles per gallon display showed it getting better gas mileage that my 2006 version. I also found the air conditioner to perform better than mine.
While this model isn't quite as zippy as my older version, the 2012 Mazda Mazda3 i Grand Touring is a nice looking small sized car that gets better gas mileage and has a better set of standard features that enhance the driving experience. Prices for this model start at $15,200 and the price of the vehicle that I was given to test drive was $24,970.
Product Information
Price:
Depends on options. $24,970 as reviewed
Manufacturer:
Mazda
Pros:

Sporty style
Nice standard features, Bluetooth, GPS, head seats
Good gas mileage

Cons:

Acceleration slightly laggy