We use affiliate links. If you buy something through the links on this page, we may earn a commission at no cost to you. Learn more.
We are receiving compensation for posting this review.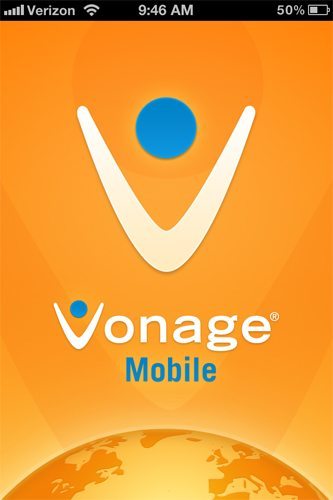 A couple of days ago, we told you about the new Vonage Mobile apps for Android and iOS phones that let you make free texts or calls around the world to other Vonage Mobile users or paid calls to most any other number using VoIP.  I've had a few days trying out the Vonage Mobile app on my iPhone 4.  Let's see how it worked for me.
As a refresher, allow me to quote myself: "Vonage has been in the business of providing VoIPservice for home and business phones for years, and now they are entering the mobile calling market with new Vonage Mobile applications for Android and Apple iOS devices.  Using the new mobile apps with the latest innovations in VoiP technology, you can make app-to-app calls to other Vonage Mobile users with "high-definition" audio quality for free, worldwide.  App-to-app texting is free, and you'll be able to make free calls to any Vonage home number, too.  You can also call any phone number in over 200 countries for the lowest international calling rates available – 30% lower than Skype's rates to the top 50 ILD countries and 70% less than most major mobile carriers."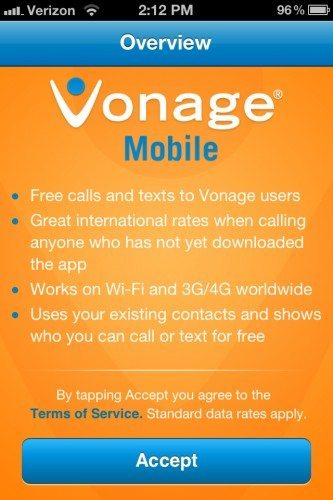 The first step is to download Vonage Mobile to your Android smartphone or iPhone.  The apps are free to download, and you can find links to them in the iTunes store or Android Market at the Vonage download page.  Once the app was installed on my iPhone, I had to agree to the terms of service.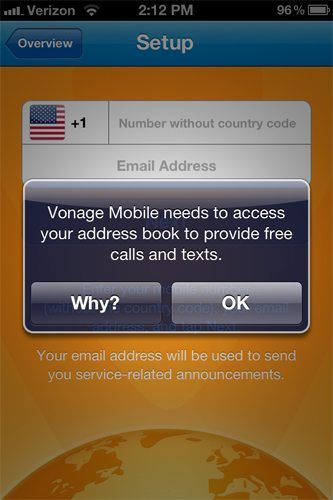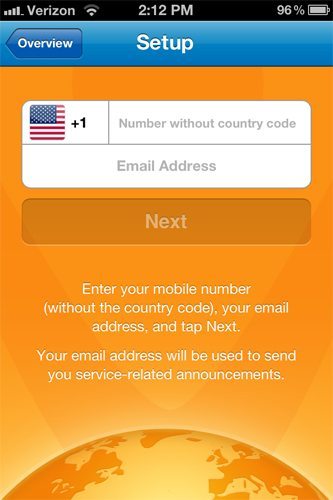 Unlike Skype, Vonage Mobile uses your smartphone's address book.  You don't have to reinvent the wheel and load up all your contacts in a separate, app-specific address list.  You can see the Mobile app asked permission to access my address book.
You'll need to enter your mobile phone number and a working email address to set up your Vonage Mobile account.  Even though you'll be making VoIP calls, Vonage will use your mobile number as your caller ID so everyone will know it's you calling.  The email address must be a valid address because an activation code will be emailed to you.  My code came very quickly, and my account activated immediately upon entering the code into the app.  My husband, Butch, also installed Vonage Mobile on his iPhone sometime after I did.  He didn't receive a code, but it was very easy to request another.  A code came after his second request, and his account also immediately activated upon entering the code.
Please excuse the gray boxes on many of the following images.  I've obscured names and phone numbers from these screen shots.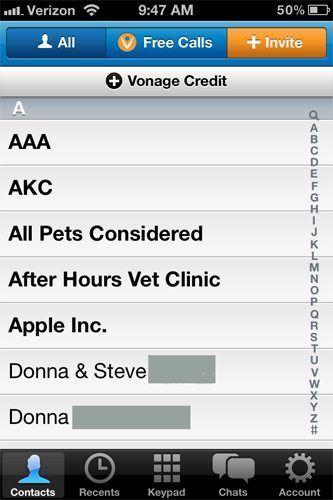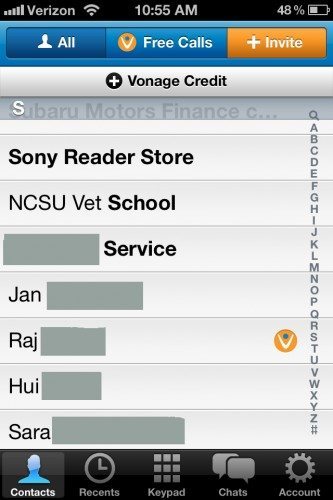 My address book was immediately imported, and the app scanned my contacts and found one user that I could call for free.  My husband and I share contacts, and one of his coworkers was immediately identified as someone I could call for free.  Turns out Raj has Vonage VoIP service as his home service.  Free-call contacts are identified with the circular orange Vonage logo.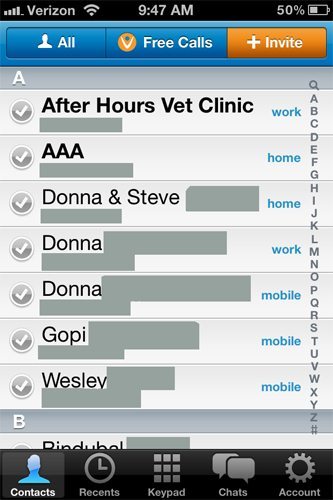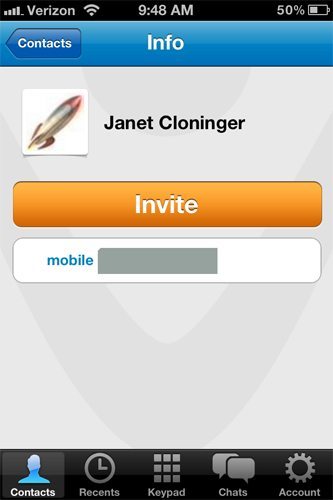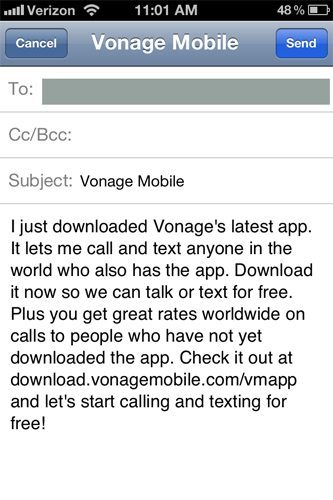 None of my other contacts had Vonage home service nor Vonage Mobile apps installed.  The Mobile app makes it very easy to invite people to join you at Vonage.  By clicking on the orange +Invite button at the top of the screen, I can invite everyone (or a selected subset of people) in my address book, or I can select an individual and send a text or SMS message to them.  It's not a personal invite that requires a response, like a Facebook friend request.  It's simply a message telling your contact about the new Vonage Mobile app and suggesting they download it to their smartphone.  If your friend does download and setup the Vonage Mobile app on their phone, they'll show up as someone you can call for free the next time you start up your Vonage Mobile app.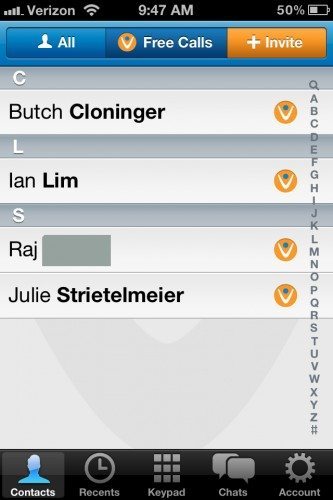 Over the next few hours, Julie and Ian from The Gadgeteer and Butch created Vonage Mobile accounts and showed up in my contacts as people I can call or text for free.  By clicking on the blue Free Calls button at the top of the screen, I can see a list of just the other Vonage Mobile or Vonage home service people.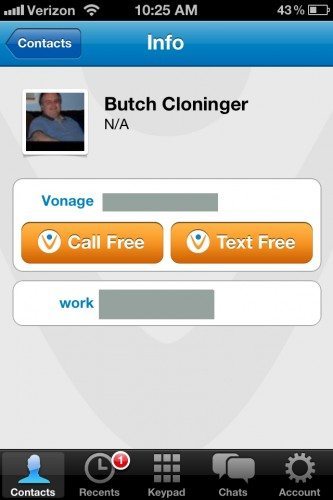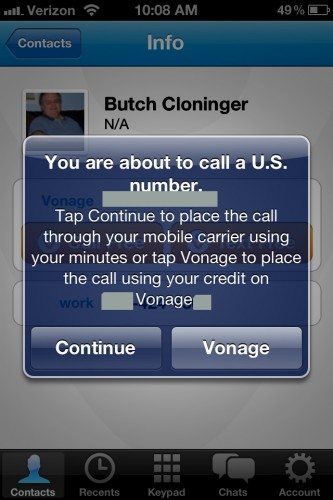 When I select a Vonage user from my contacts within my Vonage Mobile app, I'm given the option of calling or texting them for free if they have the Mobile app; I can only make free calls to Vonage home VoIP users.  With Butch's contact entry, I have both a mobile number (which I can call/text for free) and his office number (which I can't call for free).  If I tap his office number, the app pops up a warning to let me know that I can use my normal mobile service to call that number, or I can call it from the Vonage Mobile app using credits I've already purchased.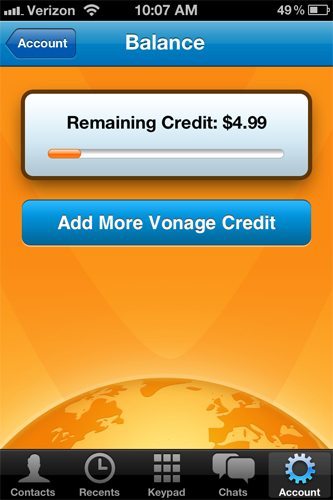 It's very easy to purchase calling credits.  You don't have to exit the Mobile app or go to a webpage and enter a credit card to purchase credits.  You can easily buy $4.99 or $9.99 in credits directly in the Vonage Mobile app from your iTunes or Android Market account.  I chose the amount I wanted to purchase, then I was asked to enter my iTunes account password.  I do have a credit card associated with my iTunes account, but I always keep an iTunes card balance in my account because I don't like to have a lot of little charges hitting my credit card when I decide to buy something from iTunes.  I wasn't sure if the Vonage credits purchase would use my iTunes card balance or if it would be charged to the credit card on record.  I wasn't required to enter the security code for my credit card, and my iTunes card balance was $4.99 lower after my Vonage credits purchase.
If you like to be sure you have plenty of credits on hand for those extra-long calls, you can top off your credits balance at $50.
As in incentive, Vonage is allowing you to make free calls to non-Vonage users – mobile or landline – in the US, Canada, and Puerto Rico for a limited time (limit of 3000 minutes per month).  Even though I've made some calls to other non-Vonage users, I haven't had to use my Vonage credits yet.  I'll have them ready for when the introductory offer ends.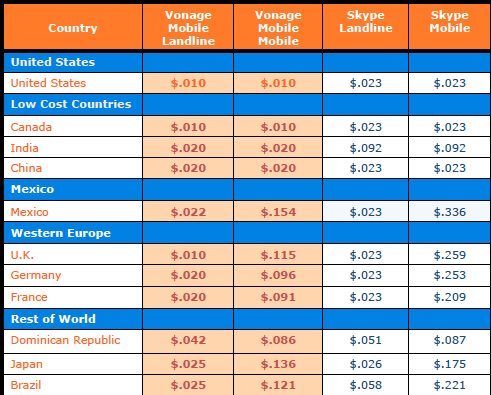 Vonage Mobile rates are much cheaper than other carriers.  The above chart is a sampling of Vonage calling rates to landlines or mobile phones and Skype rates to the same countries, for comparison.  You can call any phone number in over 200 countries for the lowest international calling rates available – averaging 30% lower than Skype's rates to the top 50 ILD countries and 70% less than most major mobile carriers.  There are no charges on your credit card and no bill arriving in the mail.  Everything is handled within the Vonage Mobile app.
If you don't see the calling rates for the country you need, you can check calling rates to a specified number from within the Vonage Mobile app.  You can see how much your call will cost, then check your credits balance to be sure you have enough for the call before dialing.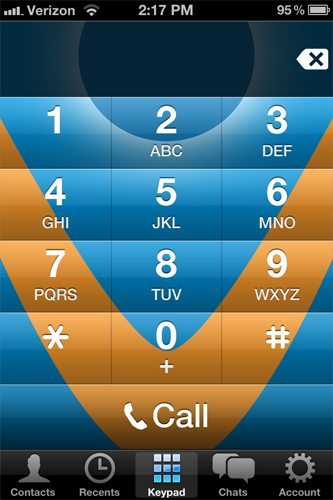 There's a keypad so you can dial numbers directly without first having to create a contact.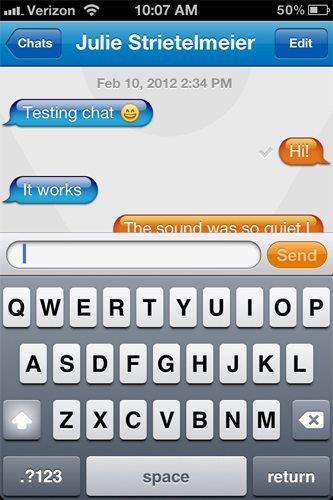 You can text other Vonage Mobile app users for free.  The screen looks very much like the Messages app that came on my iPhone, but it uses the Vonage colors.  It worked quickly and easily.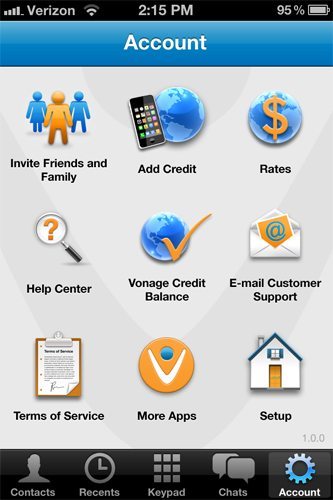 The setup option in the Vonage Mobile app is a central location for buying credits or checking your balance and for inviting friends to download the Vonage Mobile app for free calling.  You can also check rates for a phone number here, get help, or review the terms of service.  "Setup" lets you update your account, or deactivate it if you decide you no longer want to enjoy free or low-cost local and international long distance calling and texting.
Vonage Mobile works on WiFi or 3G/4G worldwide.  Although you make free or low-cost calls with the Vonage app, you need to remember that there may be data charges when using these connections.
I got down to the business of making calls and sending texts.  It was easy sending texts to Butch and Julie.  The "Chats" option worked just as quickly and easily as did the Messages program on my iPhone.  By the way, both Julie and Butch are using iPhones, too.  I was also able to text with Ian Lim in Australia with no problems.  Ian has an Android phone, I believe.
I've tried making local calls in a variety of ways.  I've called Butch's office from my Vonage Mobile app while connected via my home's WiFi connection.  This call was to a landline, and it will incur a small charge after Vonage's introductory free-calling offer is over.  The call sounded great.  It was no differences calling his office with the Vonage Mobile app than when calling using my normal Verizon mobile service.  (I don't have a landline, so all my calls are made from my iPhone, always using my Verizon mobile plan before I got the Vonage Mobile app.)  The call connected immediately and was clear and noise-free.
A special note about app-to-app calling:  Using the new mobile apps with the latest innovations in VoIP technology, you can make app-to-app calls to other Vonage Mobile users with "high-definition" audio quality for free, worldwide.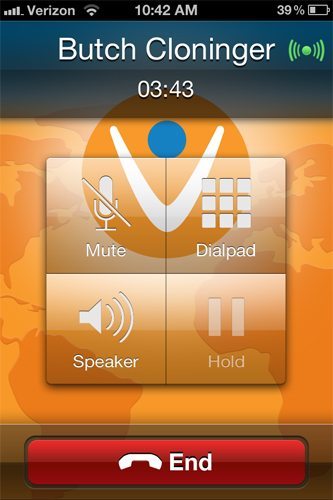 The Vonage Mobile app has a call-quality symbol it displays next to your caller's name.  This call to Butch had a good connection and good sound quality.
I tried making app-to-app calls by calling Butch as he was at work and around town.  Sometimes he was connected via WiFi and sometimes he was using 3G with the Vonage Mobile app.  I was able to connect calls with him where ever he was, except for one coffee shop with questionable WiFi quality.  When he was there, I just couldn't get the calls to go through.  I'd hear ringing and ringing, and he heard nothing.  When he was on WiFi at other places, the calls connected quickly and were clear.  When he was on 3G at a couple of different places, the calls would take a second or two to complete a "hand-shake" after he answered.  During that brief time, I sometimes heard an echo or a slight delay.  The calls quickly settled in, and the calls were extremely quiet and clear.  His voice sounded very sharp and was very understandable.  The iPhone doesn't have any noise cancelling circuitry – not so far as I've noticed, anyway – so I could hear background noise sometimes.  He was standing near a speaker at a Starbucks during one call, and I could clearly hear the music.  It didn't interfere with understanding his voice, though.  There did seem to be a difference in sound when I was calling his mobile phone and when I called his office.  I'm not sure how to describe it, but it did seem his voice sounded more "front and center" when calling app-to-app.
A big feature of the Vonage Mobile is the free app-to-app international long-distance calling, so I had to try that out for the review to be complete.  Ian Lim, another Gadgeteer writer who lives in Australia, very kindly agreed to download the Vonage Mobile app to his Android phone and participated in several calls with me.  (Thanks for your help, Ian!)  We tried calling with me on WiFi and him on 3G, both of us on WiFi, and both of us on 3G.  I had a bit more difficulty calling Ian than calling Butch.  Our first attempt (me on WiFi, him on 3G) was static-y and quickly dropped.  We tried calling again, and we were able to establish a call.  Just like with some of the local calls to my husband, there was a few seconds while the connection was made where we heard some echos and experienced some lag in the calls.  It seemed that once the connection settled in, the calls were clear and there wasn't so much echo and talking over each other as we experienced at the beginning of the call.  Every call wasn't perfect, but they were more than acceptable – especially considering I was calling the other side of the world for free!
Because Vonage Mobile compares itself to Skype, Ian and I also tried out Skype in the same configurations we used for the Vonage Mobile calls.  There didn't seem to be the "hand-shake" period with the Skype calls, but the established calls weren't that much different from the established Vonage Mobile calls in sound quality.  I found both the Vonage Mobile and the Skype calls were very acceptible, sound-wise.
I thought the Vonage Mobile app was superior in some ways to Skype.  I already had Ian in my contacts, so I didn't have to do anything (but correct his phone number that I had entered incorrectly in my address book) to put him in my Vonage Mobile calling list.  He, just like the other people I know who have installed the Vonage app, simply showed up in my contacts list as someone I can call or text for free.  With Skype, I had to hunt Ian down in the list of Skype users and request he add me as a contact before I could call him.  I also couldn't purchase credits within the Skype app – or it was hidden from me, if I could purchase in-app.
I like the Vonage Mobile app.  I did have a few problems, but I think perhaps they were sometimes caused by WiFi quality.  I also think some of them will disappear as a few kinks are worked out of the system.  I can use Vonage to call the people who aren't on my call-anytime-for-free-and-without-using-calling-plan-minutes Verizon Friends list.  If I use it at home on my WiFi, there won't be any possiblity of data plan overages, and the small charges I might incur in the Vonage Mobile app are much smaller than minutes overages at Verizon.  I don't do a lot of international calling, but I can see that Vonage Mobile will be a boon to those who do.  You should give it a try.  The app is free, you can always call other app users for free, and you have a free introductory period where you can call within the US, Canada, and Puerto Rico for free.  You have nothing to lose and cheaper (or free) calls and texts to gain.
Product Information
Price:
App is free; app-to-app calls and texts are free; other calls incur a small per-minute charge
Manufacturer:
Vonage
Requirements:

Android smartphone or Apple iPhone, iPod touch, or iPad

Pros:

Can call or text any other Vonage Mobile app user for free, worldwide
Low-cost calls to non-app users, averaging about 30% less than Skype
Once call is established, sound quality is good
Uses your address book; no need to create an app-specific list of contacts
Can easily add calling credits, check credit balance, and check calling rates within the app

Cons:

A few calls did have echo/lag or were dropped.