We use affiliate links. If you buy something through the links on this page, we may earn a commission at no cost to you. Learn more.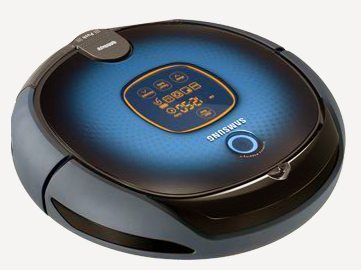 Samsung has a created their own version of a robotic vacuum called the NaviBot.  It is to offer a more efficient and intelligent way of cleaning your home.  NaviBot features a visionary mapping system, multiple cleaning modes, a triple brush system, and auto recharge and resume.
The Samsung NaviBot is engineered with 38 sensors, which features three cliff sensors to detect the edge of stairs and other surfaces, three anti-tangle sensors that automatically unwind cord or carpet tassles if it encounters them, and auto-stop at lifting sensor to immediately shut the NaviBot off if it falls over or is lifted up.  It also has a self-adjust function that allows it to overcome obstacles of up to 1.5 cm and can automatically adjust for different types of flooring.
It is also equipped with an onboard camera that captures 30 frames per second to create a virtual map of the home.  It captures a picture of the ceiling in the room it is about to clean and then can analyze the space it is to clean. The picture is then utilized by the NaviBot to create a virtual map and create the most efficient route to clean the entire floor.  Just set it to go as you walk out the door, or use the delay function to start at a specified time during the day.  It has a "virtual guard"  feature, which can make an imaginary barrier and not enter other rooms.
The NaviBot features a rotating triple brush system underneath to work efficiently on picking up dirt, dust, and hard to capture pet hair.  The NaviBot effortlessly picks up hair and fluff without it wrapping around the brushes due to Samsung's patented pet hair care system.  It can hold up to 600 ml of debris with its bagless dust collection and is equipped with a HEPA filter.  The noise level is at approximately 73dBA.
There are various cleaning modes to the NaviBot.  They include:  Auto, Max, Manual, Spot and Edge. The edge mode uses the spinning brushes to clean along walls and other hard to reach places.  The delay start mode can be used before leaving the home so it runs through its routine hours later, or you can rely on the daily schedule time to create a specific time of the day to run.  The manual mode allows you to control the robotic vacuum with its remote control.
The Samsung NaviBot needs minimal human intervention.  When the battery is running low, it will automatically return to the charging station.  It can even resume cleaning where it left off before recharging.  The NaviBot  SR8855 has up to 90 minutes run time when fully charged, and the charging time is to be 33% faster than other robotic vacuums.  There is also a Samsung NaviBot SR8845 available, and a more quiet-to run-version is a new addition to the line.  Samsung's robotic vacuums have a suggested retail starting at $599, price varies with each model.