We use affiliate links. If you buy something through the links on this page, we may earn a commission at no cost to you. Learn more.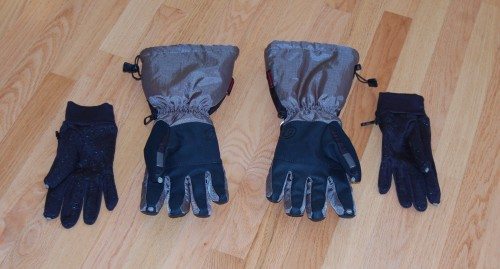 The winter has arrived and temperatures are dropping across the northern hemisphere. For those of us that live in a cold climate and love our gadgets that means having to take off our gloves to use our touch screen devices, leaving our precious digits exposed to the elements, or does it? A company, by the name of OnTip, has designed and delivered what they claim are gloves that will keep your digits warm and cozy while you use your touch screen gadgets. With an embedded OnTip nub on the pointer finger and thumb of each glove, one can use their touch sensitive gadgets without having to remove their gloves. The team at The Gadgeteer was asked to review the OnTip 3-in-1 Gloves and I jumped at the chance to review them, as I am an avid skier and I love the outdoors. At $69.50, the gloves are a good deal, but we will need to see how they hold up to the rigors of the wintry outdoor world.
For this review I was able choose the gloves I wanted to review from the OnTip line of gloves. After visiting the OnTip website I found that the OnTip marketing team has a sense of humor and a stick it in your eye swagger as their company slogan is "Do it with your gloves on!" I like the slogan – definitely not your usual boring company in a sea of boring companies. Also, I found the OnTip company website extremely well designed and focused on the consumer – no weird links that take you to information you don't need.
The first task for the review was figuring out which pair of gloves from the OnTip line up to test. A bit of background on my winter activities may help you understand the choice of gloves that I made; I ski and enjoy being outside in the winter. I also like to walk-jog in the winter on trails near my house, but I don't like bulky gloves on my hands. I usually wear a set of runner's gloves on the trails and a pair of ski gloves on the mountain.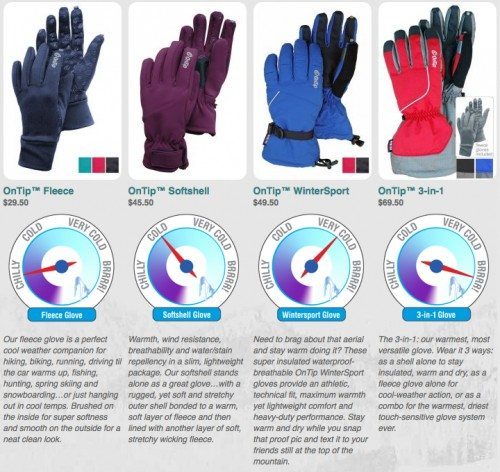 I found that the OnTip team offers a number of OnTip equipped gloves, each with its own focus in terms of temperature tolerance and sports capability, including:
OnTip Fleece
OnTip Softshell
OnTip WinterSport
OnTip 3-n-1
I picked the OnTip 3-in-1 Gloves, offering a two piece system of fleece liner and shell, effectively creating three separate options for hand protection: fleece glove insert for running, shell for cold weather activities, or combined for winter sports. According to the OnTip website the 3-n-1 offers the best cold protection while also providing waterproof, windproof, and breathability – in short, the ultimate geek glove for snow sports.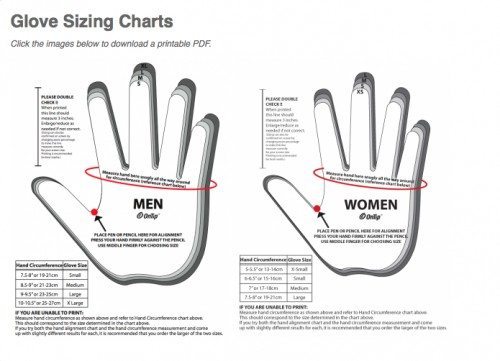 The OnTip 3-n-1 comes in a variety of sizes and colors to fit your hands as well as matching your style and outfit. I needed to figure out what size would best fit my hands and the OnTip website came in handy with a men's and a woman's sizing chart. To use the sizing chart I simply printed it out and held my hand up to measure against the printout. I found out that my hand measures as a medium, so I ordered a pair of medium gloves.
After receiving the OnTip 3-in-1 Gloves I wondered how good they really are and what criteria I should use to evaluate them? Should I subject them to a torture test of icy cold water, a hike through the woods, or skiing out west? Or, all of the above?
Before I dig into testing the OnTip Gloves I had to read up on the OnTip website to find out what benefits and features that the OnTop Gloves gloves. I copied a list of the information from the OnTip Website and am including the list below;
OnTip
Using your touch-sensitive phone, MP3 player, tablet or laptop has never been this comfortable…or this precise! The OnTip™ family of gloves offers ground-breaking patent-pending OnTip™ technology that lets you touch screens in warmth and dry comfort. OnTip technology's conductive fingertips provides visual alignment and fast-as-fingers sensitivity so you and your touchscreen can interact with more accuracy than ever before.
DIWYGO
Gloves with DIWYGO™ technology keep you warm by keeping you dry. Water droplets are repelled by the DIWYGO™ membrane while perspiration and excess heat pass right through. The pores in the unique polyurethane membrane are just big enough for perspiration to pass through easily…but way too small for raindrops! Conductive heat loss steals warmth from damp, unprotected fingers. Stay dray…stay warm with gloves protected by DIWYGO™ technology!
ThermoLite Plus
Thermolite provides warmth and comfort without weight, even when wet. It's the lightweight fabric that provides heavy-duty performance… because it's fabric made with ADVANSA engineered hollow-core fibers that trap air for greater insulation. Plus, wearers stay drier because it dries 20% faster than other insulating fabrics,and 50% faster than cotton.Thermolite® is the perfect layering fabric because it's comfortable and lightweight, allowing more freedom of movement.
3M Scotchlite Reflective Material
Versatility, performance and fashion come together in Scotchlite™ reflective material. We have designed 3M Scotchlite™ Reflective Material into our Winter Sport Glove and 3-in-1 Glove to give you high performance attractive handwear to help you be more visible no matter the weather conditions. Whether at work or play, 3M™ Scotchlite™ Reflective Material helps you to be seen at dawn, dusk, or night.
Reinforced Grippy Palms
Grippy, yet abrasion resistant and soft palms made of polyurethane or silicone (depending on the glove) helps make sure your touchscreen device stays in your hand…and out of the snow.
Soft Brushed Wicking Lining
All of our gloves feature a soft, brushed, wicking lining that gives you added warmth and comfort while helping to wick moisture away from your hands.
Nose and Goggle Wipe Thumb Panel
Featured on our Lined Soft-Shell, Winter Sport and 3-in-1 Gloves, this sueded thumb panel helps you to clean your goggles… or wipe your nose.
Fit and Fabric
All of our gloves are constructed with years of expertise in the perfect glove fit. Patterns have been tested, tried and tweaked to ensure fit and comfort. The fabrics used are chosen specifically for the use of the glove – from a 4-way stretch fleece for a close form-fitting fit enabling maximum dexterity, to durable outer shell material to keep warmth in and wind and rain out, to super durable fabric and polyurethane palms for high stress areas and abrasion resistance.
I prepared for my first run in the woods by putting on the OnTip Fleece Liners and found that they fit perfectly, warm and cozy, yet giving and not tight on my hands. The OnTip Fleece Liners have the OnTip "O" logo embossed on them in a grippy material that made picking up a glass or other item simple. I started my run and almost immediately my phone beeped telling me that I had a message. The temperature outside was in the low 40's Fahrenheit and I grabbed my phone and tried out the OnTip nubs for the first time and was happily surprised to find that they worked flawlessly – I was able to open my text message and respond without having to take my gloves off. While on the run the OnTip Fleece Liners kept my hands warm and cozy and the fit was spot on – the little print out did the trick.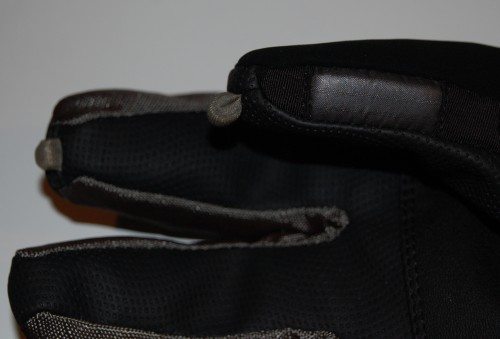 What I really like about the OnTip nubs is that there are two of them; one on the thumb and another on the pointer finger of the gloves. I was able to both point and swipe on my phone with a good deal of accuracy even though I was wearing a pair of gloves. Both the fleece liners and the outer shells have the OnTip nubs, so I'll be able to answer my phone however I'm wearing the gloves.
The next test I came up with is exposing the shell to icy and wet conditions. I turned to the cold water test and created an icy bath where I plunged my hands with the OnTip Gloves on. I kept my hands in the icy water for 30 seconds and the gloves performed admirably – my hands stayed warm and dry and the gloves were super cozy. I found the OnTip Shell fit very well and there was a stretchy bit that was sewn in around the wrist are of the glove to keep it securely on my hand. The length of the OnTip shell was welcome as it extended beyond my wrist to cover any jacket that I would be wearing and ensure that my wrist area stayed warm as well. On the bottom of the glove is the standard button closure that allows you to simply close the glove up to keep out any snow or water while outside. The palm area of the glove is covered in a soft grippy material that I would have to guess is a synthetic suede. I could easily pickup items even when the glove was damp as the fingers are also covered in a second synthetic material that made picking up items a snap. The rest of the shell of the gloves is covered in two materials; a waterproof breathable material and a softer black material. Finally, on both the liners and the shell there are snaps to keep the gloves together so they don't get lost.
I performed the last test a second time by combining the OnTip Fleece Liner with the OnTip Shell and found the ultimate in comfort, warmth and protection from the elements. What surprised me was that my hands were actually getting warm inside the gloves, not hot mind you as the breathable materials were wicking away the moisture that was starting to accumulate inside the gloves from the heat, but noticeably warm. I could see the OnTip 3-n-1 Gloves standing up to the best Mother Nature could throw at me.
The last test will be taking the OnTip 3-n-1 Gloves skiing. You will have to wait a couple of weeks for an update as I am scheduled to go out west on a ski trip the first week of the New Year and will test the OnTip 3-n-1 Gloves then. To find out how they perform you will have to check back to catch the updated review in a couple of weeks.
So far, I would have to positively recommend the OnTip 3-n-1 Gloves as they deliver warm, soft and cozy gloves that keep your hands dry even in the coldest environment while you use your touch equipped technology. I could see the OnTip family of gloves being used by sports enthusiasts as well as those whose work requires them to be in cold and harsh environments.

Product Information
| | |
| --- | --- |
| Price: | $69.50 |
| Manufacturer: | OnTip, LLC. |
| Retailer: | OnTip, LLC. |
| Requirements: | Use of your touch device including iPod, iPhone, iPad, Tablet, Touch Screen Notebook, or other touch enabled device in the cold of winter or other cold environment |
| Pros: | Great design that is not only stylish, but protects one from the elements and at the same time you can use your touch sensitive device |