We use affiliate links. If you buy something through the links on this page, we may earn a commission at no cost to you. Learn more.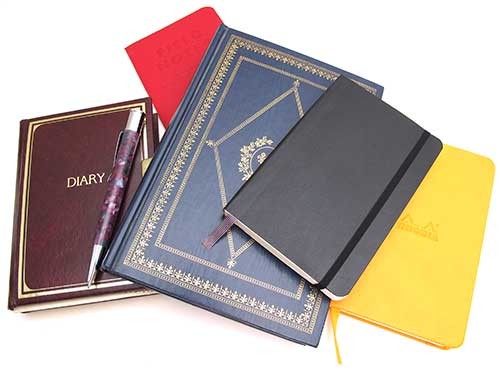 It's the beginning of a new year, which for a lot of people, means that it is time to start a new journal or diary. I've been wrestling with the decision of whether to stay traditional and keep my journal in a Moleskine, Rhodia or similar notebook, or go digital and use a diary app on my iPhone / iPad. Both formats have their own set of advantages and disadvantages. Is one way to better than the other? In this two part article, I'm going to try to answer that question for myself and maybe for you too. Part one covers traditional journals.
My journaling background
I've been an on again off again diary keeper since I was a kid. Back in the 70's and 80's when I was growing up, the only way to keep a record of your thoughts, memories and events was by writing them down on paper. I had several anything books as we used to call them… blank unlined hardback books meant to hold "anything". I also had a couple classic lock and key type diaries that offered one page for each day of the year. I was even into 3×5 inch index cards way before they were cool. I used to keep a metal index card box labeled "Julie's Secret Files". Yep, I was a dork even back then… Nothing has changed folks 🙂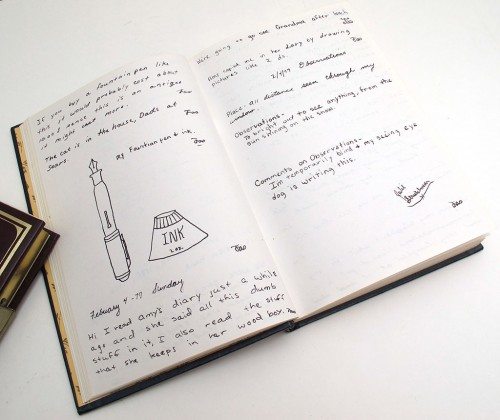 The sad thing is that I can currently only find one of my childhood journals. I know the others are around here somewhere (hopefully). I just don't know where. I sat down with that one diary this past weekend and reading it from cover to cover gave me quite a few laughs. 90% of it was filled with entries talking about how big of a pain my younger sister was and all my attempts to find and read her diary. Come on, that was very important stuff to a 13yr old! But mixed in with that silly stuff were a few nuggets that triggered long lost memories. Reading it made me wish I would have continued to keep a journal all these years. I especially wish I would have kept a journal this past year to record my cancer adventure.
Sticking with it…
Why haven't I been able to keep a journal over the years when I've tried countless times? Lots of lame reasons that tend to run in a continuous loop as an internal dialog in my head:
What I write is complete drivel, so why write it down?
My hand writing is messy and I make too mistakes.
I don't have time to write today, I'll do it tomorrow.
My doodles are crude and pointless.
I haven't written in months, so why start again?
I now have answers and comments to those questions and statements that are helping me make journaling a habit that I will stick with.
Q: What I write is complete drivel, so why write it down?
A: Yes, it probably is, but who cares. It's your drivel and mixed in with it, will be valuable memories that you'll be able to enjoy later.
S: My hand writing is messy and I make too mistakes.
C: You're not being graded on your penmanship, so who cares.
S: I don't have time to write today, I'll do it tomorrow.
C: That's fine. You don't have to write every day, or even every week or month. Write when you feel like it.
S: My doodles are crude and pointless.
C: You're not being graded on your artistic abilities, so who cares.
Q: I haven't written in months, so why start again?
A: Why not? Don't feel like a failure when you don't write for long periods. Think of it as a break so you can store up memories to write about later.
Once I flipped the switch in my brain that makes me want to write things down all the time, I encountered a new problem and the reason for this article… It's my struggle to choose between keeping a traditional paper journal or keeping a journal on my iPad. Analog vs. digital? That's the big question. Let's consider the analog journal…
Going with paper and pen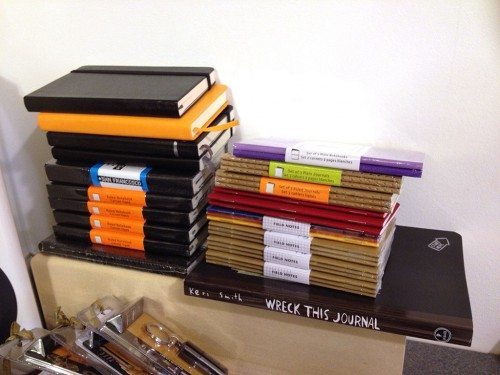 Analog journals come in all manner of sizes, shapes and colors. I have to admit that I'm a sucker for Moleskine, Rhodia, and similar notebooks. There is something very romantic about writing your thoughts in a bound book. It's as if those thoughts are more important just because they are inscribed in a physical book. As you can see from the image above, I have quite a collection of empty notebooks to choose from. The stack on the Left includes a Quo Vadis Habana journal, several blank and lined Moleskines, a San Francisco Moleskine travel journal and a Rhodia webbie. On the Right are a bunch of a Field Notes notebooks and Moleskine Cahiers and Volants. On the bottom of that stack is a Wreck This Journal book by Keri Smith. It's a journal with all kinds of prompts that are designed to help you be more creative and not worry about screwing up your journal. I found it to be a cool concept, but it a little too juvenile for my taste.
My favorite notebook is currently the 3.5 x 5.5 inch unlined Rhodia Pocket webbie in Orange. I love the soft almost padded feel of the cover and that I can write and draw with markers without too much fear that they will bleed through the page. I do wish that the webbies had white instead of the cream color. I like Moleskine notebooks too and prefer the Sketchbook Pocket version for the thicker paper. Markers and some inks bleed through the regular Moleskine notebook paper too easily.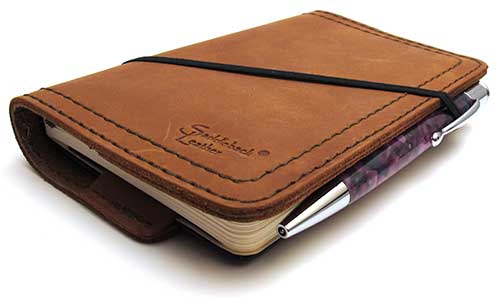 I am also more than a little obsessed with finding accessories for my notebooks. Notebook covers, pen holders, bookmarks, pens, pencils, you name it…
What do you write in your journal?
There are a million different types of journals. Art journals, gratitude journals, dream journals, trip journals, workout journals, food journals etc. I'm usually pretty traditional when it comes to what I write in mine. I don't use it as an appointment or to-do book. It tends to be a dated entry with a synopsis of my day. I might include a drawing if the mood strikes and I sometimes tape or glue ticket stubs or other small paper items pertaining to the day's events.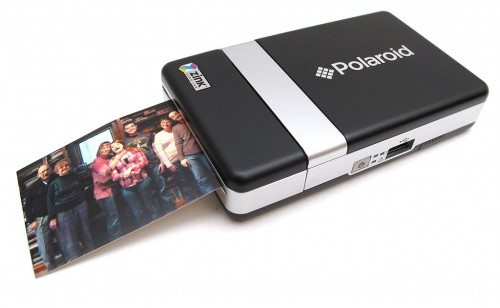 I recently purchased a Polaroid Pogo Mobile Printer for the sole purpose of making 2 x 3 inch prints to add to my journal entries. Although the print quality isn't spectacular, it's good enough for this task. The printer itself is less than $40 and doesn't require any ink cartridges. The only consumables are the special photo paper that is required for it. They also offer photo paper with a peel and stick backing, which makes adding pictures to your journal very easy. I have some on order 🙂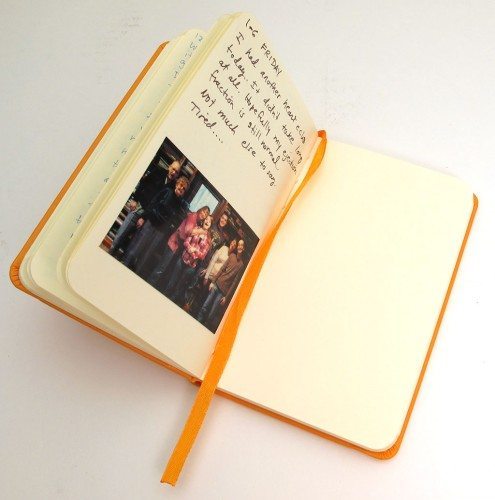 The big downside for me is that this little Bluetooth printer isn't compatible with the iPhone. Apparently you can get it to work if you're willing to jailbreak your phone and load a special Bluetooth app. But, at the moment there isn't a way to jailbreak an iPhone 4S. As soon as there is, I'll be doing it just so I can use it to print pics to the Pogo. The Pogo does work just fine with my iMac and also worked great with a Samsung Galaxy Nexus Android 4.0 phone.
Finding inspiration
I love seeing pictures of other people's journal entries and will sometimes go on Flickr and do a search on the word "journal". It's a cool way to find ideas for my own entries.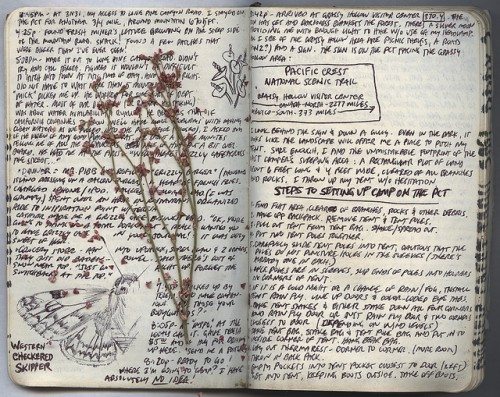 For example, if you want to be inspired, go check out The Hike Guy's journals of his 1700 mile trek along the Pacific Crest Trail. They are fantastic and make me want to get a backpack and set off for an adventure in the woods right now. Or maybe when it's warmer… and I have an RV… with a satellite link. 😉
There are also many journal related sites that I love to visit. Here are a few:
Notebook Stories
Journaling Saves
Recording Thoughts
Privacy
Keeping a journal on paper means that someone will probably find and read it long after you are gone, if not sooner. Some people might consider this a terrifying possibility. It's something I really don't worry about. If someone wants to read one of my journals, it's probably going to bore them silly very quickly.
For those of you that do worry about the uninvited sneaking a peek at your innermost thoughts, does that make digital journals more attractive since it is easier to secure / hide them?
Some advantages of keeping a paper journal:
Electricity or a connection to the internet is not required to write an entry
Dropping a journal on the floor will not break it or cause it to lose entries
A Moleskine will never crash or need a firmware upgrade
Paper journals allow much more freedom and customization than their digital equivalent
They cost much less than a smartphone, tablet or computer
What are some other advantages that you find with paper journals vs. digital journals?
If we're going to talk about advantages, we have to talk about the disadvantages too.
Some disadvantages of keeping an analog journal:
It's easier for someone to find and read your journal when it's a physical object like a book
There's no spellcheck for a Moleskine
If you write an entry with sloppy penmanship, you'll have to live with it
It's difficult to find a specific entry in a journal
You can't easily backup an analog journal like you can a digital journal
I actually have one way to take care of the last two disadvantages on that list.
Using Evernote to back up your journal
If you haven't heard of Evernote, it's a free (there's a premium version too) note taking, web clipping, archiving tool that you can use on your desktop or your iPhone, Android and Blackberry devices.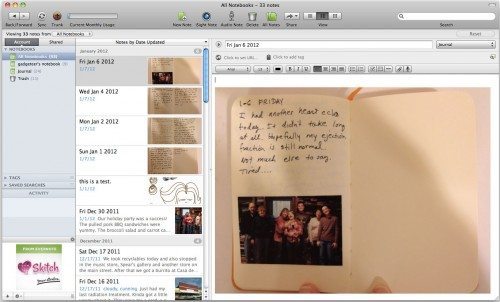 It makes a great analog journal backup tool and search tool. Just snap a picture of your journal page and upload it to your Evernote account. You can create an Evernote notebook to store all your journal images. You can then sync your Evernote notebooks between your desktop and your phone, which means you'll have a copy of your analog journal on your digital device. Cool right? It gets even better though…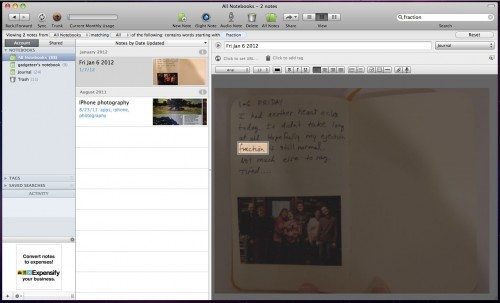 You can search for words in the images you've uploaded to Evernote. Just type a word in the search box and Evernote will give you a list of all the entries where that word shows up. Even your hand written words are searchable. I'm not just talking printed words – even cursive! That makes it super easy to find a specific entry. It doesn't work 100% of the time as in it sometimes will show you words that don't match your search criteria, but it works well enough to be a super useful tool. Evernote is also an excellent companion to one of my favorite iOS journal apps. But more about that in part 2 of this series where I'll talk about digital journaling.
In the mean time, I'd love to hear from you about your journal preferences. What is your favorite brand of notebook? Do you include drawings? Do you add photos? Write in code so people can't read it?