We use affiliate links. If you buy something through the links on this page, we may earn a commission at no cost to you. Learn more.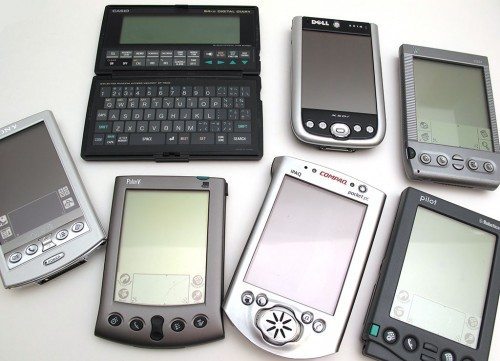 A few years ago, most of the people reading this article probably carried two devices with them every day in their pocket or bag: a mobile phone and a PDA. PDAs aka Personal Digital Assistants were the norm back then, while smartphones were still just a glimmer in eye of Steve Jobs and the Google whiz kids. These days no one wants two devices when they can carry one uber-nifty mega smartphone right? Maybe not.
Once a month or so, I'll receive an email like this one:
Hi Julie,

I was wondering if you could give me some advice on a replacement for my Palm TX?  I've done quite a bit of research and found that no one except HP (IPAQ) is making PDAs any longer.  (And they are expensive.)

I could go to a different platform, but it seems that there isn't anything handheld that enables you to enter data with a stylus and that functions primarily as a business organizer (focus on calendar, contacts, notes, and enables you to sync it with the computer.)  I don't need a phone with more functions and I don't want to have to pay a monthly data fee to use the device. I really like the simplicity of Palm devices.  It seems I am not alone.

Some people are turning to the iPod Touch, but I really like the "always on" feature of PDAs. Plus, I understand it is primarily an entertainment device as opposed to a business organizer.

Any thoughts.  I'll need to sync with a Windows 7 PC.

Don
I know that Don isn't alone because I live with someone that has no desire for a smartphone. She still uses a Palm Zire 31 which was released way back in 2004, the dark ages of mobile computing.
As I see it, people that want to continue using pocket sized PDAs, have 3 choices:
1. Continue using older PDA devices for as long as you can find / replace them
Most of the people that email me asking for PDA advice, always start out by saying that their Palm device is dying and what current device can they buy to replace it. Guess what? You can still find brand new boxed Palm PDAs for less than $50 on eBay. And if you don't mind used devices, you can easily spend less than $25. Handspring Visors and Windows Pocket PCs can be found too. This is the most inexpensive solution and most likely the best one for people who are perfectly happy kicking it old school.
In addition to the basic PIM (Personal Information Management) apps that are built-in to each device, you can still download 3rd party productivity apps from sites like Handango and Freeware Palm.
The biggest problem I can see with these older devices is the fact that there is little to no support for them other than like minded users on various online forums. There's also the issue that as we continue to update our desktop computers to newer OS versions, the ability to sync/backup our data on these devices will probably become impossible due to software incompatibility. That said, depending on the device, you can still find syncing software for Palm and Windows CE/Pocket PC devices on http://www.hpwebos.com/ and http://hp.com respectively.
2. Consider a WiFi enabled Android device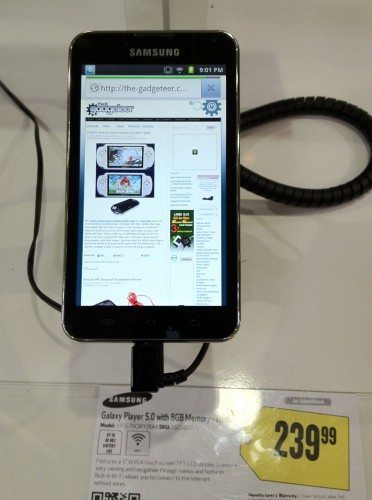 There are two ways to get a pocket sized Android device that can serve as a PDA. One way is to buy a WiFi enabled smartphone and only use the WiFi connection instead of the cellular connection. Just like with older Palm devices, older Android smartphones can be found at bargain prices. However, if you want something shiny and new, consider one of the Samsung Galaxy Player devices. They offer 4 and 5 inch models that are priced at $230 – $270. They have all the main features of current Android smartphones like WiFi, GPS, Camera, SD card expansion and Bluetooth, but without the need to pay for a monthly data plan. I took a quick look at the Galaxy Player 5.0 at my local Best Buy and was tempted to buy one just to do a review.
One of the best reasons to go with an Android device is the fact that you completely bypass the need to sync data with a desktop PC. All data syncing is done with Google (calendar, contacts, email) via WiFi to the cloud. And for those of you that are extra paranoid, there are third party apps that will back up your data to an SD card.
3. Another option is an iPod touch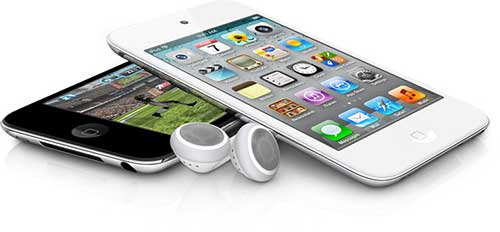 Apple's iPod touch is almost like having a thinner iPhone without the actual phone feature. Priced at $199 – $399 depending on the capacity, the touch has WiFi, Bluetooth, and front / rear facing cameras. What it doesn't have is a flash card slot or a real GPS… but there is a mapping feature that uses proximity to known Wi-Fi networks to figure out your location. Definitely not very accurate though.
There are a bazillion productivity apps for the touch including some of the really popular ones that used to be available for the Pocket PC and Palm OS like Pocket Informant and iambic's Agendus.
Like Android devices, you have the option not to connect the iPod touch to a desktop computer as the data will be stored in the cloud with iCloud. iCloud will also make sure that your data is the same across all your iOS devices which is cool. I like that I can take a picture with my iPhone and it will automatically show up on my iPad and iMac. You can even sync your Google data (calendar, email, contacts) with Apple's built in apps.
Of course if you choose option #2 or #3, you'll have to charge your device every 2-3 days unlike 2-3 weeks or longer with an older Palm device.
If it were me, I'd probably choose the iPod touch for a few different reasons. For one thing, it has more support from Apple in the way of OS updates than the Samsung Galaxy Player and other older Android devices. Apple tends to provide major OS updates through 2 generations of devices. So if you buy the current or last gen device, you can still run the latest and greatest version of the OS. This doesn't seem to be the case with Android devices. There is also a huge variety of 3rd party accessories for the touch that include cases, charging docks, speakers, fitness sensors and more.
So what do you think? Is there still a market for PDAs? Are there other devices not mentioned here that you think would make a great PDA for the non-smartphone crowd? Let me know your ideas.