We use affiliate links. If you buy something through the links on this page, we may earn a commission at no cost to you. Learn more.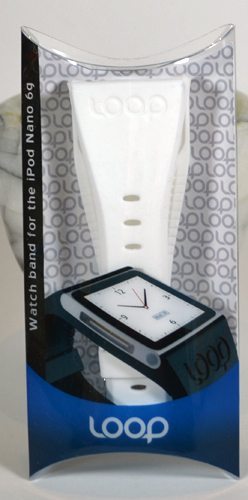 There are a lot of watchbands for the iPod nano on the market, and a lot of them seem a bit big and sporty to me.  The Loop Nano watchband is sleek and looks more like a regular watchband.  It works with both the 6th and 7th generation of the Apple iPod nano. Let's give it a closer look.
Some of the photos in this review can be clicked for an enlarged view.
The Loop Nano watchband started out as a Kickstarter project. It was successfully funded, and the watchbands are now available for sale.  They are available singly in black, white, red, pink, green, and blue.  You can see I received the white band.  You can also buy them in discounted, themed sets with names like Newspaper with black, white, and red watchbands, get it? 😉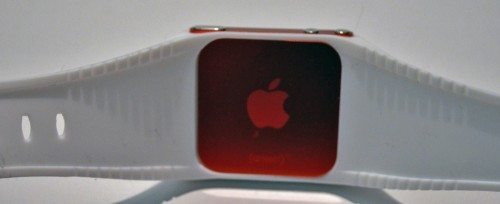 The watchband is a single piece of silicone with a stainless steel clasp.  There's a cutout for the nano's clip to attach through.   You can see there's a ridge along the edges of the band to keep some air between your skin and the silicone band.  This helps keep your arm from getting so sweaty under the band.  When the nano is in place, the clip fits flush into the back of the band.  This keeps the metal clip from scratching your arm, but the clip is not protected from sweat.
The Loop Nano watchband is smaller than many of the other nano watchbands I've seen.  It's just over 9″ long, including the buckle, and it's about 1-3/8″ wide.  It's only about 3/8″ thick, so it will be as discreet as a watch this size can be.  It can be adjusted to fit a wrist about 5″ to 8″.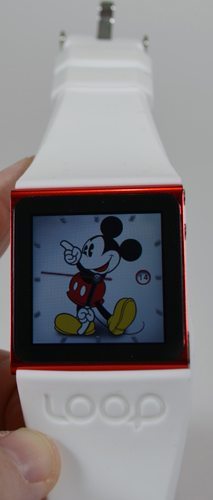 There are silicon "ramps" that slope up to cover the metal sides of the nano.  The power and volume buttons on the top and the headphone jack and docking connector are exposed for easy access.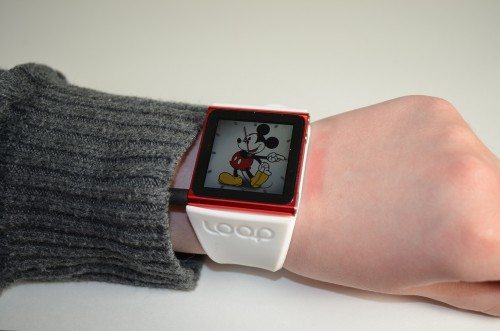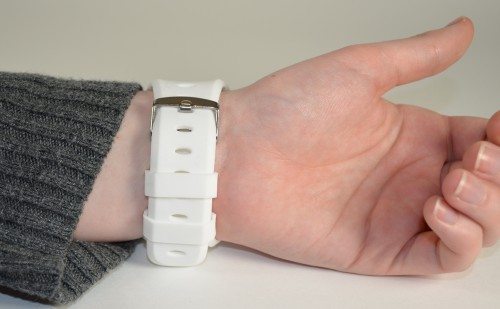 My daughter Rachel modeled the watch for us.  She has a small wrist, but she found the watchband comfortable to wear.  You can see she ran the headphone cord up her sleeve so that the cord isn't flopping around or getting jerked from her ears whenever she moves her arm.  Because the nano's display can be rotated, it was easy to insert the iPod into the Loop band so the headphone jack is closest to her shoulder.
I think the Loop Nano watchband would be a good gift for the person who wants to use their iPod nano as their watch, even while they are at work.  It will keep your nano at the ready for listening to music, too, without looking like you rode your ATV to work – not that there's anything wrong with that.
Product Information
Price:
$19.99 for one; $50 for a themed set of three
Manufacturer:
Loop
Requirements:

Apple iPod nano, 6th or 7th generation

Pros:

Sleek and discreet
iPod nano can be used as a watch or as a music player
Can charge the nano without removing it from the watchband

Cons: