We use affiliate links. If you buy something through the links on this page, we may earn a commission at no cost to you. Learn more.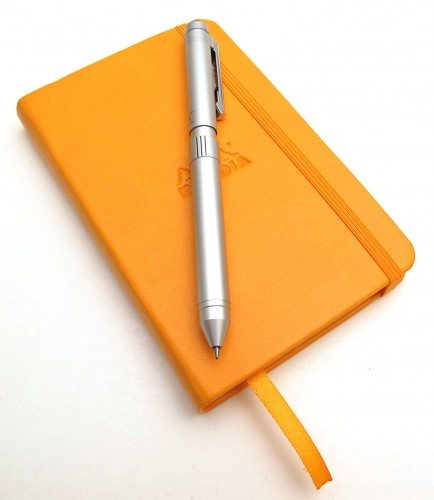 I haven't used a multi-tip pen on a long time, so when Brad at JetPens asked if I might like to review the  Zebra Sharbo X ST3 multi-tip pen, I was happy to say yes. The multi-tip pens from years gone by were usually bulky and not very sleek. People would never guess that the Sharbo X houses 3 separate tips because it looks no larger than a one tipped pen. Let's see if it works as well as it looks.
Note: Click the images in this review to see a larger view.

The Zebra Sharbo X ST3 has a paint coated brass barrel and is available in 3 colors, which include Silver, White and Black. As you can see, I was sent the Silver version for this review. The finish has a brushed appearance and is smooth to the touch.
The pen has a length of 138.1 mm (5.5 inches with the tip retracted) and a diameter of 11.1 mm (.44 inches).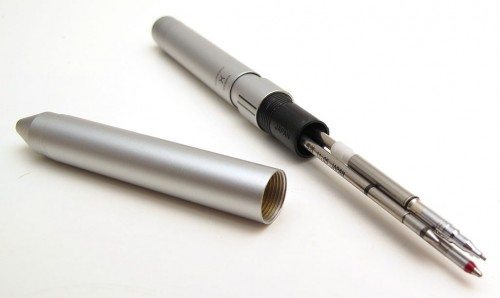 There were no English instructions included with the pen, but it's easy to load the tips. The barrel unscrews to reveal 3 tip holders.
It's important to note that you'll be required to purchase the individual tips along with the pen. The Sharbo is compatible with mechanical pencil components in: 0.3 mm, 0.5 mm and 0.7 mm sizes. Pen refill components are available in a: 0.4 mm, 0.5 mm, and 0.7 mm sizes, in gel or ballpoint and in a variety of colors. A stylus (not for capacitive screens) component is also available. The prices for these tips vary from $1.35 to $5.00 each if you get them through JetPens.com.
To load the tips, you just slide them into each individual holder and seat them. The pencil holder is the only one that you have to pay attention to as it's made differently to allow for the push lead advance mechanism.

Once the tips are loaded, you screw the barrel back on and start using the pen. Tips are selected by rotating the top section of the pen so that the selector line matches up with the 3 sets of lines on the lower barrel. In the image above, tip #3 is selected.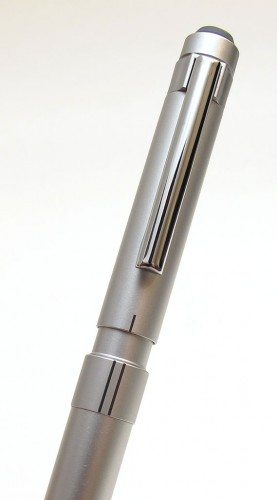 As you rotate the cap to each selection, it clicks in place. In the picture above, you can see that tip #2 is selected. FYI: tip #1 is always the mechanical pencil tip.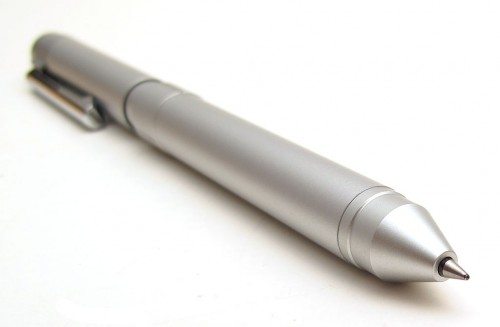 When you turn the cap to select a tip, it is automatically extended. The main problem with the Sharbo X ST3 is that there isn't a selection for no tips. To leave the pen with no tips retracted, you'll need to leave the cap rotated between two sets of marks.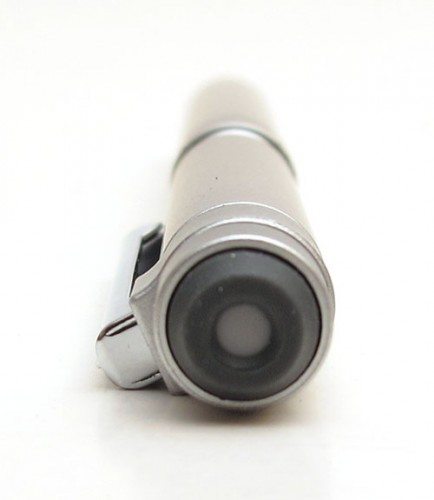 Another oddity of this pen is that the cap has a rubber top that looks similar to an eraser. And interestingly enough, it works just like an eraser by leaving little eraser crumbs if you use it to erase something that you've written in pencil. The problem is, that the top is not an eraser at all. It's just for looks.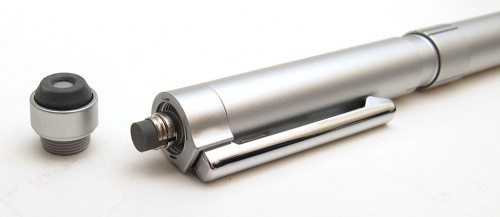 To access the real eraser, you have to unscrew the cap… which is made of silver color plastic and not metal like the rest of the pen…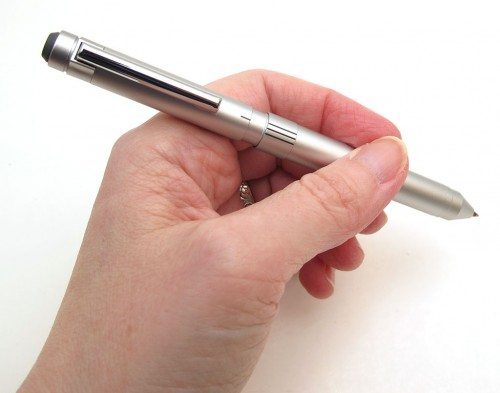 The Sharbo X has a bit of weight to it, while remaining well balanced. It feels like a quality pen and writes well. But of course this depends on the type of ink components that you install. I installed a black gel ink component and a red regular ink component along with a mechanical pencil component. I never had any problems with the tips getting jammed or other issues with the mechanics of the pen.
The only other thoughts that I have on the Sharbo X have to do with the fact that the tips are so small. That means they don't hold that much ink or leads. I've not had an ink tips run out yet, but at $2.75 each, this could be turn into an expensive pen for a person that uses it heavily. The mechanical pencil tip can only accommodate 1 lead at a time, so having to load more could end up becoming a frequent activity.
I like the looks and feel of the Sharbo X ST3 Multi-pen. Carrying 3 pens in one sleek package does have its benefits. But at almost $50, it seems too expensive to me since you also are required to purchase 3 tips which can end up adding $10 to the price and even more as you replace the tips.
Are you a fan of multi-pens? If so, what is your favorite one to use?