We use affiliate links. If you buy something through the links on this page, we may earn a commission at no cost to you. Learn more.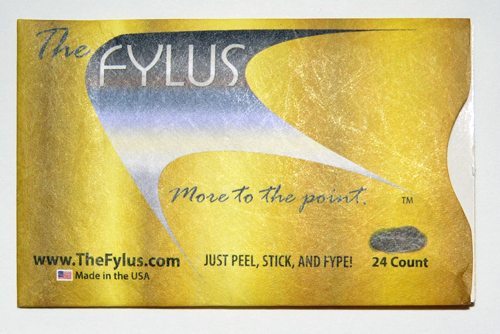 Some people have trouble using capacitive touchscreens because they find their fingers are just too big for those tiny little keys on a smartphone screen.  Others don't like to use touchscreens because they don't like leaving oily smears on the glass.  Whatever the reason, some people want to use a stylus with their device, but they don't want one of those plastic toothpicks that are so tiring to grip.  There's also nowhere to store the stylus with most devices.  The folks at Fylus have designed a new kind of stylus that doesn't need to be stored and isn't tiring to use – they're little adhesive dots you stick to your fingertips.  How do they work?  Let's find out.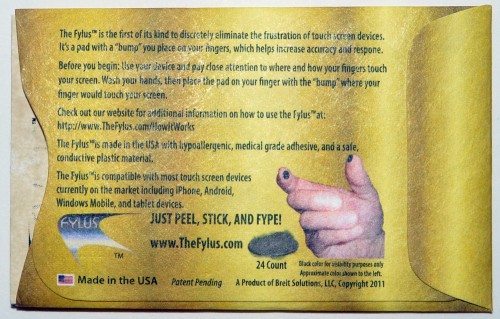 Fylus says their stylus dots are made of a safe, conductive plastic material.  They also say they use a hypoallergenic, medical-grade adhesive that leaves little sticky residue behind when the dots are removed;  any stickiness left behind should be easily removed by rubbing your fingers together.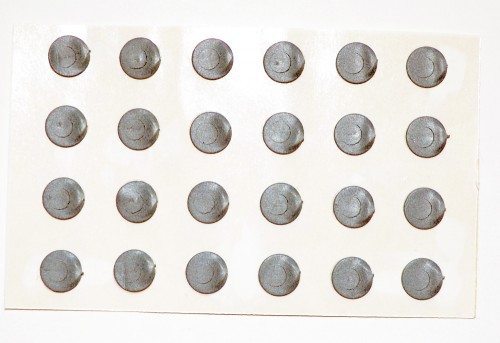 The dots are designed with a raised peak, which you can see in the above picture.  Although the Fylus can't make your fingers more conductive, they are designed with the peaks to help make your touch more precise.
Before using the Fylus dots, you should watch how your fingers touch the screen.  Once you've determined which part of your fingers touch the screen, you can determine the orientation of the peak and the placement of the dots on your fingertips.  You can also decide which fingers you'll most often use and place dots on those fingers.  Fylus recommends you use them on both thumbs and one index finger for use with smartphones, for example.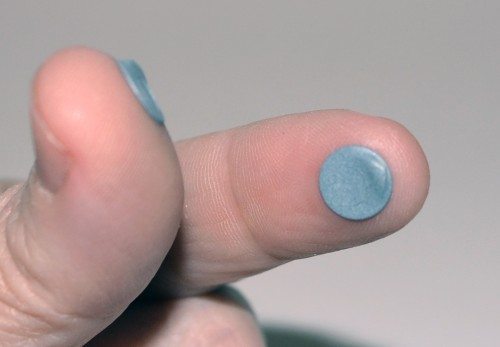 Before placing them on your fingers, instructions say to wash your hands.  Place the dots on the fingers and locations you want, then press them against your skin to activate the adhesive.  Once they are in place, Fylus says you'll be able to wear them for hours while doing your normal activities, including washing your hands.  I decided I'd wear them on both thumbs and both index fingertips.
Although some of the dots seem to have little extra points on the peaks, they aren't scratchy.  I tried rubbing them over my skin, and they did not feel rough or scratchy.  They didn't snag in my clothing, but I'd be cautious about using them while wearing hose.
They did stay in place for several hours, but I found it was awkward doing some normal activities.  I don't spend every moment using only a touchscreen device.  I use a laptop with its keyboard and my Magic Mouse.  Having the dots in place makes it very difficult to tell by touch when my hands are placed properly on the keyboard for touch-typing.  Typing feels different with the dots in place, but I was able to type well after I got used to the dots being on my fingers.  The dot on my right index finger interfered with using the touch features on my Magic Mouse, but I found I could use it after some practice.  Holding a pen to write a check was awkward, too.  The dots themselves are stiff, and they don't mold themselves around a pen barrel, for example.  Using my fingers for these activities caused pressure on one side of the dots, and this caused the dots to tilt and pull against the adhesive.  That doesn't hurt, but it's a noticeable sensation.
Fylus says that the dots don't increase your skin's conductivity, and they say that people with low conductivity may find the stylus dots don't work for them.  I have no way to measure my skin's conductivity nor do I have a standard of "good" conductivity to measure against.  I do know that every touchscreen I own – iPad 2, iPhone 4, iPod touch, iPod nano, and other devices I've owned in the past – all respond very well to the lightest touch from my finger.  Sometimes I'm not even sure I made contact with the screen when it responds.  Based on that, I'd say I have good conductivity.  My fingertips are medium-sized, I guess, and I have good precision when using the touchscreens.  I normally have few problems using the small keys on the iPhone keyboard or selecting even the smallest icon or hyperlink on the screens.
I tried using the Fylus with my iPad 2 and my iPhone 4.  I had trouble getting the screens to respond at first because I was trying to touch the screen with the peak for precise control.  The screen didn't respond well, so I tried touching harder or multiple times and often still didn't get a response from the screen.  I found I didn't get a consistent response until I flattened the angle of my fingers and touched the screen with the entire dot.  I didn't find this any more precise or responsive than my fingertip alone.
Never miss one of our posts again. Sent MON, WED, and FRI with the latest gadget reviews and news!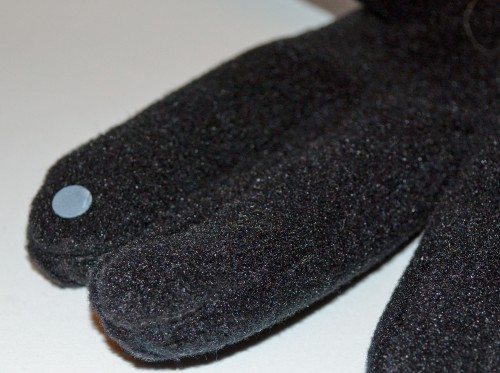 The time when I most need assistance with my touchscreens is when I'm wearing gloves.  I don't have any gloves with conductive fingertips, so I have to take my gloves off to answer my phone.  I tried sticking one of the dots on the fingertip of my Polarfleece gloves.  The adhesive stuck very well to the material.  I tried using my iPhone while wearing the Fylus-equipped glove, but it did not work at all.  The plastic material apparently doesn't work with the capacitive screens unless it has direct contact with your skin.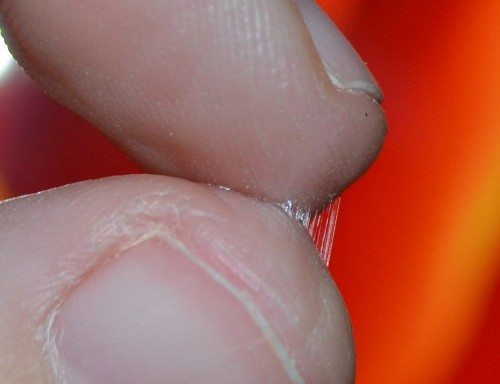 After I removed the dots, I found I had quite a bit of very sticky adhesive left behind.  My fingers stuck together, as you can see in the picture.  I couldn't really remove the residue by rubbing my fingers together as Fylus instructed.  It took soap, water, and some friction to remove the residue.
I asked my husband to try the Fylus so I could see if my problems were caused by my skin's conductivity.  Butch reported the same results I had.  He felt the dots interfered with other activities, like typing and writing with a pen.  He didn't find they improved the response of the touchscreen.
I'm sorry to say that I won't be using the Fylus stylus dots.  If you'd like to try them to see if you have a different experience, Fylus does offer a small free sample pack at this time.  Check their website if you'd like a sample or to purchase a small quantity to try them.
Product Information
Price:
Varies. $2.75 for a pack of 8 dots, $7.95 for the package of 24 dots I received. Discount for larger quantities.
Manufacturer:
Fylus
Pros:

Reduce the amount of smudging on your touchscreen.
Can stay in place for hours, even through hand washing.

Cons:

Were no more responsive than my fingertip.
Interfered with typing and writing.
Left behind a lot of very sticky residue.