We use affiliate links. If you buy something through the links on this page, we may earn a commission at no cost to you. Learn more.
I'm not crazy about most do-it-yourself dog grooming products because most of them are long on promises and short on delivery. And they're expensive.  For that kind of money, I can just take my pooch over to PetSmart and let them do what they have to do.  I have a Pembroke Welsh Corgi, and for anyone who knows anything about herding dogs, they shed.  A lot.  A really BIG lot.  So they need to be brushed regularly and groomed more often than say… a poodle.
Because I don't always have the time or money to take him to the groomer's or because I just took him to the groomer's,  a home bath is in order.  That means a wet dog in a wet tub with water everywhere and using up just about every towel in the house.   Soggy Doggy Productions have come to the rescue with Soggy Doggy Super Shammy.
During really rainy days, my Corgi LOVES to play in puddles.  The muddier the better.  I don't know if this is an evil plot to get back at me for not petting him 24/7 or giving him cookies on demand, or what.  But if there's a puddle, a feral cat, or a set of water birds, my dog is off to the races.   And every one of those scenarios means it's bath time.
You might remember that I reviewed the Soggy Doggy Doormat  – which, frankly, is a Must Have for ANY pet owner as it soaks up water, rain, snow, dirt and Heavens know what else up to five times more than any rug or towel.
Super Shammy takes all of that to a new level.   Instead of just a rectangular sheet of toweling, Super Shammy has pockets sewn in the corners to put your hands in to give you more control over the drying.  The chenille nubs on the outside soak up water faster than any terry cloth towel will.  And I should know.  Corgis have this cottony, fluffy undercoat that Never. Seems. To. Dry.  EVER.  It's met its match with the Soggy Doggy Super Shammy.  My dog also thoroughly enjoyed the nice massage he got while I was drying him with the shammy.  It never seemed to get…well… soggy either.  And my dog didn't mind me drying his paws, and this is a dog who does not like to have his paws messed with.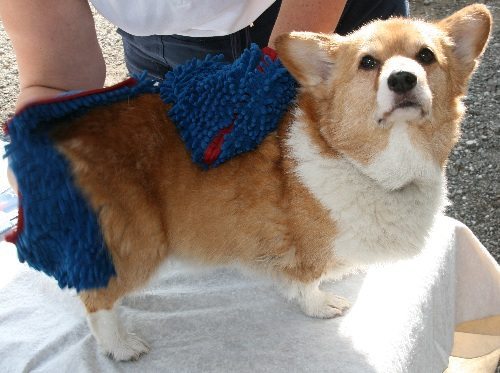 Super Shammy is made of chenille-polyester-polyamide blend which makes it machine washable and machine dry-able.  But here's what I don't like and that's the deep blue Marine color of the sham.  I don't need my shams to be deep dark colors.  The instructions on the shammy require me to wash this separately and quite honestly, I don't have time or the quarters to wash a doggy shammy separately.  I think the color is really cool and it stands out,  but it's a shammy to dry my dog off.  This deep dye is really not necessary… I'm cool with a neutral color that can be washed with other neutral colors and that would not require a separate washing. To be fair, the Super Shammy just wasn't all that soggy feeling after I got done with it, and I threw it into the dryer to remove the water and excess hair.  It came out clean and fluffy and fine.  So, depending how much dirt or debris you're sponging off your dog, you might be able to skip the wash cycle in certain circumstances.
Soggy Doggy Super Shammy boasts a superior construction.  No loose threads, solid, strong seam work, no holes, nothing to come loose.  It's well made, and I'm a big fan of solid construction.  At $19.99, it's not going to break the bank either.  I've seen more expensive items that did less, and this is a good deal.
My only other gripe is that it does not appear that you can find Soggy Doggy products anywhere but online, and that's really a shame because these products need to be everywhere.  Even my In-laws like my Super Shammy and they know a thing or two about dog grooming; they raise and show standard poodles.  They work the dog show circuit.  And a pickier bunch of dog product reviewers never existed, and THEY dig the Super Shammy.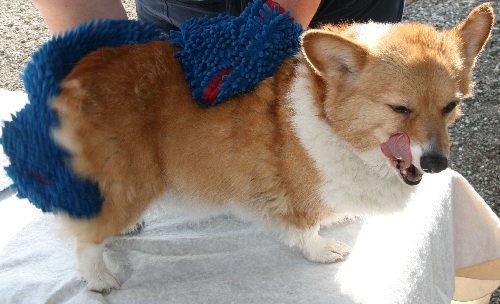 This is a superior dog grooming product.  It's a Must Have.  It's a perfect stocking stuffer for your dog-loving or just animal-loving pals. It's got one or two cons, but they're not deal breakers and honestly I'm giving Soggy Doggy Super Shammy a Christmas Gift Thumbs Up.
Never miss one of our posts again. Sent MON, WED, and FRI with the latest gadget reviews and news!
Product Information
Price:
$19.99
Manufacturer:
Soggy Doggy Doormat
Requirements:
Pros:

Soaks up wet dog like no towel ever could.
Hand pockets for better control.
Machine washable.
Good construction.

Cons:

Machine wash separately.
I'm not crazy about the deep blue color.
Cannot find these products commercially. Seriously, these folks need to get on Martha Stewart or Marc Morrone or something.