We use affiliate links. If you buy something through the links on this page, we may earn a commission at no cost to you. Learn more.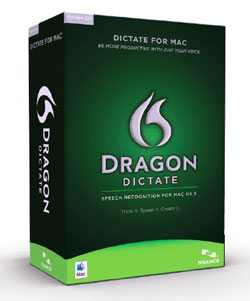 The black and white, dead-truth of the matter is, I am a horrible typist. This is not ideal for my day job or writing reviews here at The-Gadgeteer.com. It is my own fault, during high school I did everything I could to get out of typing class. I was in band, shop, PE and even took extra math and science to get out of typing. I was so bad, in college I used to bribe my girlfriends with dinner out on the town if they would type my papers for me, thus saving me hours/days of effort.
In the interim, I hoped for computer and software technologies to evolve to the point of being able to talk and have my speech transcribed into written word.  It has taken a while, but those times are here (and some would argue that they have been for a while) for both the Windows and Mac users alike. From everything I have read, Nuance is the industry leader in the technology. For Mac users, their Dragon Dictate software is really the best (and potentially only) option at this point.
I have debated for years on when to give this type of technology a try, always worried that whatever software I tried would fall short of my expectations. What/who convinced me to make the leap was Dan Cohen, a fellow writer/reviewer over @ the GearDiary.com. He has written several very positive commentaries/reviews on Dragon Dictate for Mac. So, with their recent release of version 2.5, Nuance sent me a copy of the software to give it a go.
As with most applications today, installing Dragon Dictate for Mac was extremely easy. The first step is to load the software onto your hard drive, followed by the vocabulary/grammar database. Once that is accomplished, you are almost ready to start talking to your computer.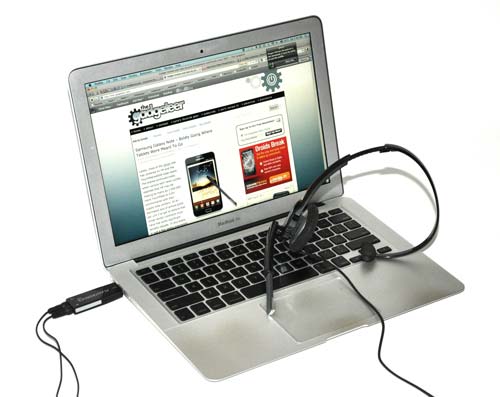 With the version of Dragon Dictate I received, Nuance included a Plantronics USB microphone for vocal input. Nuance also has a download only and Bluetooth microphone options as well. If you prefer to go wireless, there are not many (blessed) options available. The Plantronics Calisto bluetooth headset is currently the sole wireless option Nuance suggests. I find this disappointing. I was hoping that my Plantronics 925 or 975 would be compatible, since they are so much more compact and transportable than either the wired or Calisto headsets. That said, just recently, Nuance has released an iPhone app which gives you another, potentially more convenient wireless input option; allowing you to use your smartphone as a microphone/input device via a WiFi network.
After selecting an input device, you have to read to the software/your computer, allowing it to learn how you speak/talk. This process takes anywhere from 3 to 5 minutes and has to be done for each input method creating a different profile for each (USB mic, bluetooth headset, iPhone, etc). The software provides you approximately a dozen passages of text that you read to each input device/profile. This 'learning process' increases the word/transcription accuracy of the software.
I have found the provided USB microphone is the most accurate of the three input methods/devices I tried: USB mic, MBAir's internal mic, and iPhone. I have to speak slower than normal speech but that just gives me more time to think about what I want to say. The iPhone microphone app definitely lags since it is bouncing through your WiFi bubble and back to your computer. While the lag is noticeable, it is not too irritating or painful. I have tested Dragon Dictate with a variety of software that allow text input: Microsoft Office 2011 (Word and Outlook), Pages, WordPress, Lotus Notes, etc.  Dragon works well with them all.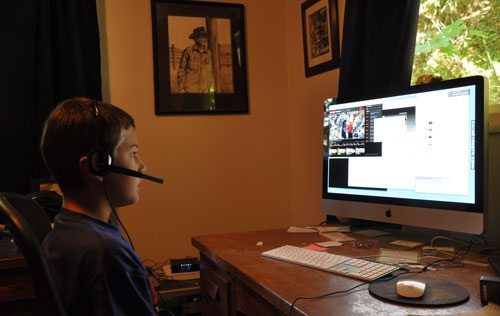 Never miss one of our posts again. Sent MON, WED, and FRI with the latest gadget reviews and news!
Since I told him about this type of technology, the Gadgeteer Kid has been very motivated to try it out. His hope is that, at least at home, he will never have to type again. He dislikes typing about as much as I do. He did a great job reading the profile screens, actually better than I did. It will be very interesting to see how much he likes using the software now that he finally has it at his disposal.
Having never done anything like this before, sitting in a quiet room talking to yourself/your computer does take a bit of getting used to. A majority of the time, I can be watching a show/movie or listening to music while writing/typing reviews. However, I have found that using Dragon Dictate takes a few more braincells to get what I am thinking from my head, out my mouth and into my computer. At least for me, I cannot multitask while using this application. That said, this personal limitation may change with practice and continued use.
Not only do you have to think and speak at the same time but have to add/speak/manage all of the punctuation as well. Something most of us do without thinking about while typing but speaking it does take getting use to. It goes something like, 'tech-ramblings COMMA more tech-ramblings PERIOD Followed by even more tech-talk PERIOD NEXT LINE/PARAGRAPH'. At the beginning, I over emphasized saying/enunciating the punctuation but have mellowed my technique with time and practice.
The software is not perfect and does make errors. Depending on how on the ball I am thinking and clearly I am speaking, its accuracy is very good….definitely 90+ percent. But when there are misunderstandings between your brain and the software, you can say 'DELETE LAST or THAT' or if you did not like a sentence you can say 'DELETE LAST SENTENCE'. I found most of the basic editing of just spoken text could be tweaked via the application. That said, I found more wholesale changes or formatting easier to take care of using the trackpad/mouse and keyboard. It was more effective and time efficient than using Dragon.
The software works well enough with a moderate amount of background noise but I believe that is (somewhat) dependent on the input method being used. But personally, I preferred complete silence while speaking/dictating into the software. I doubt I would ever use Dragon Dictate with others in the room (….too self-conscience) or music/television playing in the background, its just too distracting.
I have written several reviews now with Dragon Dictate and all has gone well. There's little doubt in my mind that I will continue to use the software in the future, for writing reviews and my day job. I do admit, for the reviews I have done with Dragon Dictate, I only used the software for approximately 80% of the text input. I am betting that percentage goes up with time and practice. Overall, I enjoy using the software and talking to my computer over the drudgery of typing my opinions and thoughts. So, for you fellow Mac-owning, typing–challenged individuals out there, I recommend considering Dragon Dictate as an alternative to the typical slow and painful clicking of the keys. 🙂
Product Information
Price:
$199
Manufacturer:
Nuance
Requirements:

- Intel-based Mac running Snow Leopard or Lion
- 2 GB of RAM
- 3 GB of hard drive space
- Nuance-approved input device

Pros:

- A lot less typing
- Very accurate speech recognition
- Easy to use and setup
- Compatible with all software tested

Cons:

- Very limited Nuance-approved input options
- Only one Nuance-approved bluetooth mic option