We use affiliate links. If you buy something through the links on this page, we may earn a commission at no cost to you. Learn more.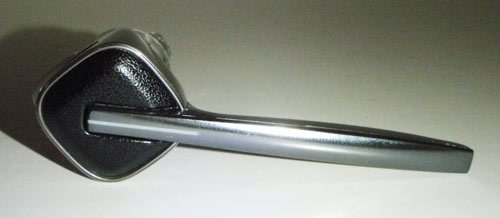 I reviewed the Plantronics Discovery 925 last year and loved its stylish look, great fit, and superior performance. I have been using it regularly ever since. So, the day Plantronics released the, as some say, even more fashionable Discovery 975, I emailed Julie asking if I could review their latest bluetooth headset.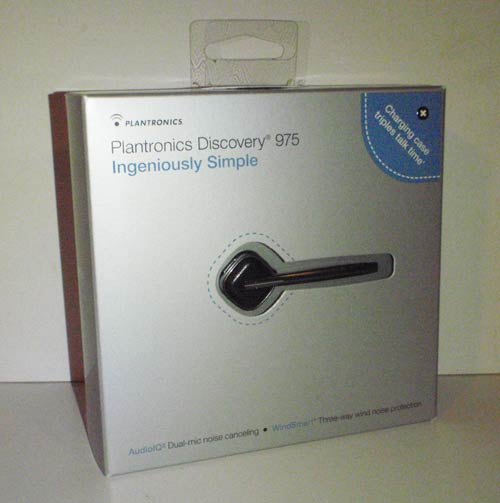 The Discovery 975 is Plantronics current flagship bluetooth headset. And as its packaging states, this earpiece is truly 'Ingeniously Simple'.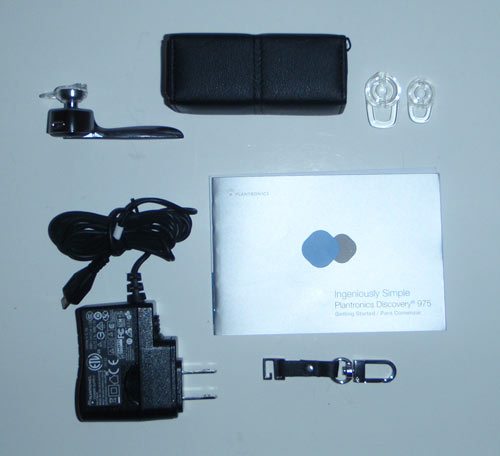 Package Contents
Plantronics Discovery 975 Bluetooth Headset
Leather charging case
Micro-USB to AC power adapter
Extra gel earpieces
Case strap
User guide
Features
Dual-mic AudioIQ² technology simultaneously captures your voice and cancels background noise for superb call clarity
WindSmart technology provides three layers of protection against wind noise
Carrying case recharges the earpiece and triples talk and standby time
Patented gel ear tips offer a secure and comfortable fit
Up to five hours of talk time and one week of standby, from a single charge
QuickPair technology for easy pairing with virtually any Bluetooth-enabled phone
One-year limited warranty
Hardware Specifications
| | |
| --- | --- |
| Bluetooth Profiles | Headset Profile (HSP), Hands Free Profile (HFP) |
| Connectivity Technology | Bluetooth 2.0 EDR |
| Form Factor | Earbud |
| Color | Black/silver |
| Transmission Range | 33 ft |
| Dimensions (LxWxH) | 2.7in x 0.9in x 0.5in |
| Weight (g) | 8.5g (.3oz) |
| Talk time | 5 hours |
| Standby time | 7 days |
| Battery | Rechargeable – Lithium ion |
| Warranty | One year |

The Discovery 925 took bluetooth headset fashion where it had never gone before and the 975 takes that one step further. The 975's minimalist design is extremely sleek and high-tech looking (right out of a SciFi movie; first thing that comes to mind is Uhura). The material covering the front of the earbud body is almost identical in look/feel to the back of my Blackberry Bold, a black leather-like material. At first glance the microphone bar appears to be metal but is sadly just plastic. Not a big deal however, since if it were metal, the earphone would most likely weigh more. The boom does seem to be fragile, but if it is like the less than rugged looking 925 mic, it will stand the test of time.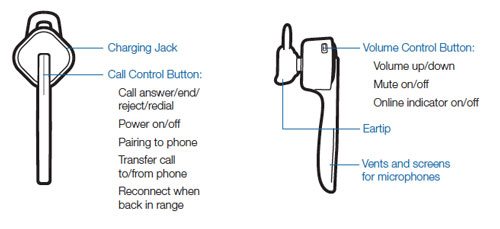 The call control button controls the power on/off, call answer/end/pause/redial, pairing, and reconnect when back in range. The white stripe is also a LED indicator that flashes various colors depending on the state, letting you know it is doing.  Like the 925, the earbud has a single volume button that cycles through 3 volume levels, mute on/off, and online indicator on/off.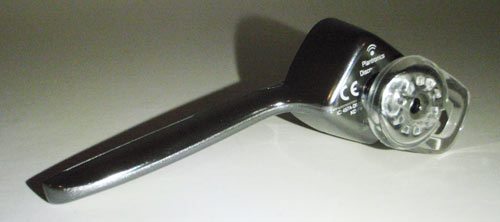 The microphone boom has two built-in mics (AudioIQ² technology) engineered to simultaneously capture your voice and cancel/remove background noise. This, in combination with Plantronics' WindSmart technology, gives you a very clear listening experience, even in the worst conditions. The 975 did excellent during my standard walk thru Seattle during rush hour traffic test, those that I talked with could hear me clearly…while I could hear them loud and clear as well.

The Discovery 975 is charged via a microUSB port. I would have preferred one of the more standard miniUSB ports but it would have been difficult to engineer something that large into such a small tech-package.

One of the best features of the 925 was its carrying case that not only protected the relatively delicate device but charged it as well. The 975 includes a new and improved version of Plantronics' charging case. The case holds two additional charges, giving you three charges worth of power heading out the door. That is a ton of standby time and a good amount of talk time.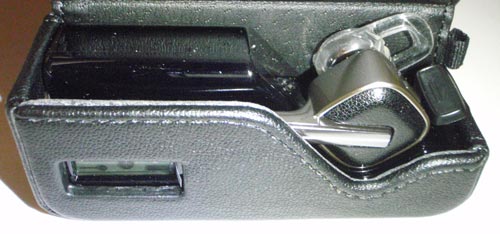 The 975 slips easily into its very well made and protective home. One of the minor issues I had with the 925 is that it was sometimes difficult to get the earbud out of its case.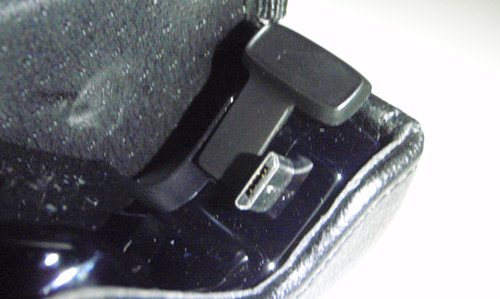 But Plantronics has fixed that issue by engineering an ejection button into the 975's case which pushes the earbud off the charging plug and slightly out of the case, making it effortless to take the headset out.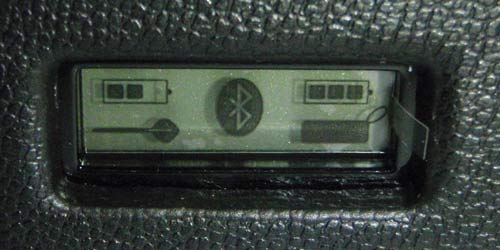 Plantronics has also added a small but very informative indicator window in the 975's case. The indicator lets you know how much charge you have on both the case and headset. It also let you know if your bluetooth headset is still connected to your cellphone.

The Discovery 975 is very lightweight and comfortable. You can barely tell its there. The small, medium, and large gel earpieces make it reasonably easy to get the perfect fit. The 975 design and gel earpieces do a good job keeping the device in your ear and where you angle it. Not having an over-the-ear-hook design does make it more prone to come loose or fall out. Neither the 925 or 975 is meant to be left in your ear as you sprint for the bus.

The bottom line is, like its predecessor, the Plantronics Discovery 975 delivers an exceptionally clear calling experience.  Also like the Discovery 925, the 975 is as comfortable as it is stylish. At $129, Plantronics' latest & greatest bluetooth headset is one of the most expensive bluetooth earpieces currently available. Since it is almost functionally identical to the Discovery 925,  available at less than half the cost, the older model is a much better bang for the buck. But if money is no object or the latest style is your thing, Plantronics' Discovery 975 is definitely a worthy contender…..

Product Information
Price:
$129.99
Manufacturer:
Plantronics
Pros:

- Quality materials and construction
- Lightweight
- Improved rechargeable case
- Great high-tech styling (definitely fashionable)
- Excellent feature set
- Multipoint technology (the ability to be paired with two cellphones simultaneously)

Cons:

- Single volume button
- Fragile