We use affiliate links. If you buy something through the links on this page, we may earn a commission at no cost to you. Learn more.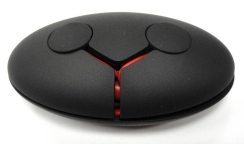 Earbuds.  The little buggers are all over the place, aren't they?  Hanging out of people's ears everywhere you look.  Because we need 'em to connect to our portable digital music gizmos, they've become essential gear for many of us.  And there are droves of earbud models, many that look virtually identical.  The Moshi Moonrock stood out a bit to me, and I had the chance to check them out.  Let's get to it!
NOTE: All images in this review are clickably enlargeable for your viewing pleasure.
Specs
High efficiency Neodymium drivers (20 Hz-20kHz / [email protected])
Integrated MEMS microphone with click button controls
Hybrid injection earbuds (3 sizes: S/M/L) for optimal fit and comfort
Custom carrying case with cable management
Cable length 1.2 m
The Moshi Moonrock is available in multiple color schemes.  I was sent a version in black with red accents.  There are currently also white, gold, lime, pink and red.
Shipping Container
The Moonrock arrived in a branded, clamshell-foldover style cardboard shipping box with some padding inside to keep the contents from rattling around.  Still, the shipping container was larger than it needed to be for the buds packaging (see below).  Not really a big deal, but being environmentally conscious myself, it would be nice to see the amount of unnecessary packaging reduced if possible, even if it is recyclable corrugated cardboard.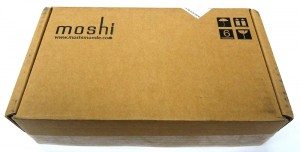 Packaging
The Moonrock's shelf packaging is fairly standard.  However, I would note that compared to many earbud packaging I've seen, the buds themselves, the different-sized ear covers and the case itself are all visible through windows in the package.  This might seem like a minor thing, but I like this because it gives you an idea of what you are actually buying before you get it home.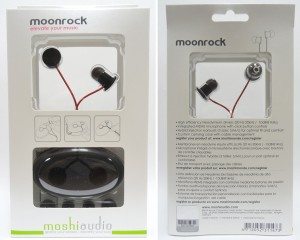 Inside the Package
Moshi Moonrock Earbuds
Moonrock case
3 tip sizes
Instruction manual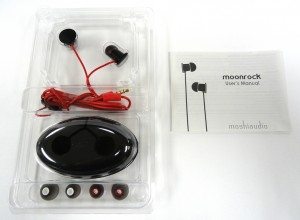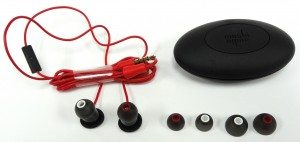 The Moonrock Buds
Below is a detailed image of the Moonrock earbuds.  As you can see from this first shot, the buds have a very clean, simple style.  But therein lies at least part of the appeal of these little guys.  The design consists of a glossy black cylinder with a silicone earpiece at one end and a circular, almost flat cap at the other.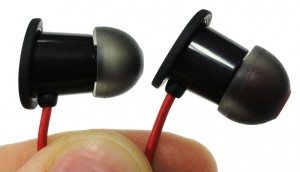 Here I'll mention that I typically have difficulty with earbuds.  The factory iPhone/iPod touch buds fall right out of my ears.  I guess I have unusually large ear canals or something.  In any case, I usually favor the kind with either foam or silicone inserts to jam into my ear to keep them there, both so I can use them for exercise and also to block a lot of ambient sounds.  The Moonrock earbuds are the silicone insert type, and include 3 sets of left and right sizes: small, medium and large.  I tried the medium and, as usual for me, they were too loose and sloppy, so I went for the large.  The fit was not bad, as long as I got them in JUST the right position, which took a while each time I used them.  This is most likely just me, and the fact that my ear canals are apparently XXL.  However, once in place, they do provide decent passive noise reduction.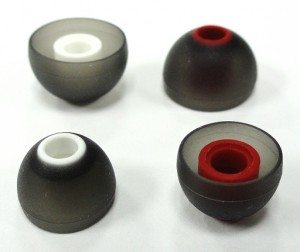 The 3.5mm mini-audio jack (shown below, left) is a slim, low-profile design which should be compatible with most cases.  It worked just fine with my Speck Candyshell case for my iPhone 3GS.  The connector between the left and right ear wires feels solid and has a little "moonrock" logo on it (shown below, right).

A small, unobtrusive black rectangular box is in-line with the right earbud cable.  The control box has a single, circular button on one side (shown below, left) and a single, circular microphone with a tiny silver grille on the other side (shown below, right).  The button works well.  Single press to pause music, press again to resume.  Double press to track fast forward, triple press to track rewind.  A single press will also answer a call, hold down for 2 seconds to decline.  Holding it down will bring up the Voice Control in iOS.  There is also a call waiting function.  The microphone works just fine as well.  My wife had no issues hearing me on multiple phone calls while riding home from work in the car (which is a major litmus test for me).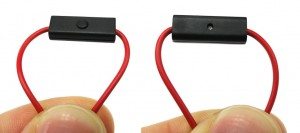 The cable used on the Moonrock is quite nice.  It has a circular cross-section like most earbud cables, and the insulation is stiff enough to resist tangling.
The Moonrock Case
The Moonrock case is probably the centerpiece of the set.  It provides both a storage case and cable management for the buds.  It is a flattened ellipsoid shape with two circular cutouts to fit the buds, a "Y"-shaped channels cut for the cables, and a circumferential groove into which the cable and jack plug can be wound.  The outside is made of a matte, soft silicone.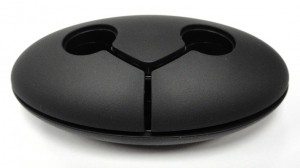 "moshi audio" logo on bottom of case: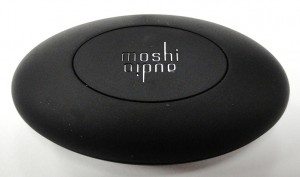 It is only when the buds are pressed down into the two cutouts that the reason for the almost flat caps on the outside of the buds becomes obvious.  The buds fit nice and snug down into the circular cutouts, and the near flats on the outside of the buds are contoured slightly to the exterior of the case—the texture even matches.  The left and right cables fit down into the "Y"-shaped channels and the rest of the cable is then wound spool-style into the circumferential groove, which is actually an opening to a cavity inside the outer silicone.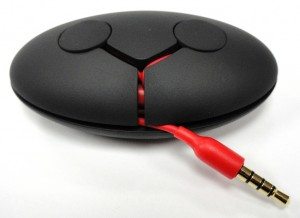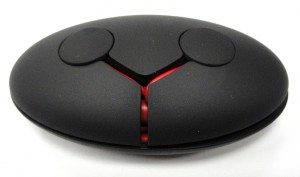 Once wound, the whole unit is nice and compact, and in the shape of a…moonrock.  Or what Moshi wants you to think a moonrock should look like.  In any case, its a nice case for your buds.  However, I did find that the matte, slighly grippy silicone exterior was difficult to extract from my front pocket, or anything else made of cotton or similarly-textured cloth.  The matte silicone tend to grip and even collect a bit of lint.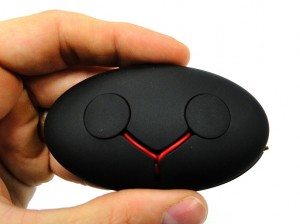 A final shot to give an idea of size.  FYI, my iPhone 3GS is encased in my Speck Candyshell case.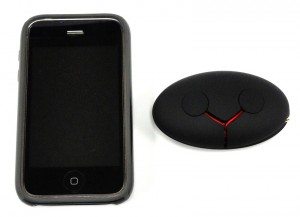 Sound
Look, these are not mega-buck, über high-end earbuds.  That said, they actually produce decent sound.  With the ambient noise blocking provided by the silicone inserts, the midrange and treble are fine, and the bass is quite deep.  I'm not a huge audiophile by any means, but I was happy with the sound from these buds.
Final Thoughts
The Moshi Moonrock includes a pair of earbuds with a simple, clean design available in several colors.  The Moonrock earbuds have three sizes of silicone inserts to fit various ear canal sizes and provide decent ambient noise blocking.  There is an inline controller that can be used to pause, fast forward and rewind your music and also a microphone and phone controls.  The sound is quite good.  The Moonrock case is cleverly-designed in a pebble shape and provides good protection for the earbuds.  The Moonrock is a nice set for the price.
Update 03/26/2015
Used these for a while but eventually they just quit working. Like everyone one of my pairs of earbuds. Maybe I am too hard on them.
Source: The sample for this review was provided by Moshi. Please visit their site for more info.
Product Information
Price:
$39.95
Manufacturer:
Moshi
Pros:

+ Earbuds have simple, clean design
+ Carrying case has cool look and manages cables well
+ Good price for all features included

Cons:

- Carrying case is a bit bulky and texture gets stuck on inside of your pocket