We use affiliate links. If you buy something through the links on this page, we may earn a commission at no cost to you. Learn more.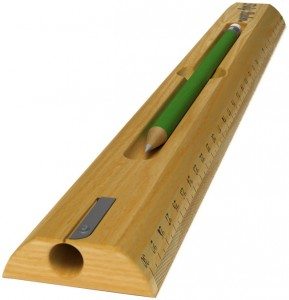 Math was never one of my favorite subjects in school.  Aside from the heavy textbook, we also had to remember to bring a plethora of additional implements: protractor, ruler, #2 pencil, pencil sharpener, calculator, and scrap paper.  The Tidy Ruler, available through Luckies of London, combines several of those wicked math tools into one.  A pencil sharpener and pencil slot are built directly into the standard length rosewood ruler, tidying up the desk and decreasing the chance of forgetting one of the three most basic math needs.
The Tidy Ruler is available through several 3rd party retailers on Amazon for about $14.  For those gadgeteers in the UK, it's available directly through Luckies for £6.