The Gadgeteer is supported by readers like you! If you buy something through links on our site, we may earn an affiliate commission. Thank you! Learn more.

Decades ago, I use to be a pretty good musician with a decent enough ear. Although, I was never a true audiophile by any stretch of the imagination. By the time I purchased my first iPod I was relatively satisfied with the stock earbuds that Apple included with their revolutionary device. But my time here at the Gadgeteer has enabled me to try/review a multitude of very good earphones and monitors. This perk of the job has evolved my appreciation of the nuances of what, at least for me, makes a great listening experience (think evolving from crappy college beer and pizza to fine red wine with a steak fillet). So, when Ultimate Ears agreed to creating me a set of their 7 Pro monitors I was, to say the least, tech-giddy at the news ;).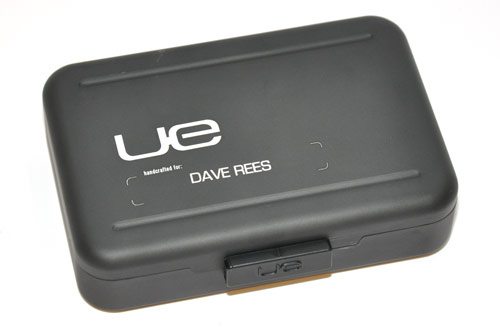 Last year I reviewed JHAudio's JH|5 Pros entry level monitors. I gave them a glowing review and still use them today. Their custom fit and sound quality are exceptional when compared to the standard $100-200 earbuds. But I know there are better monitors out there and want to see if greater musical nirvana can be reached. When Ultimate Ears agreed to let me review their 7 Pro monitors I immediately scheduled an appointment for molds that would ultimately enable UE to construct my monitors.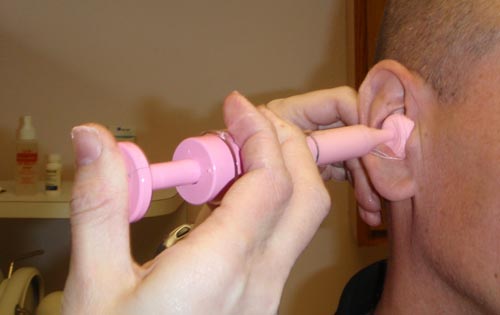 My experience at the audiologist was nearly identical to the first….pink goo squirted deep into my ear canal, sitting still for 10 minutes while the goo hardened, me rambling on about reviewing the monitors and tech-toys in general. From that point, it took UE about two weeks to create and ship my 7 Pros. Considering they are made especially for me and the fine, micro technology they cram into such a small space, the time-lag seems more than reasonable.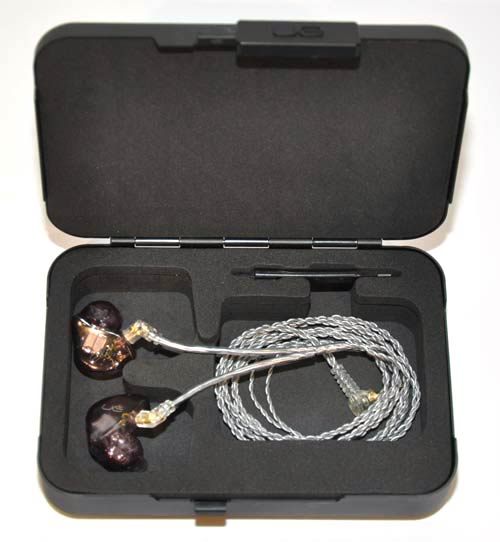 My Ultimate Ears 7 Pro custom monitors came very well packaged, in a padded, metal box within a padded cardboard box within a padded shipping box. Ultimate Ears ships the 7 Pro's in their large metal carrying case (Dimensions: L 4.50″ x W 6.25″ x H 1.50″) monogrammed with my name. The carrying case is very well made and protective of the custom made monitors. Ultimate Ears also includes a cleaning tool to keep earwax from working its way into the delicate technology within.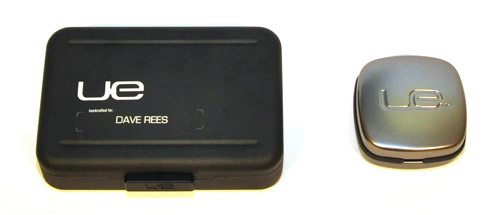 While being very protective, the large case Ultimate Ears included with the 7 Pros is pretty huge. I prefer carrying them around in my, much more portable, small metal case that Ultimate Ears included with my TripleFi 10's. The monitors fit inside UE's small metal case very well.
Specifications
Input Sensitivity: 124dB @ 1 mw
Frequency Response: 20 Hz to 16,000 Hz
Impedance: 17.5 ohms
Internal Speaker Configuration: 3 proprietary precision balanced armatures
Noise Isolation: -26 dB
Input Connector: 1/8″ (3.5 mm) gold plated
Warranty: 1 Year
Single precision balanced armature for the high frequencies
Dual precision balanced armatures for the low and mid-range frequencies
Audio filters to help shape the sound signature
It is amazing how small they can make technology these days. How much tech-manufactures can squeeze into such tiny spaces.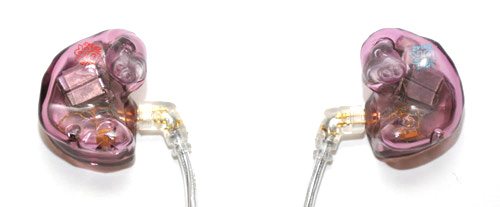 The overall listening experience is awesome…..sorry to gush, but I call them like I see them. Where the JHAudio JH|5 Pro's have two micro-speakers/drivers, the UE Pro 7's have three, a high, medium, and low (similar to the TripleFi 10's but in a custom made housing). And I have to say, there is a difference in the clarity. The Pro 7's differentiated the middle and low sounds better than the JH|5's. Whether I am listening to music or a movie, the 7 Pros produce stellar sound that truly permeates. They produce a very nice, well balanced sound that I enjoy over earbuds/monitors that produce too much base.


The Ultimate Ears 7 Pros fit perfectly; I hardly know they are there. But one of the main reasons for getting a set of custom monitors is the individualized fit. Admittedly, this is in some part a function of the molds the audiologist created for UE. But UE has to take those molds and precision manufacture your monitors; I am sure that is not a slam-dunk process. That said, the 7Pro's fit is ideal. I used/wore them on a non-stop from Seattle to Boston and had zero ear fatigue or pain that the typical noise isolation earbuds can cause during extended use.

The input connector is an 1/8″ (3.5 mm) gold plated plug. From the look and feel of it, this is the highest quality plug of any music listening accessory I have ever tried/reviewed. The cable is braided and is surprisingly tangle resistant.

The 7 Pros are the largest of the high-end earbuds/monitors I have reviewed (from left: Etymotic Research hf5's, Etymotic Research er4's, UE 7 Pros, JHAudio JH|5's, and UE TripleFi 10's).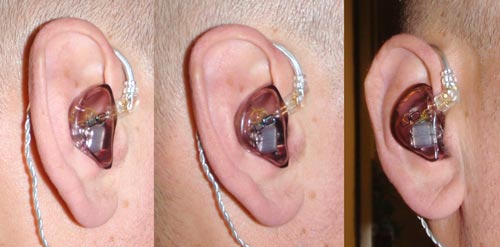 These monitors are so perfectly fitted for my ears, I literally have to 'screw' them into my head (aka rotate them into and out of my ears). It takes a bit of getting use to but once you get the hang of it, putting them in is quick and easy.

The Ultimate Ears 7 Pros are more detailed and finely made than the JHAudio's JH5s, but at twice the price. The 7 Pro's penetrate much deeper than the JH|5's; they feel like they are just millimeters from my eardrum.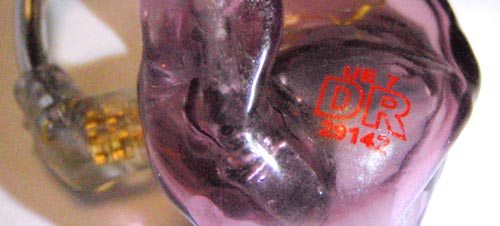 Ultimate Ears not only monograms the metal case but the 7 Pros themselves. They are labeled with the model number, my initials, and serial number. Plus UE color code their monitors; red goes in the right, blue goes in the left.

Ultimate Ears can create their monitors in a multitude of colors and can add graphics to the exterior as well. I think this optional personalization is really cool (if given the choice, I would make the monitors black with a gray Superman shield).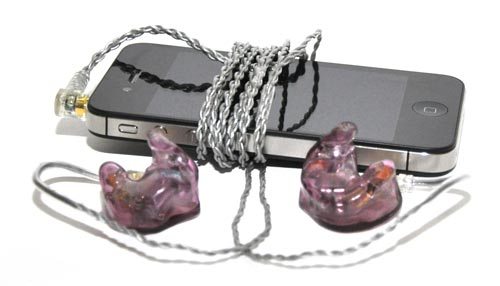 Like most monitors, the Ultimate Ears 7 Pros are not inexpensive. At $850 plus the audiologist visit (aka nearing a grand), some would say they are outrageously expensive. But I would argue that in this case you are definitely getting what you pay for. If you REALLY want to enjoy your music, want to isolate yourself from your surroundings or comfort is an issue during extended periods of use; (AND you can afford it) the 7 Pro custom in-ear monitors are well worth the money.
Support The Gadgeteer
:
The Gadgeteer is supported by readers like you! If you buy something through the links on our site, we may earn a small affiliate commission. Thank you! Learn more.
Product Information
Price:
$850 (plus the cost of the audiologist creating the molds)
Manufacturer:
Ultimate Ears
Pros:

- Incredible sound experience
- Perfect fit
- Great sound isolation
- Tangle-free cord
- Very customizable

Cons: