We use affiliate links. If you buy something through the links on this page, we may earn a commission at no cost to you. Learn more.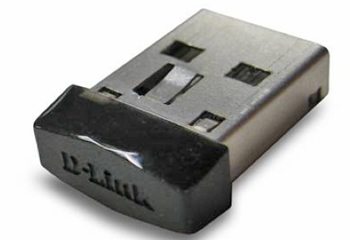 These two new compact adapters from D-Link let you wirelessly connect your laptop or desktop computer (running Windows XP, Vista, or 7) at 802.11n speeds of up to 150Mbps.  The Wireless N 150 Pico Adapter (DWA-121) and the Wireless N Nano USB Adapter (DWA-131) give you a more stable, faster connection than previous generation Wireless G devices.  Both are very small, and the DWA-121 is about the size of a dime.  Each of these adapters is available now at various retailers or at the D-Link store.  You can read the complete press release after the jump.
D-Link Now Shipping Two New Compact Form-Factor 11n Wireless for Fast and Easy Wi-Fi Connectivity
D-Link® Wireless N 150 Pico™ and Wireless N Nano™ USB Adapters Offer Cost-Effective Upgrade to Wireless Network Performance on a PC or Notebook
FOUNTAIN VALLEY, Calif. – March 16, 2011 – D-Link today announced the availability of the latest additions to its DWA USB adapter product line, the Wireless N 150 Pico™ Adapter (DWA-121) and the Wireless N Nano™ USB Adapter (DWA-131). Both adapters feature a sleek, compact design while providing faster and more reliable network connectivity than previous Wireless G devices.
Equipped with Wireless N technology, both the Pico and Nano connect a laptop or desktop computer to a Wi-Fi network at up to six times the speed and three times the coverage of a wireless G connection, enabling users to transfer files, download media and browse the Internet faster and more efficiently. With small, compact form-factors, both adapters easily fit into a computer's USB port, making them ideal for use when traveling or in a crowded workspace.
"With extremely compact designs – the Pico is about the size of a dime – these new adapters are ideal for setting up a high-performance wireless connection while on the road or in a packed conference room," said Daniel Kelley, associate vice president of consumer marketing, D-Link North America. "They enable consumers to quickly and easily connect a desktop computer or laptop to a Wi-Fi network in order to securely browse the Internet, transfer and download files, music, videos, and more at their convenience."
Recently awarded the prestigious International Forum (iF) Design award, the DWA-121 easily connects to a desktop or notebook, creating an instant 802.11n wireless network. The included Quick Setup Wizard guides users for quick and easy setup, while the Wireless Manager tracks recently accessed networks. Featuring Wi-Fi Protected Setup™ (WPS), the adapter quickly establishes a secure connection to an access point or wireless router and eliminates complex encryption codes.
Additional features of the DWA-121 Wireless N 150 Pico USB Adapter include:
IEEE 802.11n, 802.11g compliant and USB 2.0 compliant
Speeds of up to 150 Mbps
Secure wireless connection with advanced WPA™ or WPA2™ encryption
Advanced RF design for superior wireless performance with compact profile
Windows XP, Vista and Windows 7 compatibility
The DWA-131 features the latest 11n technology for increased speed (up to 300 Mbps) and range, significantly surpassing the capabilities of previous-generation Wireless G devices. It also incorporates wireless security features to help prevent unauthorized access. In addition, the DWA-131 uses Intelligent Antenna Technology to maximize the speed and range of a network connection by transmitting multiple signals off walls and ceilings in order to work around interferences and help eliminate dead spots; ensuring users receive network signals in all corners of their home, office or mobile hotspot.
Additional features of the DWA-131 Wireless N Nano USB Adapter include:
IEEE 802.11n, 802.11g and USB 2.0 compliant
Easy setup with the D-Link Quick Adapter Setup Wizard
Secure wireless connection with advanced WPA™ or WPA2™ encryption
Wireless connection manager
Wi-Fi protected setup™ (WPS) push button
Availability and Pricing
The DWA-121 Wireless N 150 Pico USB Adapter and DWA-131 Wireless N Nano USB Adapter are now available throughout D-Link's vast network of retail and e-tail outlets in North America, and at the company's online store, http://www.dlinkshop.com, both with an MSRP of $49.99.
About D-Link
D-Link is the global leader in connectivity for home, small business, mid- to large-sized enterprise environments, and service providers. An award-winning designer, developer, and manufacturer, D-Link implements and supports unified network solutions that integrate capabilities in switching, wireless, broadband, storage, IP Surveillance, and cloud-based network management.  For more information visit www.dlink.com, www.dlink.ca or connect with D-Link on Facebook (www.facebook.com/dlink) and Twitter (www.twitter.com/dlink).
# # #
D-Link and the D-Link logo are trademarks or registered trademarks of D-Link Corporation or its subsidiaries. All other third-party marks mentioned herein may be trademarks of their respective owners. Copyright © 2011. D-Link. All Rights Reserved.
Maximum wireless signal rate derived from IEEE Standard 802.11g and draft 802.11n specifications. Actual data throughput will vary. Network conditions and environmental factors, including volume of network traffic, buildings materials and construction, and network overhead, lower actual data throughput rate. Environmental factors will adversely affect wireless signal range.