We use affiliate links. If you buy something through the links on this page, we may earn a commission at no cost to you. Learn more.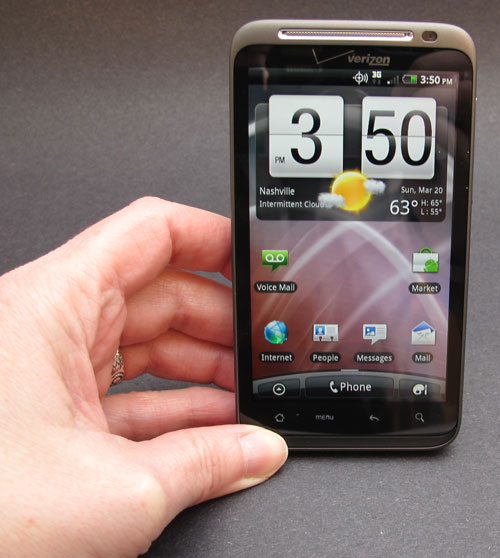 I've been using the same smartphone for 6 months now. I like the Motorola Droid X quite a bit, but we gadgeteers all know what it's like to use the same device for more than a … month. We get bored and are ready for something new – right? I've reviewed a few different phones since the Droid X, but none that have caused me to seriously consider an upgrade. Verizon recently sent me the HTC ThunderBolt for a very short term loan. The first time I turned it on, I was very enamored with the gorgeous display and Sense UI. It had me thinking that this phone might be the worth ditching my Droid X for. Unfortunately, I have only been able to test this phone for about 4 days, so this is going to be more of a first look post. If we cross our fingers, Bryan Sherman might fill in any gaps I l leave with his own review in a few weeks as he'll be getting one to test too. In the mean time, here we go…
Note: Most of the images in this review can be clicked to see a larger size with more detail.
Hardware Specs
Chipset: Qualcomm® MSM8655, 1GHz, Qualcomm MDM9600
Networks: LTE 700, CDMA EvDO revA
Operating system: Android™ 2.2 + HTC Sense
Display: 4.3" WVGA TFT capacitive touch screen
Camera: 8MP with autofocus, LED Flash (2x LED), 1.3MP front facing camera
Memory: 8GB emmc + 768 RAM Memory card, preinstalled 32 GB microSD™
WLAN: 802.11 b/g/n
Bluetooth: 2.1 with EDR (3.0 when available)
GPS: GPS/AGPS
Battery: 1400 mAh
Special features: Dual mics with noise cancellation, Surround sound, Compass sensor, G-Sensor, Proximity sensor, Light sensor, 3.5mm audio jack, MicroUSB, FM radio, LTE SIM slot , TI audio DSP
Dimensions: 4.75″ x 2.44″ x 0.56″ inches
Weight: 6.23oz (with standard battery)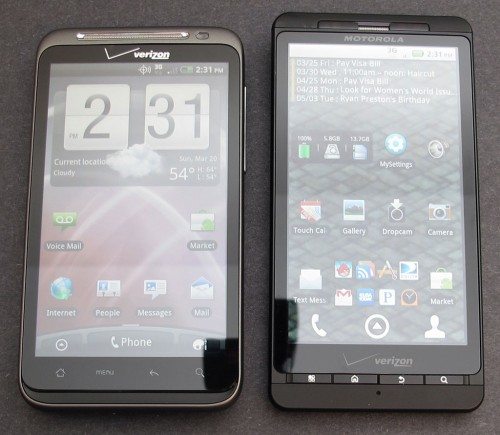 The HTC ThunderBolt is very close in size to the Motorola Droid X. It feels slightly heavier in hand though when compared to my Droid X as shown above.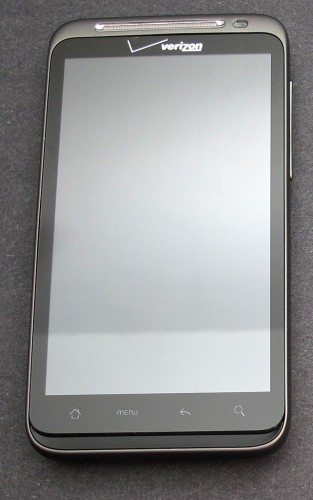 At first glance the ThunderBolt sort of reminds me of a rectangular Nexus One. It has the same gun metal grey shell with a Black bezel around the capacitive touch screen. Below the display are 4 haptic touch buttons for the Home screen, Menu, Back and Search functions. Above the display is the speaker, status LED and the front facing 1.3MP camera.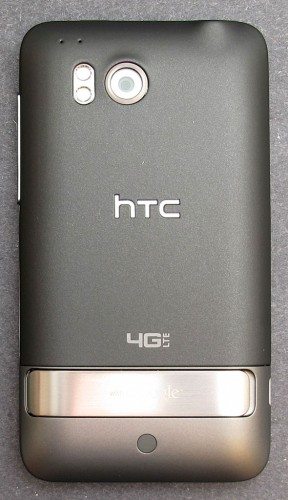 The back shell has a slightly rubberized texture that resists fingerprints. You'll notice the 8MP camera lens and dual LED flash. The metal bar at the bottom is a handy flip out kickstand.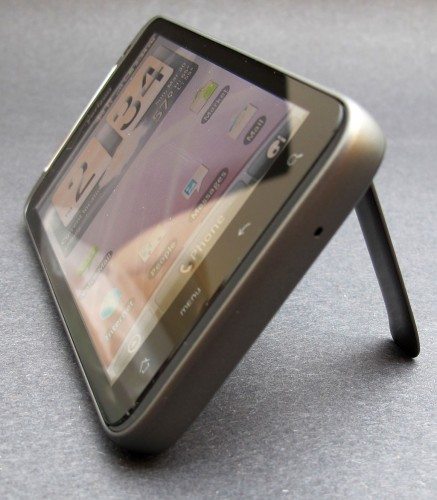 This stand is useful for watching hands free video, using the ThunderBolt as a desk clock, etc.
I should also mention that there's a speaker located under that kickstand…

The Left side of the phone has the mini USB port for charging and data connection to your computer.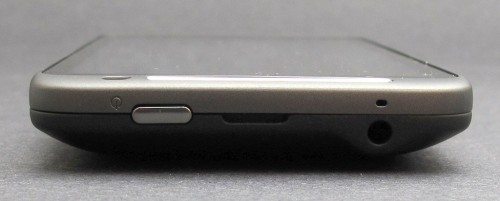 The top has the power/wake button, standard sized earphone jack and one of the microphones (there's another at the bottom edge of the phone).

A large volume switch is located on the Right side of the phone.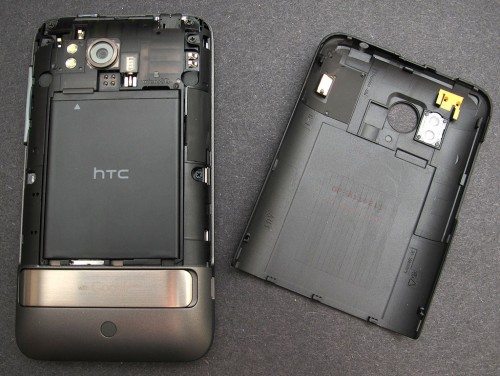 If you pop off the back cover, you gain access to the battery and the MicroSD card slot. A 32GB card is included with the phone. Correct me if I'm wrong, but isn't that the largest SD card ever included with a phone? Thanks HTC.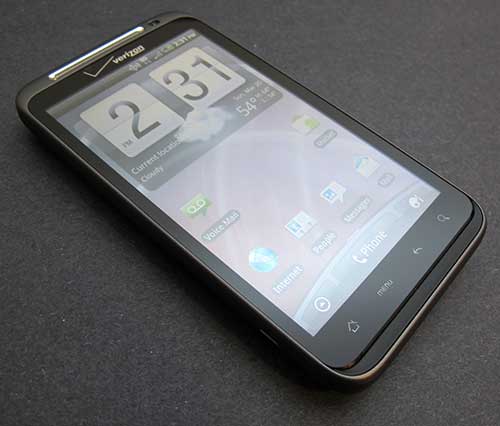 In hand, the ThunderBolt feels pretty substantial. It's solid and does not flex or crack when squeezed. Giving it a good shake, results in a slight rattle from the power button, but that's all. So when it comes to the feel of the hardware, I wish it were just a bit lighter weight, but other than that, I like its look and style which is more subdued than flashy.
The Display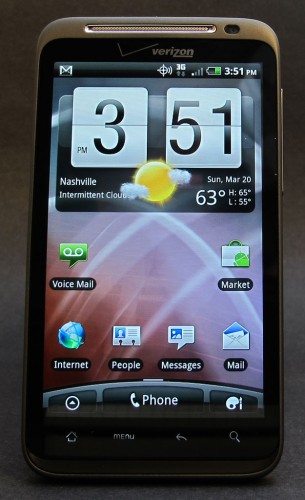 The 4.3 inch display is very nice. It's slightly more vivid than my Droid X, but not quite as vivid as an AMOLED display like the one used with the Samsung Fascinate.
HTC's ever popular Sense UI adds some pretty nice eye candy features like the combination flip clock / weather widget you see above. The phone also comes with different themes and skins so that you can easily customize your phone without downloading third party stuff.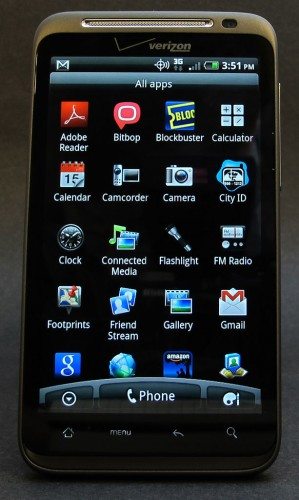 The capacitive display has just the right sensitivity and responsiveness. Scrolling through the app view is easy and quick.
The HTC ThunderBolt has a couple features I really like. If you look at the image above, you'll see that I'm in the app view. Notice the buttons at the bottom that will allow me to go right to phone mode? That's a nice touch. What's also nice is that the location in the list view is remembered when you go back to the Home screen. By that I mean, that if you scroll halfway down your list of apps in the app view (shown above) and then go back to the Home screen, when you go back to the app view, you'll be at that same location instead of the very top. I find that to be really handy.
Software
In addition to the standard set of Android apps, there are a few extras worth mentioning:
Flashlight – Uses the dual LEDs on the back with a few brightness settings and an SOS mode.
Bitbop – TV streaming app.
Let's Golf 2 – Golfing arcade game
Rock Band – Trial version of Rock Band from EA
Peep – Twitter app
Slacker Radio – Like Pandora, only better – in my opinion
TuneWiki – Social media spiced internet radio and video playing app
Stocks – Keep up an eye on your moola
Quickoffice – The full version
Kindle – eBook reader
The Camera
In addition to the nice display and Sense UI, I've also been pretty impressed with the built in 8MP camera. It takes nice shots as you can see below.
The only thing missing is a dedicated shutter button. Unfortunately, you have to tap the screen to take a snapshot, which often causes you to move and blur the captured image.
My personal requirement for a good camera is the ability to take great macro shots. The ThunderBolt's camera exceeded my expectations in that regard.
Let's not forget that there's a low resolution camera on the front of this phone too. For some reason Verizon didn't include Skype so that people could do two-way video calls… I guess you can use the front camera to take pix of yourself. Whee…
Phone and Data Features
Using the ThunderBolt to make and receive phone calls is really no different (other than small graphics / interface changes) than making calls with other Android phones. I found calls to be be clear and with ample volume.
Don't forget that the ThunderBolt is 4G LTE capable. Unfortunately, my location does not have 4G and probably won't for a long time… But using 3G, which we do have, seemed on par with the experience I've had with my Droid X. No complaints.
There's a mobile hotspot app that will let you tether the ThunderBolt with up to 8 devices to share the data connection via WiFi. You can use this hotspot feature for free until May 15, 2011. After that time, you'll have to pay for it.
Battery Life
Unfortunately, I don't have any data on how long the battery lasts. I haven't had the phone long enough to really get a good grasp on that. So far it doesn't seem much different than my Droid X, which means it's best to carry a charging cable with you.
Overall System Performance
The HTC ThunderBolt feels just as snappy as other 1Ghz devices like the Droid X. Launching applications, scrolling through lists, etc are all quick. No complaints.
Overall Impression
As I mentioned at the beginning of this review, I haven't had all that much time with this phone. But the time I've spent with it, I do like it a lot. At first I thought I'd want to ditch my Droid X and buy one, but the initial infatuation quickly wore off. While I do like this phone, I don't think it's a worthy upgrade from my current phone due to the fact that the screen size is the same, the processor is the same speed and the form factor is almost identical. However, if I were shopping for a brand new phone, the HTC ThunderBolt is the one I'd buy. But as it is, I think I'll hold on to my Droid X till something more exciting comes along.
Product Information
Price:
$599.99 / $249.99 with 2yr contract
Manufacturer:
HTC
Retailer:
Verizon Wireless
Pros:

4G LTE
32GB SD card included
Nice display
Kickstand

Cons: