We use affiliate links. If you buy something through the links on this page, we may earn a commission at no cost to you. Learn more.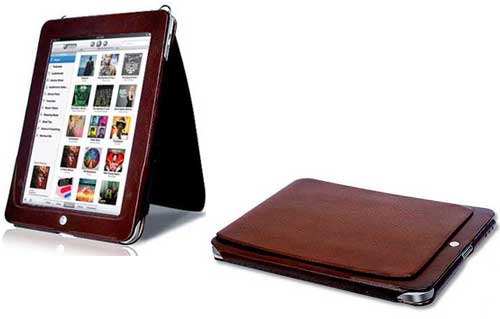 Were you as lucky as Janet to get your hands on the new iPad 2 last Friday. Yeah, me neither <sniff>. If you were lucky, you are probably shopping for cases to protect your new tablet. If you have a surplus of cash, you might consider the Padova leather case from Orbino. It incorporates the new smart cover technology so that when you open the cover, the iPad 2 powers on and powers off when closed. It's being offered in several colors and prices start at $209.00. Full press release after the jump. For immediate release
New York, NY 14 March 2011
Orbino Launches Padova for the iPad 2: The First Full Protection
Leather Case integrating the iPad 2's New Smart Cover Technology
Orbino, makers of premium technology cases, announced today that it
has launched the new Padova Case for the iPad 2, which is the first
full protection case on the market to integrate the iPad 2's new Smart
Cover technology, which automatically turns the screen on and off when
the cover opens and closes.
Padova is a super-slim, yet protective play through case which is
handmade in Orbino's workshop. The case sports a tailored design which
completely covers the iPad 2 — both front and back, and offers a
variety of high-performance features including:
— Protective rigid leather flap with invisible magnetic closure which
also activates the iPad 2's smart cover technology, turning the screen
on and off
— Complete protection of the iPad 2 — both front and back
— Orbino's trademark hinged flap which doubles as viewing pedestal in
both the horizontal and vertical orientation
— Brushed metal home button
— Unique form fitting design stitched entirely by hand with premium
high tensile waxed thread
— Hand lacquered 4 coat feathered edging
— Cut out for iPad dock connector, volume control, speakers, screen
rotation lock, headphones, and both front and rear cameras
— Removable metal typing stand
— Each case is proudly 100% produced by a single artisan in our own
workshop in Italy.
Orbino's Padova case for the iPad 2 is available in four luxury
colors: Black, Brown, Deep Red, and Pecan. Orbino is also offering
limited edition models in luxury skins such as genuine Crocodile,
Snakeskin, and Ostrich.
The Padova for the iPad 2 is available from Orbino's online store at:
http://www.orbino.com <http://www.orbino.com/>
Prices start at US$209 and product can be shipped throughout the
world.