We use affiliate links. If you buy something through the links on this page, we may earn a commission at no cost to you. Learn more.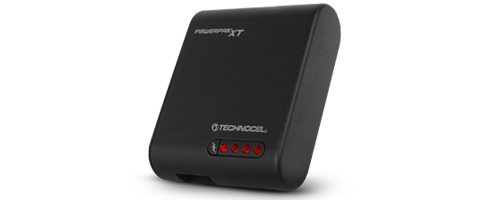 One thing a good mobile warrior needs is a way to extend the battery life of their mobile devices. As we depend on our cell phones and smart phones more, a dying battery – which used to just be a nuisance – can become a real concern. Technocel has added a 'universal charging solution', the PowerPak XT, to their mobile devices product line.  Let's give it a look.
The new PowerPak XT has a 1600mAh battery compared to the original PowerPak's 1000mAh battery, but otherwise has similar specs:
Additional 4.5 hours of talk time
Recharges via wall outlet, and can run a mobile device while charging
Folding AC plug
Holds charge for up to 1 year
2 3/8″ x 2 7/8″ x 7/8″
(Note- I'll occasionally be comparing this to the earlier reviewed Radio Shack Enercell 2-in1 Battery and AC Adapter, but that should not suggest that the Enercell is the 'gold standard' for this type of product.)
The PowerPak incudes a soft fabric pouch, the main USB charging cable, a selection of 10 specialized tips (there is a list of tips on the site), and a instruction sheet. You connect the correct tip and twist it to lock it in place. The resulting charge-only cable is about 5′ long and includes a nice little Velcro wrap. Each tip and cable is also clearly labled- a nice touch!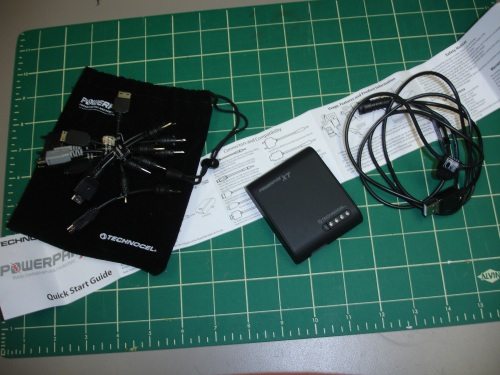 There are few controls or ports on this device- a power test button and 4 red LEDs on front, a folding AC plug on back, and a USB port on bottom. Pushing the test button shows a bar graph of battery level using the 4 LEDs (a nice feature lacking on the Enercell). One LED also lights when the unit is plugged into AC power. It passes the 'Creak Test' with minor 'plastic groaning' from the case. The case is slightly rubberized and very smooth. The Enercell's seems a bit more rugged, but the PowerPak seems plenty tough enough for usual Mobile Warrior standards.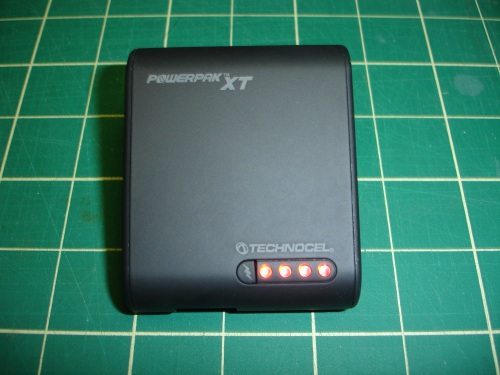 The 1600mAh battery is a bit small by most standards (the Enercell is 1700) but it gets the job done. I charged it completely and let it sit for a couple weeks to somewhat test its ability to hold a charge. The first time, it was completely discharged after a week- but that may have been my fault as I had left the cord plugged in and was carrying it in the bag with me. Something might have drained it at the tip. A second test showed no loss of charge at all, even after two weeks. Since units like this are generally not used often but are really needed when you need one, holding a charge reliably is a big deal.
Another big issue is portability. This unit is actually a bit smaller overall and lighter than the Enecell (it is a little thicker, a bit wider, and a lot shorter). The cables may be a bit of an issue- the included 5′ of cable with the connector is a bit bulky and cannot be used for sync. You may wish to go to a retractable charge/sync cable instead. The version shown in the photos is my GigaWare 26-407 2′ cable shown with a separate mini-to-micro adapter tip- shorter overall and not a big improvement as far as volume goes, but it does sync as well. Some of the generic retractable cables, such as those from eBay, are much more compact.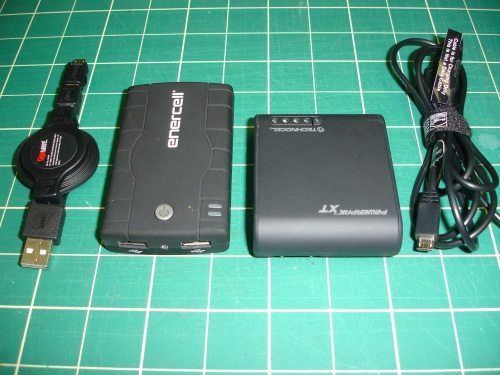 The unit plugs nicely into my Sprint HTC Evo 4G, and does indeed power it for several hours, or recharge it about 1/2 way after about 30 minutes- roughly what the Enercell does. It seems like it charges my Evo more slowly when used as an AC charger than my usual charger does- more like the speed of a powered USB port- but it does charge the Evo completely this way.
I don't see any pricing online yet for this new product, but it is a simple device that is easy to carry and does what it claims. It strips away bells and whistles, like the Enercell's flashlight, power button, and second USB port, but provides a nice feature the Enercell lacks in the charge indicator display. This will definitely find a place in our gear bags!

Product Information
| | |
| --- | --- |
| Price: | Not published yet |
| Manufacturer: | Technocel |
| Requirements: | |
| Pros: | |
| Cons: | Included cable is charge only |