We use affiliate links. If you buy something through the links on this page, we may earn a commission at no cost to you. Learn more.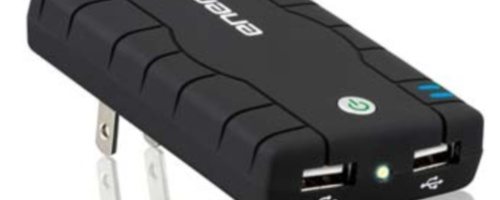 Radio Shack's Enercell #23-1113 2-in-1 Battery and AC Adapter is a handy little rig for your gadget bag. It combines a USB/AC adapter with a rechargeable USB battery power pack, with a bonus 2nd USB port and a small built-in LED light!
It uses a 1700mAh Lithium-Ion battery pack and can work on dual voltage, so can be used pretty much world wide (always a handy feature for a travel accessory.)  The compact unit is 3.5x2x.75″, and the power plugs fold into the body to make it easier to carry.
What you see in the photo on top is what you get- 2 USB ports on the lower edge, along with a single LED light, about as bright as most cheap keyring LED lights. Two unlabeled LEDs on the top indicate charge status and power. The single button toggles between LED, LED and USB, USB, and off. Some reviewers claim that it only stays on for 10 minutes at a time- mine did not do this, maybe it does it when the unit's charge is low?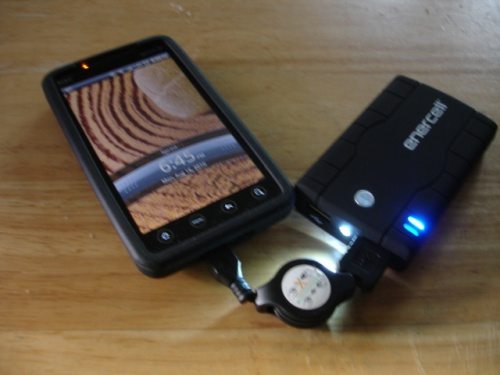 I wanted something like this to toss in my gear bag to help with the battery of my HTC EVO smartphone. My battery use is generally OK but there have been a couple of times I have been unpleasantly surprised by a low battery, so a battery-powered charger seemed a good choice. This particular model was available at my local Shack, although I was hoping to score an iGo model I will touch on a bit later.
When my EVO was blinking a red 'recharge now' message, I hooked it up with a retractable USB to micro-USB cord (from eBay) and was happy to see that it was taking the charge nicely. About 15 minutes later, it was at about a 60% charge- not bad at all. When I was at a wall outlet, I was able to just plug the unit in and it charged the EVO and charger up nicely.
I do like this unit, but the iGo Charge Anywhere is a bit smaller with an 1800mAh battery. It has the same base price, but is often on sale, and is available through the Shack as well- Since Enercell is a Shack store brand, this is odd, but that's the way the Shack does things.
Ever since going to a good smart phone, I find myself using the laptop or netbook less and less with the result that my gearbag is getting smaller and lighter. A unit like this, with the proper retractable USB cord, is a smart addition to my kit.
Product Information
Price:
$49.95
Manufacturer:
Radio Shack
Pros:

Compact
Works as advertised

Cons:

iGo unit may be better value