We use affiliate links. If you buy something through the links on this page, we may earn a commission at no cost to you. Learn more.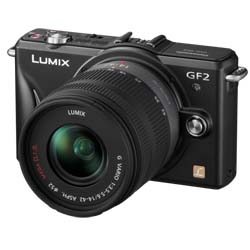 Panasonic has finally announced US pricing for the (much anticipated) GF2, their second generation micro four thirds camera with interchangeable lenses. The current MSRP is $499.95 for body alone; $599.95 for body plus 14 – 42mm GF2K lens; and $699.95 for body plus 14mm prime GF2C lens.
The new micro 4/3 cameras produce dSLR quality photos/experience/capabilities with the ability to exchange lenses in a lightweight, compact, form-factor. Panasonic is one of many camera manufactures who are producing this class of digital cameras.