We use affiliate links. If you buy something through the links on this page, we may earn a commission at no cost to you. Learn more.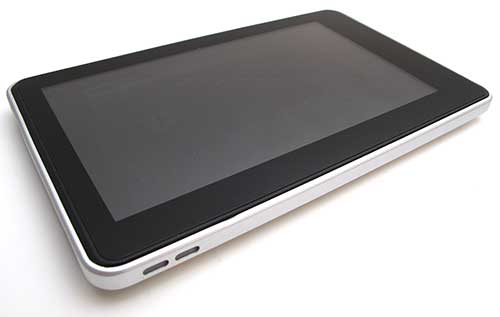 Android fans looking to purchase a tablet might think that their only real choice is the Samsung Galaxy Tab. But what do you do if you aren't interested in paying another monthly fee for data access? Are there other alternatives? Of course there are and today I'm going to show you one that is priced at less than $200. It's the WoPad WR701 7″ Capacitive tablet running Android 2.1 (aka Eclair).
Note: Some images in this review can be clicked to see a larger size.
I want to start this review by saying that I'm not quite sure about some of the specs listed below. The info in the manual that came with the tablet differs from the specs listed on Now Supplier's site, who sent me the tablet for review.
Hardware Specs
Processor: Rockchip TR718D
OS: Android 2.1
Storage: 2GB-16GB Flash,SD/MMC/TF card,up to 32G.
Memory: 256M DDR2.
LCD : 7 inch Capacitive touch screen,resolution 800*480.
USB: USB host,usb device.
Network: Wifi b/g
Size: 237mm*125mm*14.33mm
Battery: 3000mAh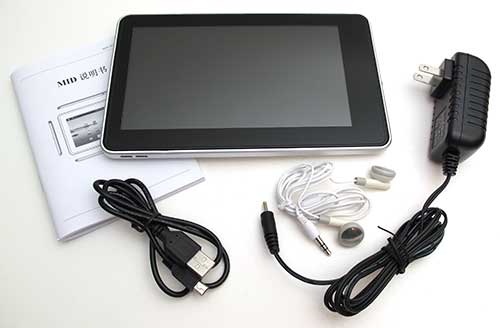 Package Contents
WoPad
AC adapter
USB cable
Earphones
User Manual
Hardware Tour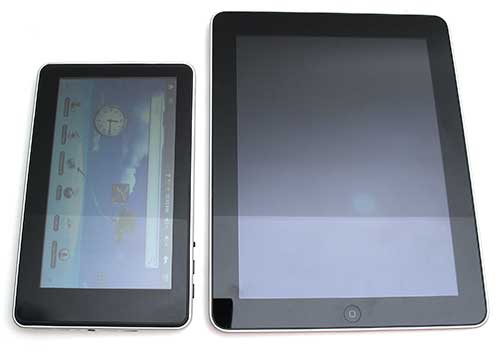 The WoPad is a 7″ tablet. For size reference, here it is shown next to the iPad. The comparison between the WoPad and iPad doesn't end at their physical dimensions as we'll see in a bit.
As far as the physical hardware goes, this tablet looks great and feels equally great in hand. It is solid and has a nice heft to it. If it had an Apple logo on the back, I would seriously believe it was a mini iPad. It feels that nice.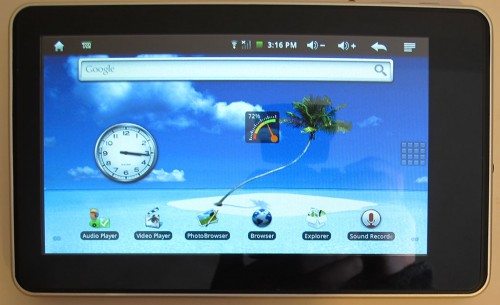 This tablet's display is multi-touch capacitive. That means you don't need to press hard or use a stylus. It also means that it supports pinch and zoom gestures in compatible applications. The resolution is 800×480 and looks pretty good. It's not as good as the iPad or the Samsung Galaxy though. Text in the web browser can appear a little pixelated until you zoom in. That said, colors are vivid and watching video is enjoyable.
The front of the device has no buttons. It's all glass with a Black bezel. The right side of the bezel is wider than the left side, which seems odd to me…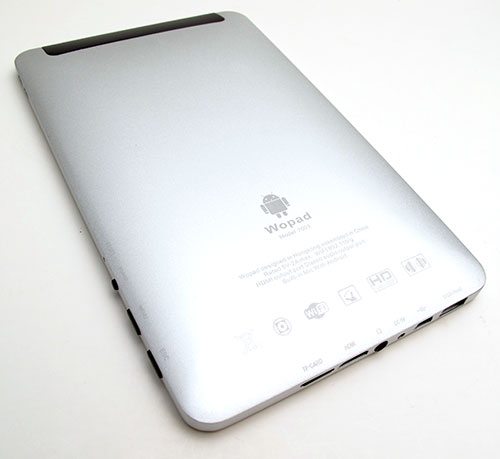 If you flip the WoPad over, it will totally remind you of the iPad. The casing is a similar brushed aluminum with a rounded back.
You'll notice the Black bar along the top edge. As far as I can see, this isn't an access door for the battery. I can find no way to remove it, so I'm thinking it might be the location for the WiFi antenna.

Let's take a look at the buttons. On the top edge (if you orient the tablet in landscape mode), you'll find the Esc button (functions like a Back button), Menu button and the Power button. Next to the power button is a reset hole. At the other end is a speaker grill.

On the right side is a full sized USB port, mini USB port, AC adapter port, earphone jack, HDMI output port and a microSD card slot.
Why did I cross out the HDMI port? Because there's no connector behind it. It's just a cutout in the case. 🙁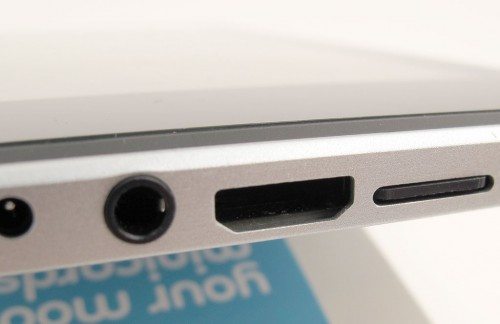 Click the image above to see a bigger view. Even though the box, the manual and even Now Supplier's website clearly mentions that this tablet has an HDMI output, it really doesn't. I shined a flashlight in the opening and there's no connector in there. Trust me…
Update: Now Supplier tells me that their first batch of these tablets arrived without the HDMI connector, but that subsequent tablets have one. They have since removed the info on their site that this tablet has that connector…
There might not be an HDMI connector, but it's pretty cool that there is a USB host port. You can use this port to connect a USB flash drive or a USB mouse. I tested both with great success. I was even able to watch a movie directly from a USB flash drive. Attaching a USB mouse is really cool too. It will actually put an arrow cursor on the display when you plug in a mouse, that you can move around just like do on your regular computer.
You might be wondering what the mini USB port is for. It works perfect for charging the battery if you don't want to drag the AC adapter with you.

The other side of the tablet has a matching speaker grill.
Software
The WoPad is powered by Android 2.1, which is relatively new. But here's the thing, it can't be updated as far as I know and it doesn't have a full version of Android 2.1. I noticed right away that it was missing some of the core Android apps like the Calendar, Contacts, GMail and Google Maps.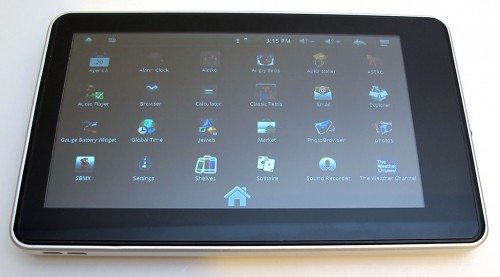 The included apps are:
Alarm Clock, ApkInstaller, Audio Player, Browser, Calculator, Email client, File Explorer, Global Time, Market, PhotoBrowser, Photos, Settings, Shelves (ebook reader), Sound Recorder and Video Player.
Yep, that's it… But the great thing is that it includes the real App Market app. The bad thing is that some of the apps don't seem to work very well with this tablet. I downloaded several games like Angry Birds, Classic Tetris and Unblock Me and I often had lock ups (Angry Birds) or weird onscreen button issues that didn't allow me to play the games.
Other apps worked fine, so it's a toss up as to which ones will or will not work well with the WoPad.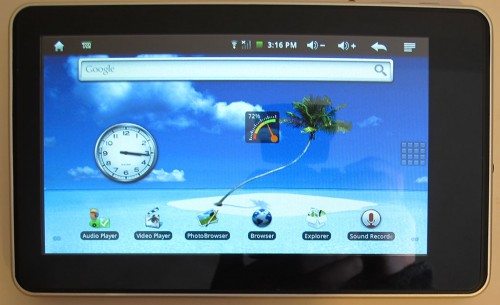 You'll also notice the extra icons on the status bar at the top of the display. In the left corner is a little house which takes you back to the Home screen. Then on the right side are volume buttons, a back button and a menu button.
Battery Life and Performance
One of the first things I noticed about the WoPad was that battery life was really short. I charged the tablet over night and unplugged it at 6:30am the next morning. I then took it with me to work where all I did all day was press the power button every so often to check the battery percentage (I had installed a battery widget that puts the percentage in the status bar). I was really shocked to see that the battery had drained down to less than 20% by 8pm that same day without even actually using the tablet.  Looking at the battery usage info showed that 77% of the battery was being used by cell standby. What's odd is that I didn't know that this table has a cell radio and according to the settings, it's not turned on. As a second test, I turned off the WiFi radio and tried a similar test. Results were very much improved. For a third test, I turned off WiFi and played an .AVI video file from an attached USB flash drive for 1hr. At the start of the test, the batter was at 90% at the end of the test the battery was at %68. The moral of the story is to disable WiFi whenever possible. But that sort of defeats the purpose of a tablet.
As far as performance, the WoPad isn't nearly as snappy as the Samsung Galaxy Tab. Applications can load slowly and web pages can seem to load slowly too. Video playback of 720p video files is smooth though, with no stuttering.
I really like the look and feel of this device. The display is nice for video and the ability to connect a USB flash drive or a mouse is a great feature. At less than $200, the WoPad would appear to be a bargain, but I find it hard to recommend buying one due to the fact that a lot of the apps that I tried didn't work and battery life with WiFi use is also a real concern. The WoPad has a lot of potential as an alternative to the big boys, but until these issues are fixed, I would suggest that you look elsewhere unless you just want to run the included apps.
Product Information
Price:
$188.00
Manufacturer:
Wopad
Retailer:
Now Supplier
Pros:

Capacitive display
Nice display for viewing video
USB Host mode

Cons:

Low battery life when WiFi radio is on
Sluggish performance
Not a full version of Android
No HDMI connector included on my sample