We use affiliate links. If you buy something through the links on this page, we may earn a commission at no cost to you. Learn more.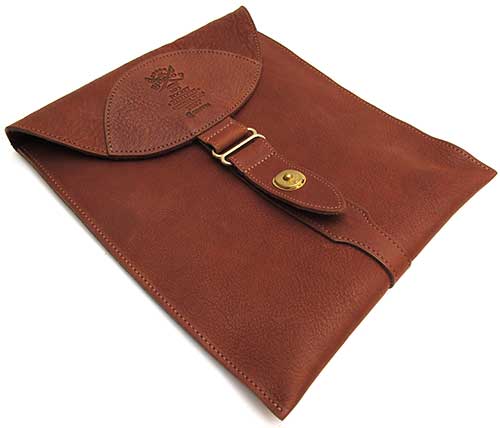 Love at first site isn't a phrase that I toss around all that often. Some say I've become a little jaded when it comes to accessories for my favorite gadgets. I guess it's easy to see how I may have become that way. After all, I've been reviewing gadgets and their assorted accoutrements for close to 14 years now. When it comes to bags and cases, it takes a unique product to spark my interest. That's why it might be surprising to learn that the Col. Littleton No.5 Pocket for iPad made my eyes sparkle the first time I saw it and will probably become the bag by which I measure similar bags against.  
Note: Most of the images in this review can be clicked to view a larger size.
Sometime before the holidays, I was in the mist of one of my epic web surfing adventures, when I happened upon a YouTube video about the collaboration of Griffin Technology and a company by the name of Col. Littleton. I of course was already familiar with Griffin, but I'd never heard of Col. Littleton. I learned that Col. Littleton is a real person (though he's not really a colonel) that started his namesake company back in 1987 in the very small town of Lynnville, Tennessee (population less than 500), where they offer handmade leather products.
Col. Littleton sells several iPad holders, but I was sent their No. 5 Pocket iPad sleeve. I have reviewed many leather cases, bags and sleeves over the years, and tend to lump them into 3 categories:
Molded cases made of thin smooth or finely grained leather over a hard shell form – Example: Vaja
Rugged cases made of very thick leather that are bulky, but very protective – Example: Saddleback Leather
Generic cases made of cheap smooth leather that have no character and make my eyes glaze over when I see them – Examples: Amazon
The No. 5 Pocket iPad sleeve from Col. Littleton is in a category all by itself.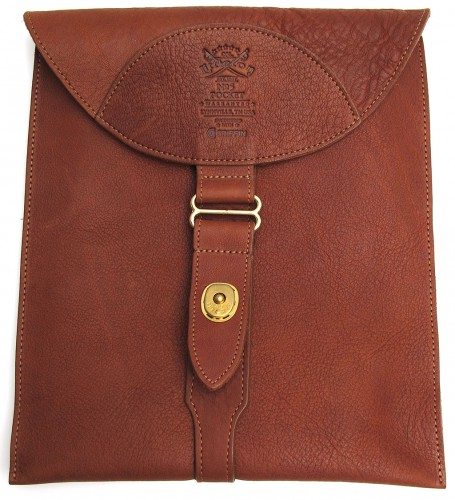 As soon as I removed the sleeve from the box and felt the leather in my hand, I was hooked. Col. Littleton uses dry-milled, vegetable tanned American steer hide that is tumbled in large wooden barrels to achieve the desired finish and softness. It does not have an applied finish like the leather used to make most products on the market, and with regular use, it will develop its own natural character and patina. But right out of the box it already looked and felt perfect to me.
This is a vertical envelope style sleeve that has been sized to accommodate the iPad with or without a thin case (9.0 x 10.5 in).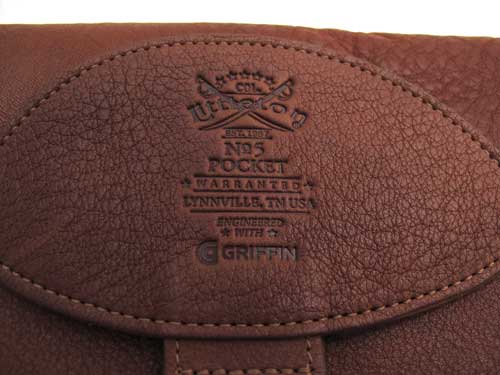 The only markings on the sleeve are the stamped logo of both Col. Littleton and Griffin. In all honesty, I'd rather see this stamp on the back of the sleeve or at least not have so much info. I don't see that it's necessary to state the name of the product ("No 5 Pocket") on the product itself. That said, it doesn't detract that much from the overall beauty of this sleeve.
There's also an option to add 3 initials in the bottom right corner of the front of the sleeve if you want to pay an extra $8.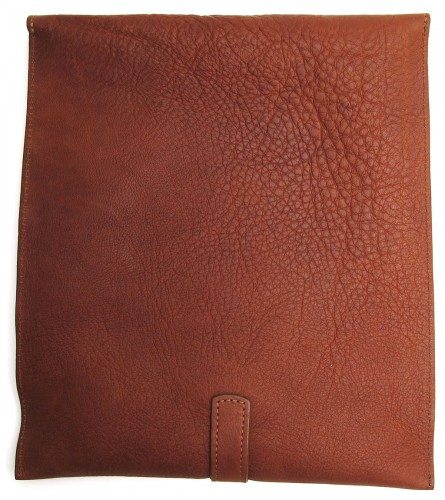 The back of the sleeve is plain. Notice the grain of the leather.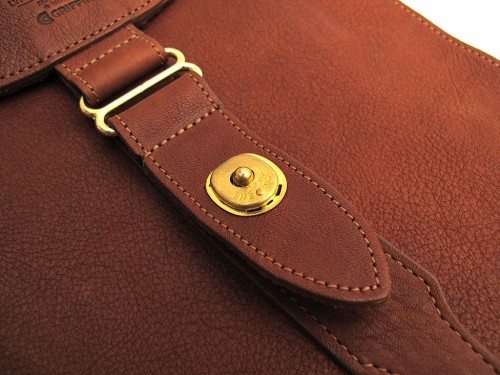 The N0. 5 Pocket has solid brass hardware, including a unique snap-style closure like ones used on WWII leather goods. It's funny that when I first unboxed this sleeve at my day job, several of us were trying to figure out how to unsnap the closure. We had to read the small card attached to it, to figure it out.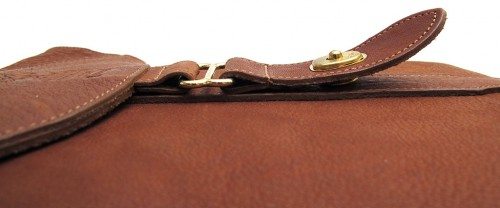 The trick is to pull up on the end of the leather strap. It pops open easily once you know how.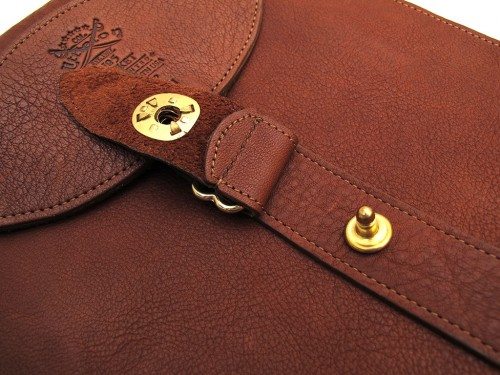 When snapped shut, it is securely fastened and will not accidently come open.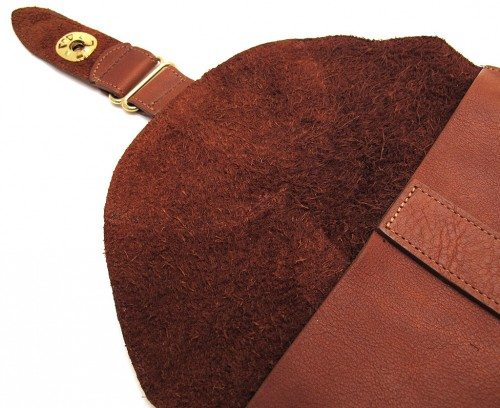 The interior of the leather bag is almost shaggy in feel and appearance, which was definitely unexpected. This 'shag' offers a natural padding that will protect the iPad while in the case.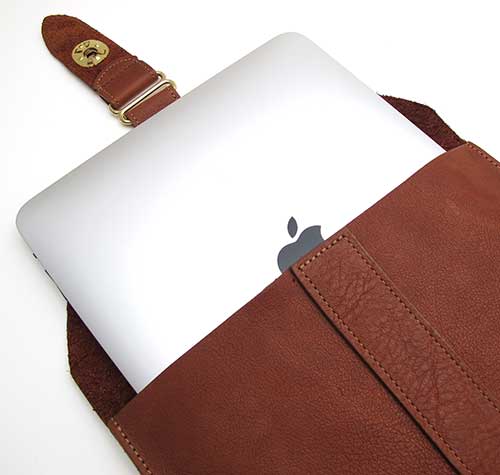 It's important to note that there is a right and wrong way to insert the iPad in this case. You will want to place it face down. Why? Because if you place it face up, you'll be pressing down on the display when snapping the flap closure. Not much pressure is needed to snap it closed, and it's doubtful that you could cause damage to the display, but it's better to just put it in face down for safety.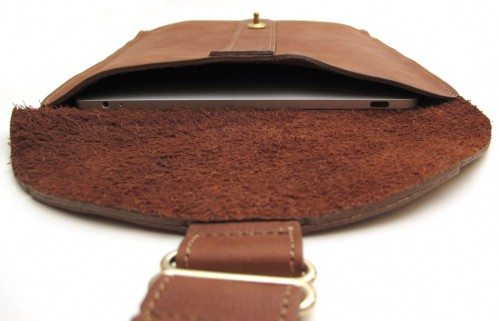 The sleeve is nice and roomy, allowing extra space to slide in a few papers, or even the charging adapter. Like I mentioned above, it's also possible to insert the iPad into this sleeve even if it's in another case. Of course that all depends on which case you use. Something like the Belkin Grip Vue and other non-bulky cases should work fine.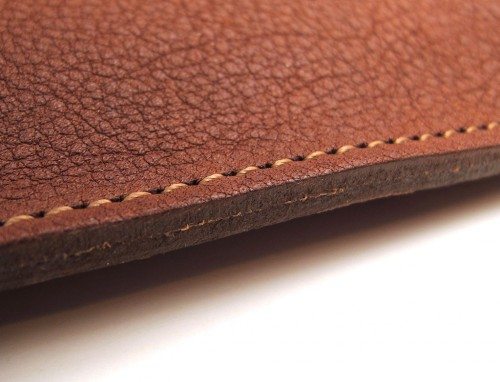 Materials and construction of this sleeve are perfect. I could find no flaws. The stitches are straight and even, the hardware is all brass and the leather edges line up perfectly. I can't explain fully in words how great this sleeve looks and feels to the touch. It really screams quality and longevity.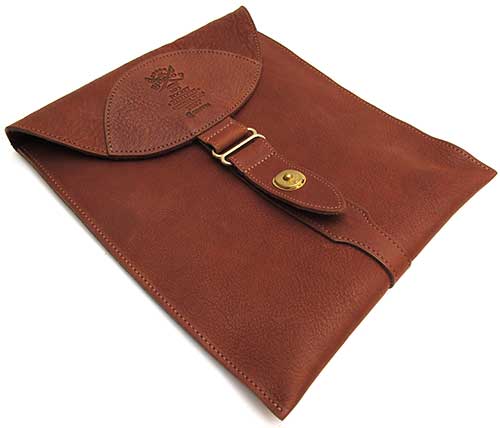 I really like the style of this sleeve because has a unique style and doesn't look like all the other cookie cutter products on the market. It will definitely get noticed. In an effort not to focus entirely on looks over substance, the sleeve will have no problems protecting your iPad from everyday wear and tear. It's great for housing the device when it's not in use or as a protector inside another bag when you are on the move. It probably won't offer much protection to the iPad if you drop it from any distance, but that's really not its purpose.
How would I change the Col. Littleton No. 5 Pocket for the iPad? As is, I love it just the way it is. But if I could add one thing, it might be an option for a removable shoulder strap. That way, it could be used as a sleeve for the iPad or a minimalist one pocket gear bag.
Product Information
Price:
$157.50
Manufacturer:
Col. Littleton
Pros:

Gorgeous
Soft
Unique flap latch

Cons:

No option for a shoulder strap
Have to remember to put the iPad in face down