We use affiliate links. If you buy something through the links on this page, we may earn a commission at no cost to you. Learn more.

This past summer there was a great deal of talk of Wicked Lasers producing an insanely powerful, 1 watt blue laser called the S3 (Spyder III Pro) Arctic. It was all over the web from Gizmodo to Squidoo.  They were discussing, not only how extremely cool/dangerous it is but how LucasFilm sent a cease-and-desist letter to the Hong Kong-based company threatening legal action if it did not modify the S3's housing design or stop selling it altogether. So, being the Gadgeteer geek and Star Wars fan I am, I quickly requested to review the closest thing to a real lightsaber that currently exists.
There were many rumors of production issues, delivery delays, and the FDA leaning on Wicked Lasers for a multitude of safety reasons. All I know for sure is that it took Wicked Lasers a very long time to send me a S3 Arctic laser to review.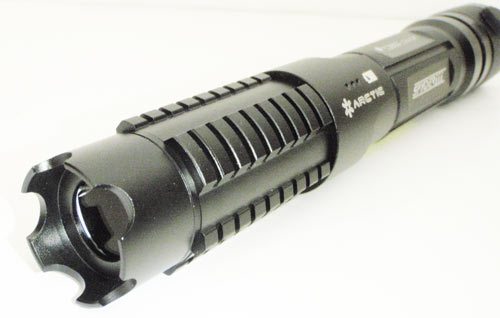 Although the wait was long and the path to me was somewhat complicated, Wicked Lasers' S3 Arctic lives up to its (very dangerous) hype.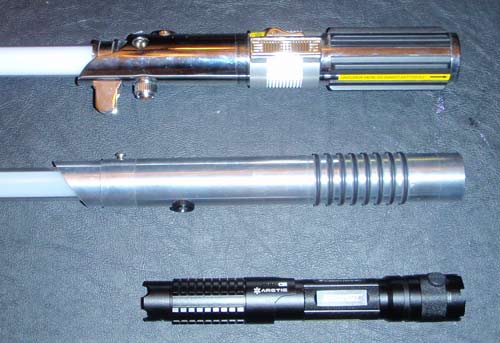 The S3 (Spyder III Pro) Arctic laser is truly sized and shaped like a lightsaber. The build quality is as good as all of the other Wicked Lasers I have reviewed over the years. The casing is made of 6061-T6 aircraft-grade aluminum, coated with a Mil-Spec Type III hard anodized in black finish. Its weight and feel are geek worthy.  It is like you are holding a real weapon.
Safety:
This laser is absolutely not a toy. The S3 Arctic is a Class 4 laser capable of blinding and/or burning someone almost instantly. I believe one of the reasons for its delayed shipment to customers was the fact the FDA pressured Wicked Lasers to engineer greater safeguards into it. Among those are Smart Switch technology, a safety interlock, and contact guard.
The laser is not intuitive to operate.  You definitely need to read the directions (something I normal do not do) to learn the 'trick' to turning it on and bringing it to full power.

Caution: Blue Light Hazard
Wicked Lasers do not only have a laser safety page, but a webpage dedicated to the hazards of blue laser light as well.

Wicked Lasers includes a set of lenses to modify the beam. These lenses include line effect, cross effect, galaxy effect, focusing effect, flashlight effect, floodlight effect and safety (20%). The lenses screw onto the front of the laser.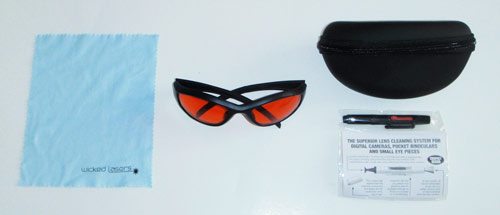 Wicked Lasers also includes a pair of their Arctic LaserShades to protect your eyes. However, even with the glasses on, the beam the S3 produces is too bright to look at for any real duration.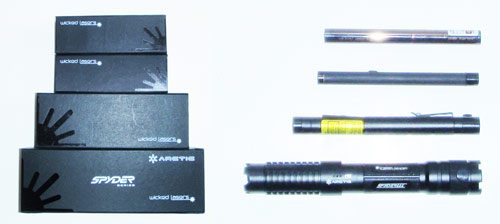 The S3 Arctic is not small by any means. This picture shows the Elite, Photonic Disruptor, Evolution Pro and S3 Arctic lasers aligned according to size. As you can see, the Arctic Spyder is many times the size/volume of the other Wicked Lasers I have reviewed.
Technical Specifications:
| | |
| --- | --- |
| Name: | S3 Series |
| FDA Accession No.: | 0920211-000 |
| Size: | 228mm x 35.8mm |
| Weight: | 378g |
| Wavelength: | 445nm |
| Laser Body: | 6061-T6 Aircraft-Grade Aluminum |
| Laser Finish: | Mil-Spec Type III hard anodized in black |
| Transverse Mode: | TEM00 |
| Max Power: | 1000mW |
| Min Power: | 500mW |
| Beam Divergence: | 1.5mRad |
| Beam Diameter: | 5.0 mm |
| NOHD* | 149 meters |
| Beam Distance 0.25 Lux | 6856 meters |
| Required Eyewear O.D. | 3.0+ |
| Power Consumption: | 3.7V @ 1A |
| Power supply: | Rechargeable Lithium Ion Battery Type 18650 (batteries and charger included) |
| Battery Lifetime: | 120 mins |
| Switch: | Push Button Constant On / Off, Lock-Out Tail Cap, Electronic Mode switch |
| Mode: | Low and High Power modes, Pulsed and Constant Wave modes, Secure Lock/Unlock modes |
| Duty Cycle: | Continuous |
| Expected lifetime: | >5,000 hours |
| Warranty: | One Year |

The S3 is powered by a 3.7V rechargeable lithium ion battery (type 18650).  The lens, eye protection, battery and charger are all included with the laser.
There are a multitude of videos on the internet that illustrate how powerful and effective the S3 Arctic is. The video above is one of many available on YouTube. I made several videos of the S3 burning through a LEGO Darth Vader but thought the YouTube videos were better.

During my testing, I attempted to burn through several black LEGO (and numerous balloons). It was amazing how quickly the laser burned through the relatively thick plastic. The S3 was able to create/burn a hole in approximately a minute, to include burning wire smell and billowing smoke.
As laser technology progresses, the cost of (really cool) lasers continues to drop. A perfect example of this is how the S3 Elite Series laser have plummeted in price over the past few years….from nearly $600 to $50-80; now available in three colors no less. The S3 (Spyder III Pro) Arctic laser could not even be created a few years ago at any price. But with some incredible advances in the world of miniature optics, Wicked Laser's have produced a small, very powerful laser at a very reasonable price ($299).
That said, there are three issues that come to mind that I should mention before you go out and order one; 1) shipping into the US (aka making it through US customs), 2) how dangerous it is, and 3) what are the real uses for a device like this…..thoughts and questions almost everyone that I show the S3 to mentions/asks. But those issues aside, the S3 (Spyder III Pro) Arctic is really cool and geekily fun to play with.

Product Information
Price:
$299.95
Manufacturer:
Wicked Lasers
Pros:

- Well made
- Quality materials
- Very powerful
- Shaped like a lightsaber
- SmartSwitch safety technology
- Includes various lens and safety goggles

Cons:

- Very dangerous
- Might not make it through Customs