We use affiliate links. If you buy something through the links on this page, we may earn a commission at no cost to you. Learn more.
Wicked Lasers is a company that sells a wide variety of handheld lasers. Prices for these lasers range from $60 all the way up to an incredible $4000! We have all seen laser pointers before, but these devices from Wicked Lasers are NOT to be used as pointers and are NOT toys. They are so different from toys, that it's not funny. These small pen sized devices are powerful enough to burn plastic, wood and flesh…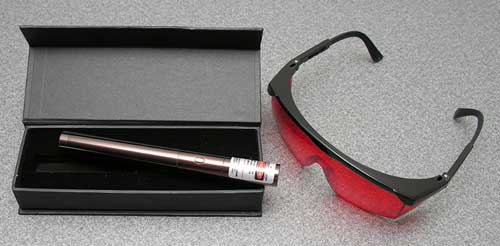 They sent me one of their Elite series Green lasers (model #EL81033). I knew this wouldn't be a ordinary laser like I've reviewed in the past, because they also included a pair of Red goggles along with the laser.

The Elite laser is about 6 inches long, with a body made of chrome finished Brass. It runs on 2 AAA batteries (not included) and has a momentary on/off button on the barrel.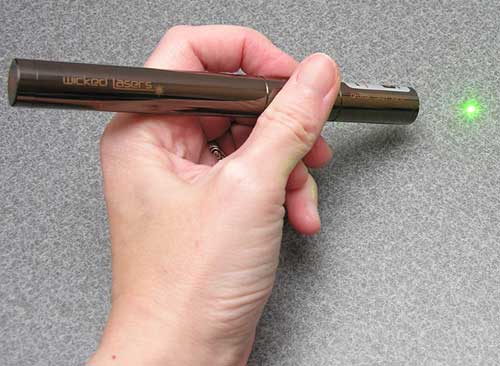 The first time I loaded in some batteries, pointed it on the opposite wall of my office and pressed the power button, I was like WHOA! The dot that this laser produces is big and freakishly bright. I immediately put on the goggles for subsequent testing.
I decided to see just how powerful this little handheld light saber really was and pointed it about an inch away from a wooden ruler on my desk. I held it there for about 15 seconds before I started smelling smoke. When I turned off the laser and pulled off the goggles, I saw a tiny burned dot on the ruler. Very cool and also very scary!
Never miss one of our posts again. Sent MON, WED, and FRI with the latest gadget reviews and news!
If you're in the market for professional quality powerful lasers, Wicked Lasers is definitely the place to go. But my question to all of you out there, is this: besides getting into dangerous mischief, what other uses are these types of powerful lasers good for? Do you think they should be sold to Joe Public?