We use affiliate links. If you buy something through the links on this page, we may earn a commission at no cost to you. Learn more.

At the beginning of the twentieth century, Albert Einstein theorized light could be organized and intensified to emit 'an avalanche' of same-wavelength light. It was this theory that eventually led Theodore Maiman, back in 1960, to create the first laser (Light Amplification by Stimulated Emission of Radiation). Being a child in the 70's, Sci-Fi shows left a huge impression on me. Star Trek, Star Wars, BattleStar Galactica, Buck Rogers; all flaunted laser technology as a mainstream tool used to fight your enemy. But at that time, lasers were large devices used/researched by industry and the military. Today lasers are used in almost every facet of our day to day life; they enable us to listen to music, watch movies, measure distance, remove that drunken tattoo, send messages to and from space, allow us to see better, shoot down missiles, the applications go on and on.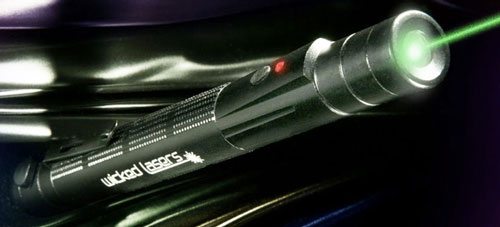 The engineers at Wicked Lasers create (relatively) powerful hand-held lasers for those of us still lost in our childhood. Many of the higher powered Wicked Lasers can shoot a beam over 10 miles, burn your skin, or pop a balloon from across the room.  My oh my, the fun I could have had (&/or trouble I could have gotten in) back when I was a kid. Over the past few years, we have looked at several lasers from Wicked Lasers; their Elite Series and their Photonic Disruptor come to mind. Most recently, Wicked Lasers sent me one of their Evolution Pro lasers to review. The laser they sent me is 130 mW, the most powerful in the Evolution Pro series.

While Wicked Lasers are a lot of fun, I do have to admit/warn that they are not a toy. You could easily damage someone's eyes if handled irresponsibly.
After receiving the laser, I conducted a non-scientific poll between men and women. To bottom line it for you, men thought it was VERY cool and instantly wanted to play with it.  The first thing that came out of EVERY female I ask was 'what the heck do you use that for???'. When I told them it could burn things, pop balloons, and shoot miles….they  all just rolled their eyes ;).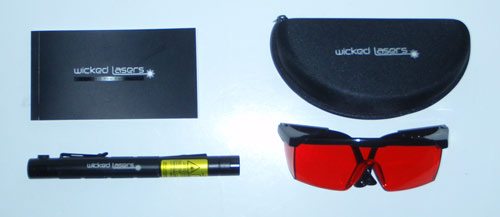 Along with the 130mW Evolution Pro, Wicked Lasers sent me a pair of Green 532nm LaserShades ($40 accessory). They are designed to protect your eyes while using the green laser. They also have LaserShades for red lasers and a more stylish sunglasses (think Oakley) looking version of eye protection called LaserShields Goggles ($100 option).
Never miss one of our posts again. Sent MON, WED, and FRI with the latest gadget reviews and news!
Technical Specifications
Size:
20.2x182mm
Wavelength:
532nm
Weight:
82g
Laser Finish:
6061-T6 Aircraft-Grade Aluminum
Laser Body:
Mil-Spec Type III hard anodized in black
Transverse Mode:
TEM00
Output Power:
20mW – 130mW
Beam Divergence:
<1.2mRad
Beam Diameter:
1.5 mm @ aperture
NOHD*
95 meters
Required Eyewear O.D.
2.1
Power Consumption:
<700mA
Power supply:
2 X AA 1.5V
Battery Lifetime:
up to 3 hours
Switch:
Momentary On / Off Button
Duty Cycle:
Continuous
Expected lifetime:
>5,000 hours
Warranty:
3 months
*The NOHDs were calculated based on a 0.25 second accidental (unaided eye) exposure.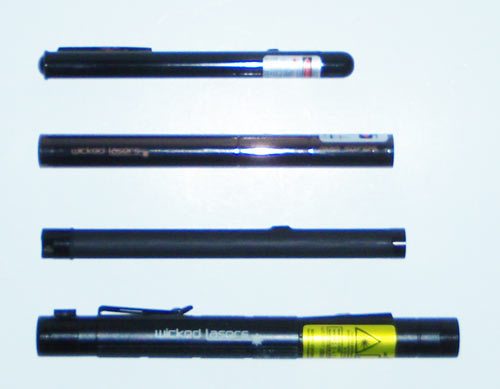 The above picture shows Evolution Pro larger size when compared to other hand-held lasers. The top is a typical 3mW laser pointer. Second is Wicked Lasers' Elite Pro. Third is their Photonic Disruptor. The Evolution Pro is approximately 50% larger in volume than the others.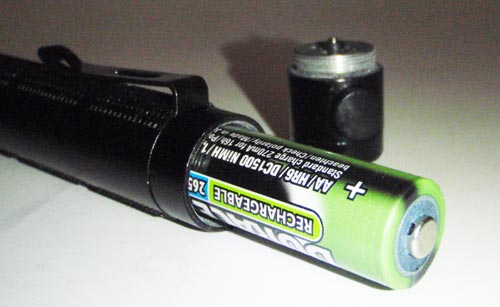 The primary reason for the Evolution Pro's larger size, is to accommodate the two AA batteries that power it. The AA's higher capacity give the Evolution Pro a much longer run-time, up to 3 hours of use. The three other lasers pictured above are powered by two AAA's. The barrel diameter is sized to easily fit normal disposable AA batteries. But most of my higher capacity rechargeable batteries were too larger to fit inside. Thankfully I was able to find a couple of rechargeables that would work and not get stuck in the barrel.

The Evolution Pro is made of a high quality aircraft-grade aluminum coated with Mil-Spec Type III hard anodized in black. It's build quality/design reminds me of some of the SureFire flashlights I have reviewed.

Unlike the other lasers I have tried, the Evolution has a raised trigger making it easier to activate the beam.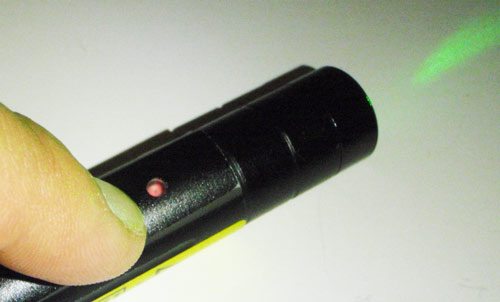 The raised trigger housing also includes a in-layed, red LED indicator that illuminates when being fired.

The Evolution Pro has a strong, aluminum pocket clip for more secure travels/storage.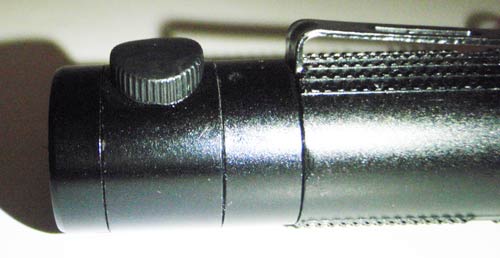 At the base of the laser, Wicked Lasers engineered a unique feature….a firing safety lock.

With this small pin removed, the laser is completely inert, unable to fire. The firing pin has a very firm fit with the laser housing. When inserted, it is unlikely to accidentally come/fall out.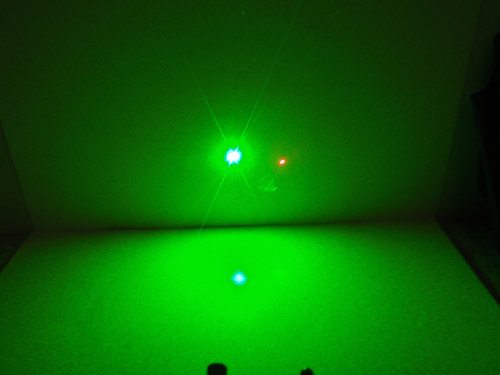 When I explain to people just how powerful the Evolution Pro is; I compare that a typical red laser pointer is 3mW or less and that the Evolution Pro is 130mW. Then I fire it across the office/house/yard you can see how surprised and impressed folks are as they arch their eyebrows and say 'no way….'.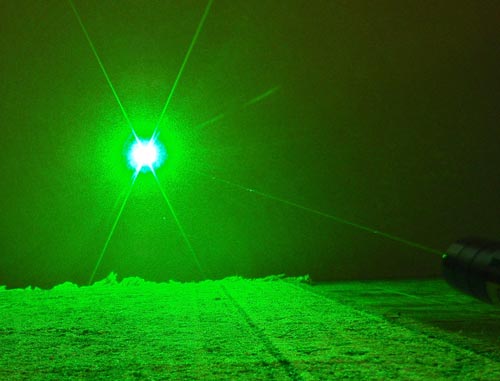 This picture was taken indoors during normal daylight conditions. As you can see, the Evolution Pro's 130mW beam is powerful enough to be seen. The beam is most impressive in complete darkness with a slight mist.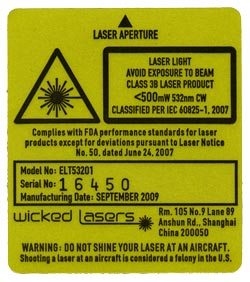 As I stated above, high powered lasers like the Evolution Pro, while a great deal of fun to play with, are not toys. Wicked Lasers has dedicated an entire page discussing laser safety, hazards, and legal punishment if misused. They even include mugshots of  a couple of idiots who fired lasers at aircraft, a federal crime.
The Evolution Pro series of lasers are not inexpensive; they range in price/power from $117.97 for 20mW to $417.97 for 130mW. Although, I should mention that the Evolution Pros are more cost effective and ruggedly built than the Elite Series. Even though they are well made, built with quality materials, and fun to use, I find it difficult to say the Evolution Pro is a great bang for the buck. Other than being able to be seen for miles, burn things, and pop balloons; I have yet to think of what else it can be used for (please feel free to comment on suggested uses). But if money is just burning a hole in your pocket or you have always wanted an impressively powerful, handheld laser you should definitely checkout Wicked Lasers' website….they have what you are looking for.
Product Information
Price:
- $117.97/20mW - $157.97/40mW - $217.97/60mW - $277.97/80mW - $317.97/100mW - $417.97/130mW
Manufacturer:
Wicked Lasers
Pros:

- Well made
- Quality materials
- Rugged design
- Very powerful
- Easy to grip
- Removable firing pin/safety

Cons:

- Expensive
- Only a 3 month warranty
- Limited uses
- Can get you into trouble (if misused)