We use affiliate links. If you buy something through the links on this page, we may earn a commission at no cost to you. Learn more.
The iPad really wants to travel with you. More than any other computer I have ever used, this device just begs to be taken on trips out of the house. With its huge glass screen, however, what to carry it in becomes a question of real importance very soon after acquiring one.
The fine folks at Booq make some innovative carrying solutions, primarily for the Macintosh. Once the specs for iPad were released, they must have gone into full-on heads-down design mode, because soon after release, they had several options, one of which, the Boa, was sent to me for testing.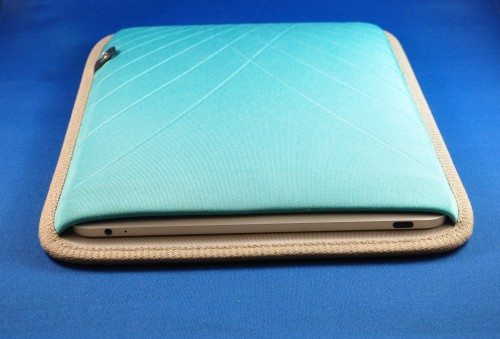 The Booq Boa is designed to secure and protect an iPad without any other case. It's a great solution if you love to use your iPad without a case, but need to transport it within a briefcase or backpack where the screen needs some protection. The backing material is very stiff, and covered on the back with a fabric in a tight but textured weave. Inside, this side is covered with a smooth, micro-fiber-type material. Over this is sewn a neoprene stretch knit that holds your iPad securely against the stiffener. It is a very tight fit, so having any type of case on your iPad will not work.
I'm not much for using my iPad without a case, but this sleeve seemed to do the job well. I could fit it into any satchel I wanted to use when it was inserted, and the knit kept my precious iBaby safe no matter where I tossed the bag or what rough areas I rode over. The Boa is available in several colors, but be warned that some sell out quicker than others.
While the boa is designed for the iPad, as Tom Peters said, innovation happens when someone uses a product in ways not intended by the inventor. The
Griffin A-Frame iPad stand
, which is oddly shaped and difficult to manage in a gear bag, is a piece of cake to carry when slipped into the Boa. The stretch knit holds it fast, and the stiff backing prevents it from hurting anything else in the bag. Now, if I just had one a few inches longer for my BlueTooth keyboard….
I give the Boa four stars. A good concept, well-executed.

Product Information
Price:
$29.95
Manufacturer:
Booq
Pros:

Secure, protective cover for a bare iPad
Easy to use
Quality materials and workmanship

Cons:

Must use on bare iPad
Secure fit means not easy to remove when you want to use it