I am not much of a gamer at all….never have been, never will be. But I do appreciate the skill and training it takes to master today's very complex and detailed video games. Let's face it, HALO is definitely not Space Invaders. That said, I occasionally watch my 9 year old play Wii or my teenage godsons commit acts of untold (virtual) violence and mayhem on their Xbox 360.  While immersed in their virtual world for hours on end, I watch them for 10-15 minutes and walk away having my fill of sensory overload.

Companies continue to create accessories to enhance the immersion into these imaginary worlds; from laser rifles to 3D glasses. Thrustmaster has designed an accessory to the Wii and Wii balance board that enhances those games where you ride on a board of some type, like skateboarding, snowboarding or surfing; the T-Freestyle NW Board. The only caveat is that the game you are playing has to allow feet/leg input via the Wii balance board.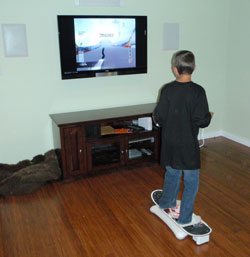 So for this review, I enlisted the assistance of the Gadgeteer Kid and his friend to not only play several games with the balance board/T-Freestyle NW Board combo but get their thoughts on its worthiness as well. We used this setup while playing Shaun White Snowboarding – World Stage, a popular Wii snowboarding game.

The T-Freestyle NW is made from genuine maple wood, like many skateboards in real-life. On each side of the bottom of the T-Freestyle NW Board there is a complex clamp system that allows the board to realistically move while securely attached to the Wii balance board. The setup is easy, just attach and play: simply clip the T-Freestyle NW onto the Balance Board and you are good to go.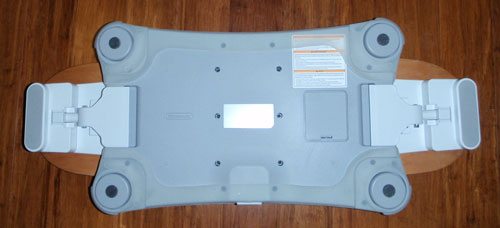 As you can see, the clamp system securely attaches the board to the top of the Wii balance board.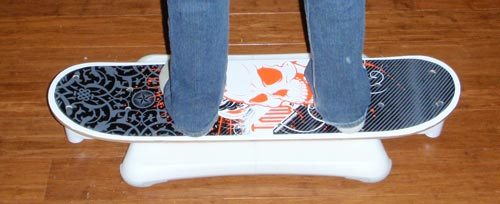 The Thrustmaster T-Freestyle NW Board/Wii balance board combo is not only for kids but easily accommodated my weight as well. The clamp system is engineered to be safe fun and prevents tipping….although you might fall off the board just like in real life.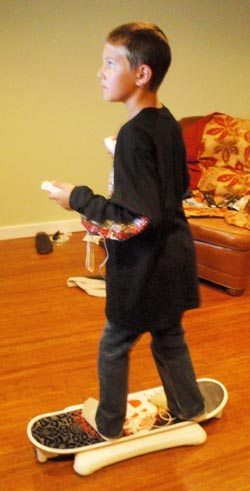 Overall, the kids enjoyed the T-Freestyle NW Board while playing Shaun White Snowboarding – World Stage. They took turns using the T-Freestyle NW Board while racing each other snowboarding. They both agreed that the board adds a great deal of realism to the game when compared to just the Wii controller. But, at least initially, the Wii controller enabled them to do more tricks and moves while racing. I gave the T-Freestyle NW Board/Wii balance board combo a try as well; it was very responsive and realistic. It reminded me of those long gone days of learning to ride a skateboard.
If you have a Wii, Wii balance board, enjoy playing boarding games and want a more realistic gaming experience, I suggested considering Thrustmaster's T-Freestyle NW Board. At under $25, its an inexpensive Wii accessory that definitely adds a great deal of realism to your boarding experience.
Support The Gadgeteer
:
We may earn a small affiliate commission from purchases made from buying through links on our site. As an Amazon Associate I earn from qualifying purchases. Learn more.
Product Information
Price:
Under $25
Manufacturer:
Thrustmaster
Pros:

- Adds realism to boarding games
- Quality materials and construction
- Easy to install
- Inexpensive

Cons: