We use affiliate links. If you buy something through the links on this page, we may earn a commission at no cost to you. Learn more.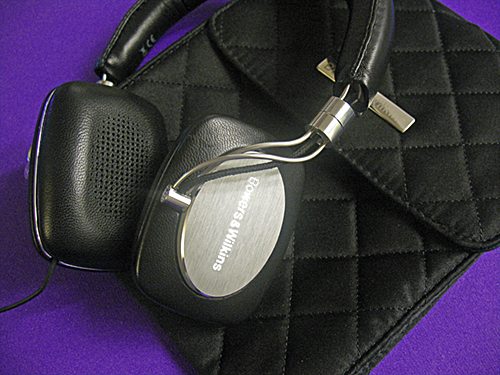 How do you judge a pair of headphones in this pristine, digital age when you're listening to a new track from Jónsi and Alex that has analog noise added for effect? I have no idea, but boy, does it sound ethereal and haunting. The track is "Daníell In The Sea", which may not be your your preferred style of music or even what you might call a "song". But I like it and on the Bowers & Wilkins P5 headphones, I like it even more. That added analog dirt sounds like a badly scratched vinyl record, but the mystery and the ambience come through like a fog rolling in off the coast. Murky and beautiful (the music, not the headphones).
For those of you who may not be aware, Bowers & Wilkins make some of the most audaciously designed speakers available and they are priced accordingly. They have now applied that expertise to the iPod/iPhone market with the incredible Zeppelin speaker and the newer MM1 computer speakers (to be reviewed soon – stay tuned).
They have also entered the personal audio market with the P5 headphones. Unlike headphones such as the Grado 325i for instance, the B&W P5s take a completely different approach to personal listening. It's important to understand this difference as you consider shelling out big bucks on headphones. The Grados (and some other brands) are what is known as open-backed. And the P5s are closed. This simply means that someone sitting next to you can hear what you are listening to with the Grados and not so with the P5s. And truthfully, neither approach is better. Each one has its pros and cons. It comes down to preferences. So rather than compare the different approaches, I am going to concentrate on the closed design P5s.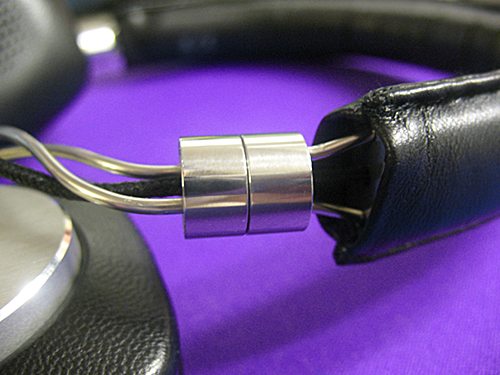 Right away, you'll notice that you can't get past that packaging before you unearth the headphones. And unboxing the P5s clues you in on what lies ahead: Pure quality all the way. A thick, foam-lined, beautifully printed cardboard box opens up to the headphones packed in a form-fitting carrier. Underneath this carrier is a gorgeous manual/history booklet of B&W, as well as a quilted, suede-lined carrying bag. Also included is a 1/4" jack adapter and a mic-enabled cable. With this mic-cable, you can listen to your iPhone and then accept a call without removing the headphones, then resume your music when the call is ended. Two cables are included – one with a mic and one without.
As with any headphone, comfort ranks almost as importantly as sound quality. When you wear the P5s, you'll notice that they hug your head without squeezing your temples or pressing down on the ears themselves. And because the pads are leather, they can breathe, which helps reduce sweating, which can be a real problem in more humid climates. Incidentally, that leather is sheep's leather… from New Zealand. Neat. The well-padded headband is also covered in soft sheep's leather. There is little to no downward pressure to the top of your head.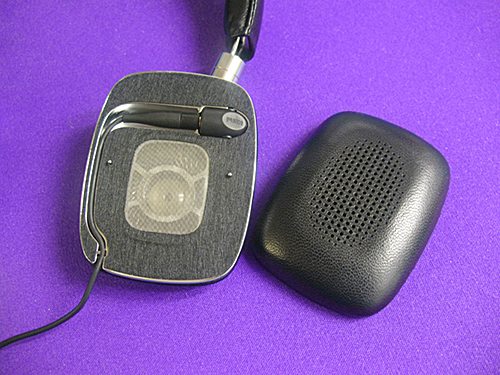 The construction is solid and well thought out. Even though the P5s are expensive, brushed metal and chrome accents – along with all that leather – make them look like they cost even more than they actually do. The ear pads are held in place magnetically and separate from the housing with little difficulty, which is clever because it allows for complete cable removable and replacement should something bad happen. So, if your dog chews through the cable, no problem.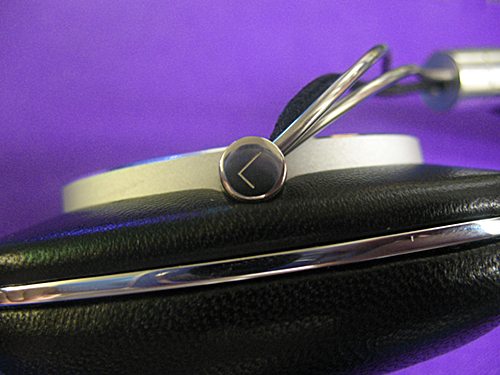 Of course, it all comes down to the sound. Do the P5s sound as good as they look and feel? Let's find out.
Some companies really stress the bass in their products. In most cases, this over-emphasis on bass masks all sorts of shortcomings in speaker quality. What may sound impressive on first listen will give you a headache after 20 minutes. Not fun. Don't be fooled by heavy bass.
The B&W P5s sport plenty of bass, but are tuned to a more neutral setting. What that means is you can comfortably wear them for hours with no ill effects or ear fatigue. A good example of this is the Annie Lennox song, "Why", on her "Diva" album. It's a song that has a perfect balance of bass and midrange synths which contrast beautifully with her vocals. The P5s accentuate all the right stuff with little coloring of the music.
The P5s lean to the warm side, meaning that they are not too bright sounding. Sometimes, that can make the headphones a little less "accurate" sounding. But sometimes, accuracy at the expense of comfort is not a good thing.
A high resolution version of Peter Gabriel's "Sledgehammer" from his album, "So" proves the warmth over accuracy point. This song has some brass sounds that on lesser headphones have sounded downright harsh and unpleasant. Here, the sound is just… smooth. Gabriel's vocal histrionics come off as good-natured fun rather than grating.
Another good test of sound quality on the P5s is Brian Eno's "Under" from "Another Day on Earth". There is a lot happening in this song, from complicated percussion to random sounds haphazardly thrown in for effect. But the way the fast percussion seems to go completely against the slower rhythm of the music shows how quickly the P5s react to all the sonic barrage. It has become one of my favorite headphone songs.
The "Ninth Symphony, Fourth Movement, Abridged" on the Clockwork Orange soundtrack is completely artificial – all analog synthesizer – as could only happen in the 70s. With the P5s, Wendy Carlos' score comes through with a menacing beauty  absent from earlier listenings. The synthetic chorus at the end will give you shivers. Play this one loud.
Vocals on the P5s can be intimate bordering on the uncomfortable. I don't mean aurally, but emotionally. Some of the reason for this is again, the closed design as opposed to the open-back design. Jennifer Warnes version of Leonard Cohen's "Joan of Arc" from her excellent "Famous Blue Raincoat" album puts her right in your space (or face). Close your eyes and she is singing just to you. Its realism to the max. Add in the snap of the static pounding drum in the background while she croons la da da, and you are there.
The Bowers & Wilkins P5 headphones handle anything I've been able to throw at them.
You can not only use the P5s for personal listening where isolation is imperative, but they are also something you can just listen to for extended periods of time, if for no other reason – because you can.
For those close to an Apple retail store, you can actually audition the P5s before you decide if they are right for you.

Product Information
| | |
| --- | --- |
| Price: | $299.95 US |
| Manufacturer: | Bowers & Wilkins |
| Pros: | Incredible sound and isolation, very comfortable, cool looking, very well made |
| Cons: | |