We use affiliate links. If you buy something through the links on this page, we may earn a commission at no cost to you. Learn more.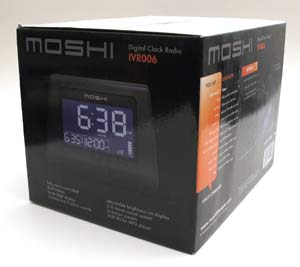 Last Winter I had reviewed the Moshi Voice Control Alarm Clock and have been using it ever since. I've come to rely on the ability to control my alarm clock with my voice. It's no longer just a novelty for me. That's why I was super excited when I learned that Moshi was offering a new model with a built in radio and two alarms. It sounded like a perfect upgrade. Let's see if it was.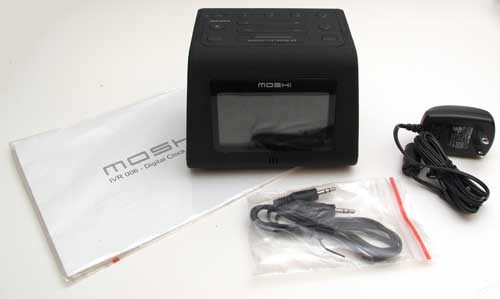 Package Contents
Clock
AC Adapter
Line in cable
Manual / Quickstart guide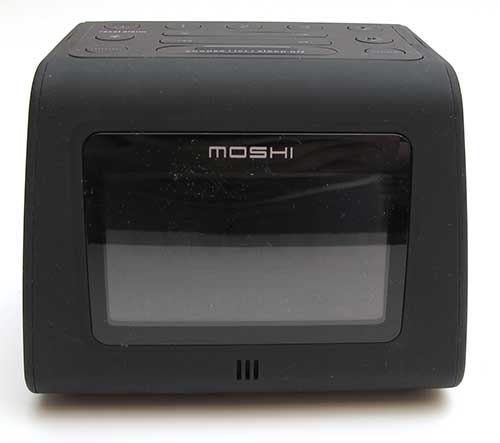 The Voice Control Digital Clock Radio isn't as flashy (literally) as the previous model I reviewed. It has a Black case with a soft rubberized texture that attracts dust and lint. The large display takes up the entire front of the clock, with a small microphone below it.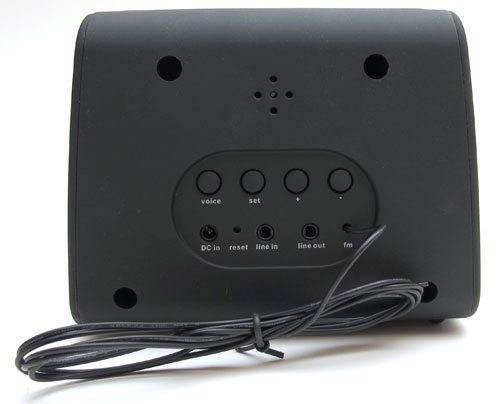 The back side has buttons for setting the date and manipulating other settings. I am wondering why the heck they didn't include the ability to set the date with your voice, when you can change all the other setting with that method. The power jack, reset switch, line in, line out and FM antenna are also located on the back side of the clock.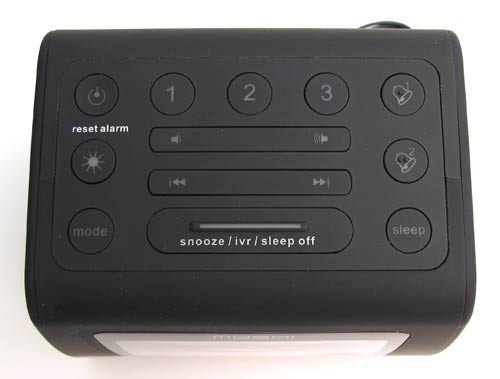 Unlike the previous clock which had no visible buttons (unless you count the ones on the back for setting the date), this new clock has a bunch of buttons on the top surface. Let's start with the top row going from left to right. The first button is the on/off switch for the radio and the alarm reset button. Buttons 1, 2 and 3 are radio channel presets. You get 3 channels for FM and 3 for AM. The two buttons on the right side are for alarm 1 and 2. Quickly pressing these buttons will toggle the alarms on and off. Holding down the buttons will initiate the alarm setting sequence.
The 2nd row of buttons includes the display brightness toggle. The display has a blue background with white letters. There are 3 brightness settings. Bright, dim and off. Off provides no light, so it won't bother those of you that like a very dark room for sleeping. The two long bar buttons in the center are for volume adjustments and radio tuning.
The last row of buttons includes the mode button, for switching between FM, AM and Line In audio. The large bar button is your snooze, IVR, sleep off button. The button on the bottom right is the Sleep button. Pressing it will allow you to pick from 3 sleep sounds (ocean, music with white noise and night time bugs) and a sleep duration of 13, 30, 45 or 60 minutes. The sleep sound will play for that length of time and then turn off.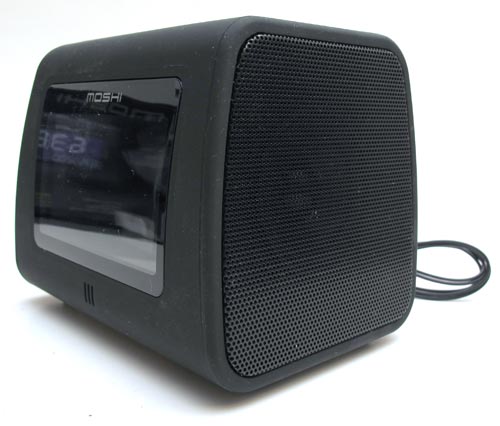 The speakers built into either side of the clock have surprisingly good sound for such a small radio.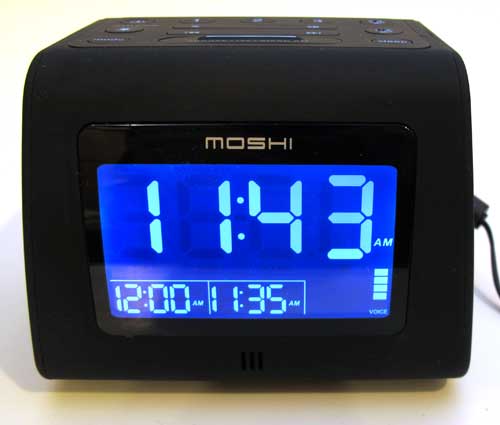 The display is big and bright. I do miss the various colors that the other clock offered though…
The time of day is displayed in large digital format. Below the time are the two individual alarm settings. Each alarm can be either FM radio, AM radio or one of 3 alarm sounds (clock chimes, funky musical ditty or an alarm buzzer sound).
Ok, now let's talk about the main attraction of this clock – voice control. I want to start out by saying that I have had pretty good luck controlling the original Moshi voice control clock. I've only had 2 problems with that clock. Once in awhile it will not correctly recognize an alarm time. This is almost always when I say five thirty or another time with thirty. For some reason it doesn't always correctly recognize what I've said. I have learned to replace 5:30 with 4:29 or 5:31. The other issue I have is telling Moshi to turn off the alarm. I think this is mainly due to the fact that I almost always have a radio playing in the same room because I have a radio wake me up first. Then Moshi gives me an alarm to tell me that it's really time to get moving. I'll have to say TURN OFF ALARM 2-3 times some mornings. Other mornings it is recognized on my first try.
Ok, that was my experience with the Moshi Voice Control Alarm Clock. I was expecting the Voice Control Digital Clock Radio to have improved capability to recognize my voice commands. The clock uses IVR, which stands for Interactive Voice Response. That's just a fancy way of saying that the clock is always listening for you to give it a command. You can either say HELLO MOSHI to get 'her' attention, or tap the bottom button bar (snooze/IVR/sleep). She will then ask for your command. From there you can say 1 of 11 commands:
Time – tells you the current time
Set Time – allows you to set the current time
Alarm – tells you what the alarms are set to
Set Alarm – allows you to change the alarm 1 or alarm 2 settings
Alarm Sound – plays the 3 alarm sounds
Play Sleep Sound – plays the 3 sleep sounds
Turn Off (the) Alarm – turns off the currently sounding alarm
Snooze – snoozes the current alarm for 9 minutes
Today's Date – tells you the current date
Play Radio – turns on the radio
Help – plays the help menu
I'm very disappointed to tell you that the voice recognition capability of this clock is about 10 times worse than the other model. It's horrible. It takes me about 5 minutes or longer to set an alarm. This is in a perfectly quiet room with me talking in a normal voice 1-2 feet away. I've tried talking louder, talking softer, talking farther away, talking closer. No luck. Either I have a dud clock or they've completely gone backwards with this upgrade.
Besides that main complaint, I should also mention that you can't turn off a radio alarm with your voice. You have to press the snooze or on/off button to turn it off. Boo.
You also can't set a day of the week for the alarms. Ok, I'm being picky with that complaint, but you would think it wouldn't be that difficult to add that capability.
When it comes down to it, I can't recommend the Moshi Voice Control Digital Clock Radio. Although it works fine as a manually operated alarm clock, the voice control feature is sorely lacking – and that would be the main reason anyone would pay $70 for this product.
Back to the drawing board Moshi… and I'm going back to using the original version.
Update 03/29/2011:
I ended my review from last August stating that I would go back to the original version of the Moshi Voice Control clock. I lied. I have continued to use this newer version and in the months since, it has worked better for me. It rarely ingores my commands or 'hears' incorrectly. I think this version just required a little bit more adjustment in the way I spoke to it than the original version. As is, I'm happy with this clock and will continue to use it.
Product Information
Price:
$69.99
Manufacturer:
Moshi
Pros:

Radio has good sound
Large bright clock display

Cons:

Horrible voice recognition (I retract this con after having used the clock for an extended period of time)
Can't turn off radio alarm with voice
Can't set alarms to specific days of the week