We use affiliate links. If you buy something through the links on this page, we may earn a commission at no cost to you. Learn more.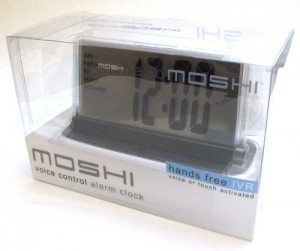 Even though I hate getting up in the mornings to get ready for work, I have a thing for alarm clocks. It's not that I enjoy hearing them go off in the morning as much as I just like finding clocks with cool and unique features to make the early morning wake ups a bit more 'fun'. That's why I couldn't wait to try the Moshi Voice Control Alarm Clock, a clock that I could control with my voice.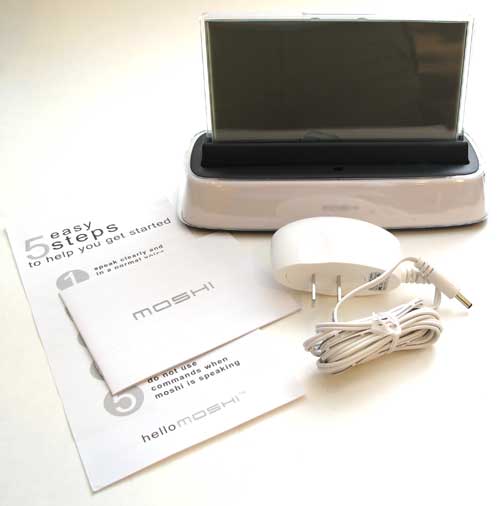 Package Contents
Moshi Alarm clock
AC Adapter
Quick start guide
Manual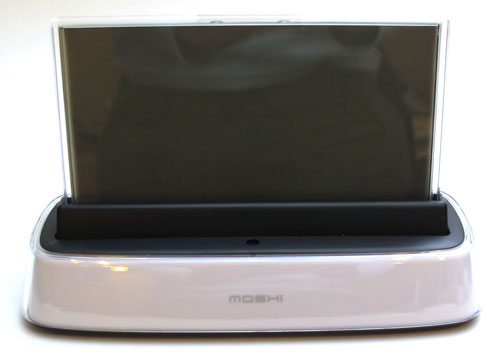 The 7.5″ x 3.25″ x 4.5″ clock has a White plastic base with a large mono LCD screen sticking out of it.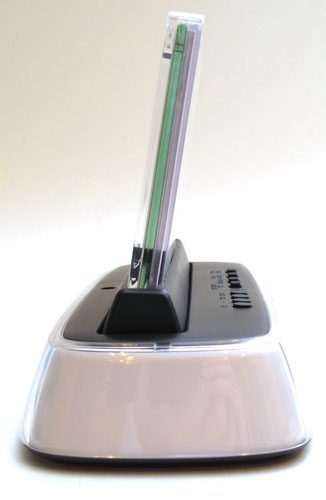 The display is also a button. You can push it back to wake up the clock to receive your commands. It also works as a snooze button.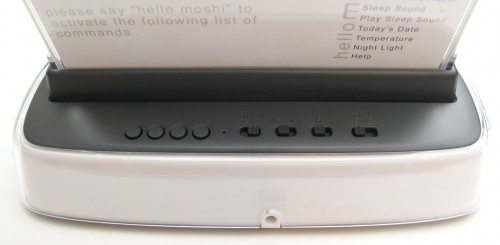 On the back side of the display, you will find several buttons and switches that you can use to customize the clock features such as volume level, night light type and alarm on/off toggle. There are also buttons to see the time and date manually. But, the main feature of the Moshi Voice Control Alarm Clock is that you can control it with your voice, so let's check that out.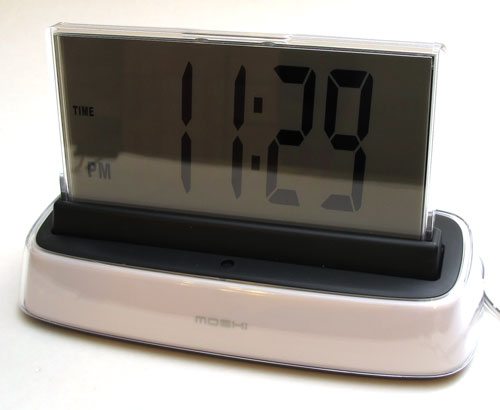 The clock is really easy to interact with. Just plug it in and it's ready and waiting for your command. All you have to do is say "Hello Moshi". You do not have to press any buttons first or anything. Just say "Hello Moshi" and then the clock will reply in a woman's voice "Command Please". From there, you can say any of the 11 voice commands:
Time – Tells the time
Set Time – Set time by voice
Alarm – Tells you time alarm is set
Set Alarm – Set alarm by voice
Alarm Sound – Choose 1 of 3 available alarms
Sleep Sound – Choose 1 of 3 available sleep sounds
Play Sleep Sound – Plays 5 minutes of sleep sound
Today's Date – Tells you today's date
Temperature – Tells you current temperature
Night Light – Turns on night light
Help – Offers a help menu of assistance
There's one command that you doesn't require you to first say "Hello Moshi". That's the command to turn off the alarm when it's gone off. You just wait for a pause between alarm sounds and say "Turn off the Alarm".  That turns off the alarm and also speaks the current time, date, and temperature.
I love that I can just find out the time in the middle of the night by just using my voice. This clock would be perfect for people with vision problems. I guess that includes me because I can't see anything without my glasses…
Using your voice to control the clock is easy and for me, it works correctly about 95% of the time. Sometimes Moshi doesn't understand me when I set the time of day or the alarm time and will set the wrong time. For some reason when I say 10, the clock thinks I'm saying 2. When this happens, I try again and 8 times out of 10, the correct time will be recognized.
I do wish that this clock had more than the 3 alarm sounds, which include a chime, beep and a phone ring type sound. I also think it would be great if there were at least 2 alarm time settings instead of just one.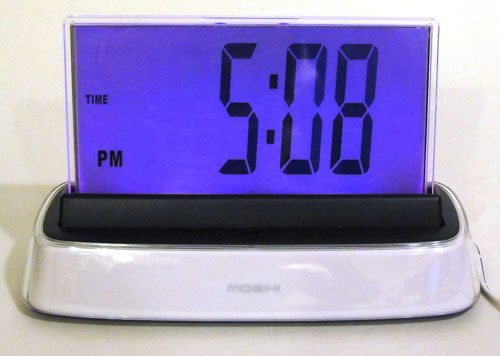 If you like your room dark while you're sleeping and often don't like bright clocks, you'll like Moshi. By default, the LCD is not lit and will not provide any light in a dark room. There is one part of this clock that does provide light though… it's the AC adapter. It has a Blue LED on the site that is crazy bright and will light up your room. I suggest putting a small piece of duct tape over it.
If you prefer that the time be visible in the dark, you can turn on the night light feature which can cycle through multiple colors (Blue, Red, Green, Purple) or be set to a single color.
The clock also has 3 sleep sounds that will play for 5 minutes before automatically turning off. The sounds include a white noise sound, chirping birds and running water. I find these sleep sounds slightly annoying because I can hear them loop.
I really like this clock because I don't have to pull out the instructions every time I need to reset the time or set the alarm. I'd love to see additional features added for the next version. Atomic time setting, iPod control, additional alarms, alarm sounds and sleep sounds would make it even better. But as is, it gets two thumbs up for me.

Product Information
Price:
$49.99
Manufacturer:
Moshi
Pros:

Control all features with voice
Easy to use
Fun
Battery backup

Cons:

Sometimes doesn't understand time commands
Only one alarm
Only 3 alarm sounds
No radio