We use affiliate links. If you buy something through the links on this page, we may earn a commission at no cost to you. Learn more.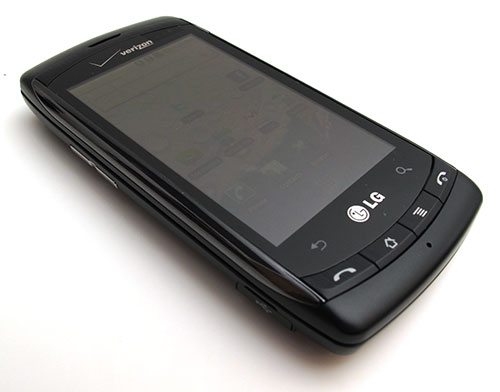 Android devices such as the Motorola Droid X and Droid 2 are super hot right now. The great thing about them is that unlike the Apple iPhone, there is more than one choice if you want a phone with the Android OS. We usually gravitate to the high end smartphones here on The Gadgeteer, but today Bryan and I want to show you Verizon's least expensive Android phone for those of you that don't want to spend a lot of bucks to dip your toe into the pond of little Green robots. It's the LG Ally.
Julie's comments are in Black and Bryan's are in Blue.
Hardware Specs
Processor: MSM7627, 600MHz
OS: Android 2.1
Radio: 800/1900 MHz CDMA, EVDO Rev A
Carrier: Verizon
Memory: ROM 512MB, RAM 256MB
External Memory: 4GB microSD pre–installed
Display: 3.2″ Touch Screen, 800 x 480 Pixels, 262K Color TFT
Wi-Fi: 802.11b/g/n
Bluetooth: Version 2.1 + EDR
Camera: 3.2 Megapixel camera with Autofocus and Flash
Battery: 1500 mAh, Usage Time: up to 450 min. Standby Time: up to 500 hrs.
Dimensions: 4.56″ (H) x 2.22″ (W) x 0.62″ (D)
Weight: 5.57 ounces
Form Factor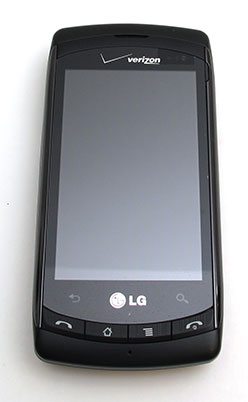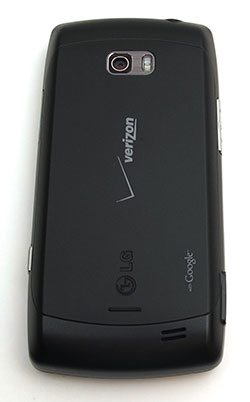 The Ally is a compact phone roughly the same size as the Droid / Droid 2. But instead of a row of touch buttons, it has a row of physical buttons below the display. I was very surprised to see that those buttons include actual call Send and End buttons. That's something you don't seem to see anymore for some odd reason which really annoys me.
I love the dedicated call and hang-up buttons. They managed to fit them in by moving the standard back-up and search buttons to the glass above the four hardware buttons.
There's a status LED on the top Right side corner of the display that shows charging status and three LEDs at the top next to the Verizon logo are for notification status.

The left side has Volume up/down button and the micro USB charging connector that is covered by a little plastic door.
Can I just say, I hate weak little USB-covers on phones. I have not seen the Galaxy-S up close, but its use of a sliding door looks good, but honestly, the little plastic door is not going to last. I would rather the port just be open. The cover on my G1 was lost in the first year, and I have never had any issues.
I totally agree. Although they look nice when they are in place, they are just a hassle to open when you want to plug in a cable.

The opposite side has a dedicated camera shutter button and a microSD card slot. A 4GB card is included with the phone.
I love that you can access the SD card without removing the back and the battery. I wish more phones did this. It's a tradeoff, the card is safer under the battery, but I like the flexibility.
Do you switch out cards all that often? I seem to put one in and forget about it for the most part.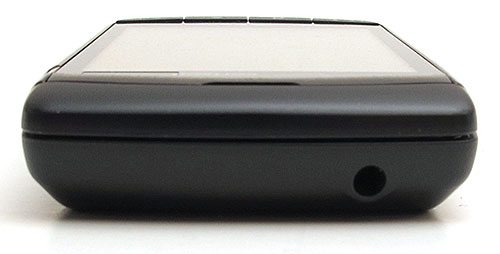 The top edge has a standard 3.5mm headphone jack.
In hand, the LG Ally feels pretty solid, but it does flex and creak a little bit if you preform the Gadgeteer squeeze test.
OK, here is my true confession. The Ally comes with a screen protector on it. When I first started using it I found the touch screen response to be a little disappointing. Then these bubbles started to form. I contacted my Verizon rep to let them know I had a dud. Well, actually I just forgot to take off the screen protector that was there for shipping. It's not like other phones, no little tab to make it easy (and obvious). Once I removed it everything was better.
True story #2: Last night I emailed Bryan to ask him if his Ally's display felt odd like it had tiny little bubbles on it. Bryan told me it was a screen protector. It definitely wasn't obvious that a protector was installed. 😉 
Keyboard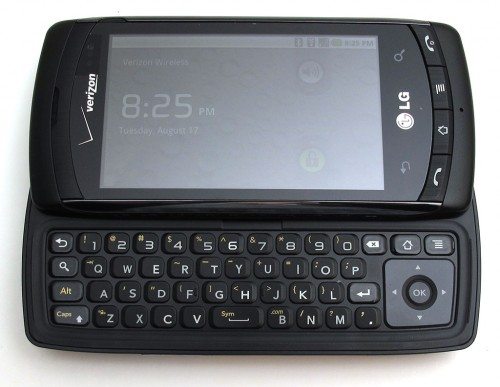 This is the best keyboard I have used on an Android phone. Now this is definitely an issue prone to personal taste, but the keyboard has nice key travel (for a mobile phone), has dedicated number row (important for me) and nice navigation pad to the right. I, unlike Julie, like the keyboard on my G1, and in my opinion, no Android phone had a better keyboard until this one. You'll notice that the spacebar is between the "V" and "B" key. I thought this would be hard to adjust to, but I had no issue.
I agree with you. I like this keyboard too. I think it's better than the keyboard on the new Droid 2. The dedicated number row is wonderful! I'm not usually a big fan of joystick style nav pads, but this one seems to work just fine.
Camera
I really like the fact that the cameras built into phones are getting better and better all the time. Since I always have a phone with me, I now always have a camera. Of course I wouldn't use a cell phone camera as my primary means for capturing photos, but always having one is very handy.
There is nothing special here. I do like the LED flash. It is a 3MP camera, and the pictures are good, but nothing special. I guess it is a sign of the times that a 3MP camera with flash as an add-on to a phone is nothing special.
Exactly. As long as it is capable of good macro shots, then I'm happy… this is a must have for my magazine idea snapping activities in book stores. Here are a few sample images including one of a magazine page. Click to see the full sized image.
Making and Receiving Calls
The physical call send and end buttons are a very nice addition to this phone. With all the touch screen phones out there, it's a big pain to have to swipe the screen just to answer a call. With the LG, you just press the button. It's easy to do even if you are wearing gloves.
Call volume and audio quality both get a thumbs up from me. As a phone, the Ally gets the job done with no problems at all.
LG-Enhancements
Manufacturer-enhancements to the Android OS are a little controversial. Some folks love them, others hate them. I am a big fan of the HTC Sense UI, not so much of the Motoblur. I like the LG enhancements, partly because they are subtle. I also love that you can turn them off.
Here is a shot of the standard Android Home screen: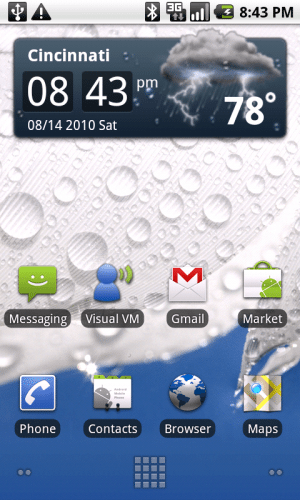 If you choose the LG Home you get this: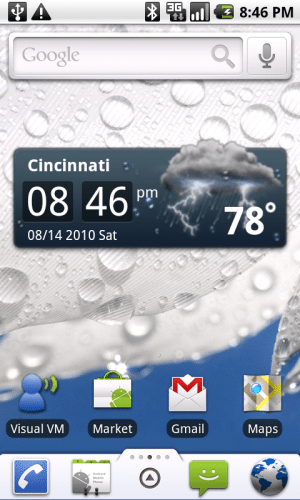 Notice the extra icons at the bottom. It is quick access (from left-to-right) to Phone, Contacts, Messaging, and the Browser. I saw no way to change the applications. That's a shame since you don't need the Phone icon with the physical call button available.
The place that has some really nice enhancements is the application tray. When you tap on the arrow, you get your applications, but now they are in groups: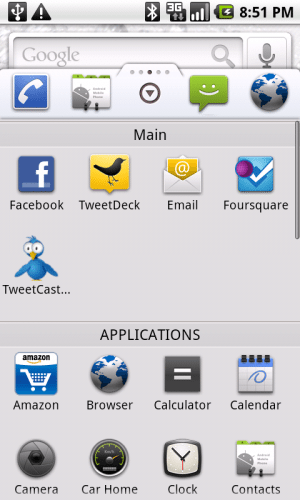 I created a Main group to move applications into. It's nice to be able to group your applications in this screen.
I'll admit that I'm still new-ish to Android, so coming from the iPhone, I'm not used to the one huge scrolling screen of app icons. I want folders. But better folders than what the iPhone offers. I'm wondering if there are apps or other ROMs that allow this?  That said, I do like that the Ally allows application categorization. I suppose that is the next best thing to folders. But it would be nice to have an easy way to hop from category to category. Because if you have a lot of apps installed, you'll be scrolling up and down to find them. A nice drop down list of categories would be nice.
With Android you get multiple home screens. From my minor experience with my wife's iPod Touch this is similar on the iPhone. The big difference is the ability to organize the icons as you please, widgets, and folder.The Ally has five screens you can move two. The main one, two to the left, and two to the right. You can create folders with a long press on a blank space on any home screen. The application tray is just a place to access all the applications. I have used folders on home screens since I started with my G1.
Doh! Thanks for the tip, I knew about the multiple home screens, just not the folder option.
Responsiveness
I have been spoiled by playing with the high-end HTC Incredible and Droid X. This cannot compete with the smoothness of those phones, but I found the phone to be sufficiently responsive, and definitely better than my G1.
I've been playing with the same phones as you and I did notice the difference between the Ally's 600mhz processor snappiness and the Droid X, Incredible and Droid 2 1Ghz processor snappiness. But I wasn't gritting my teeth from having to wait a few seconds for an app to load. As an entry level Android smartphone, it's very decent. Actually, isn't the speed of the Ally the same as the original Motorola Droid?
Conclusion
In my opinion, the LG Ally makes a great little entry level Android smartphone. The $49.99 price is a bargain. Sure, this phone isn't a speed demon, but it has enough features (WiFi, microSD slot, good camera and sliding keyboard) to make it a worthy choice for someone trying to decide if a smartphone is the right choice for them.
Product Information
Price:
$49.99 with 2yr contract / $369.99 without contract
Manufacturer:
LG
Retailer:
Verizon Wireless
Pros:

Price
Call send / end buttons
Keyboard layout with dedicated number keys
Camera has very good macro capability
Call quality / volume

Cons:

Slower processor than the big boys