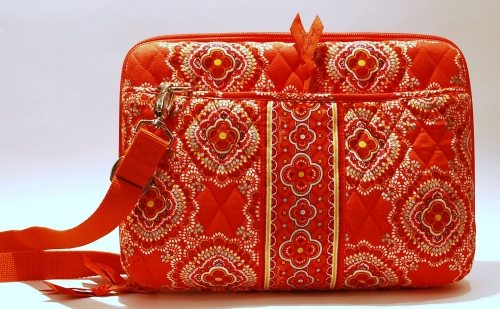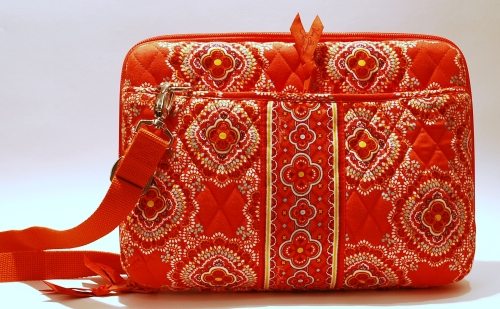 If you've read the other entries in my unofficial iPad cases series, you know that my husband, Butch, and I both have iPads.  We both use the Belkin Grip Vue case, but we both wanted sturdy cases to further protect the iPad while travelling with it.  Butch found that the Levenger Grid-It Netbook Case worked well for him.  It would work equally well for me, but I wanted something a little different and a little more "fun".  I already use Vera Bradley purses and accessories, so I thought I'd try one of their Mini Laptop Cases for my iPad.  It should protect my iPad and allow me to indulge my inner girly-girl.
I chose the Mini Laptop Case in the Paprika pattern to match the Tech Case I had received as a gift.  There are a variety of current Vera Bradley patterns to choose from; you can view them online or at your local Vera Bradley retailer.  Some are more sedate, some are wilder (believe it or not!), but none will work for men.  Some women won't like them, either.  (That's okay – more for me!)
The Mini Laptop Case has hard sides, and it is covered in the standard, quilted cotton fabrics used by Vera Bradley.  Branding consists of one label sewn in the interior, and the Vera Bradley name is also hidden in the fabric pattern, as always.  There is an adjustable, removable strap and metal hardware for connecting it.  There is no grab handle.  The case closes with a double zipper.  All zippers have Vera Bradley ribbons as decorative zipper pulls.  I left them on for the pictures for this review, but I always take the ribbons off.  They have sharp edges, and they are very "scratchy".  They also keep the zipper tabs from laying down flat.
The Mini Laptop Case is a "horizontal" case.  The case is 11.5" X 8" X 2".  The strap adjusts from about 29 to 51 inches long.   It is attached to the front on one end and the back of the case on the other end for balance.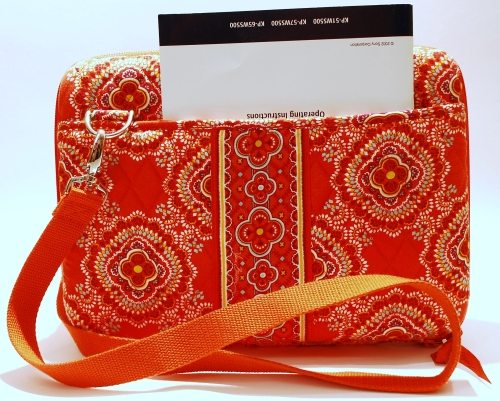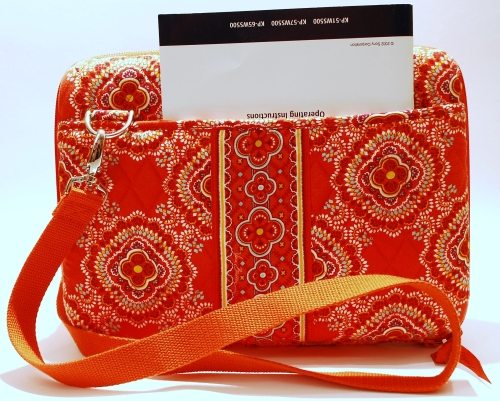 The outside of the case has a zippered pocket on the front and a slip-in pocket on the back.  Each of these pockets runs the length of the case.  Both are about 6.5" deep.  I can easily fit my headphones in their storage case, the charging cable and power brick for the iPad, and my Vera Bradley Tech Case containing my iPod touch, polishing cloth, and iBend stand inside the zipper pocket.  (You can see the front zipper pocket in the lead photo.)  The open pocket could hold about as much as the zipper pocket, but things wouldn't be secured in there.  I'll probably use the open pocket for folded papers or small notepads.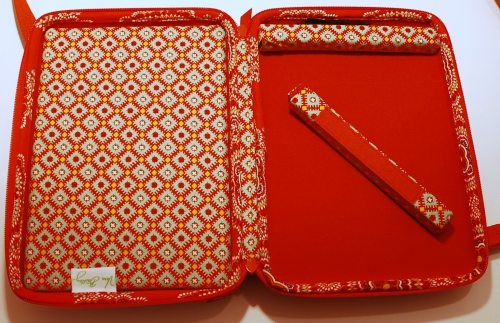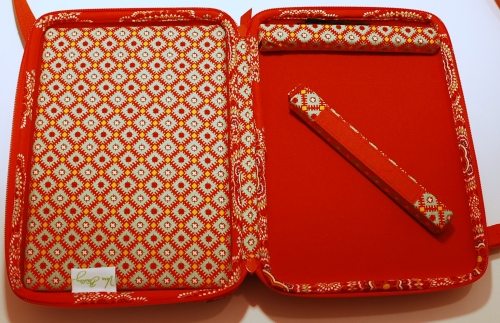 Even though it is named the Mini Laptop Case, Vera Bradley describes it as a case for a portable DVD player or similarly sized devices.  It may not be deep enough inside for some netbooks.  There are two fabric-covered dense foam bars that attach with Velcro to the velvety bottom fabric to adjust the fit of your device.  The inside of the top is lightly padded to cushion and protect your device.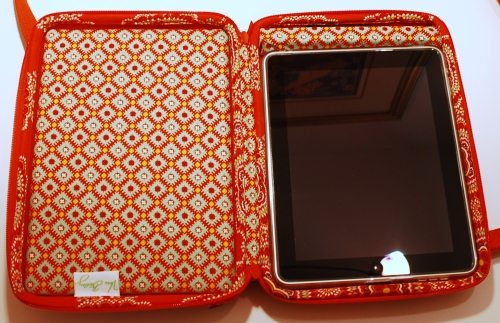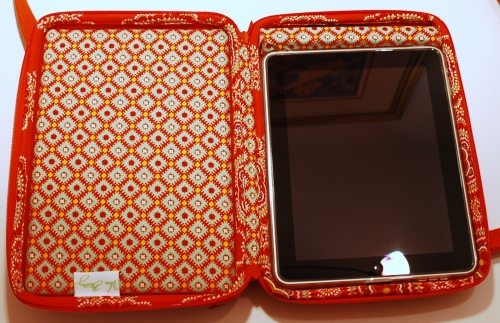 I found that the iPad in the Belkin Grip Vue case fits beautifully inside the Mini Laptop Case.  I just added one of the foam bars at one end, and the iPad doesn't move at all inside the case.  There are no straps to secure the iPad in place, but I've had no trouble with it falling out if I set the case down on a table with the open-pocket side down before unzipping.
I like the Vera Bradley Mini Laptop Case for my iPad.  It works great when I want to carry just the iPad in the Mini Laptop and a small purse with my essentials.  When I need to take along more, it fits inside my Vera Bradley messenger bag with room for my small purse, a small camera, and other gear.  It will also fit inside my Tom Bihn Zephyr bag with my laptop when I need to take everything.
Some of our links in posts like this one are affiliate links, which means that we may receive a small commission on purchases at no cost to you.
Product Information
Price:
$48.00
Manufacturer:
Vera Bradley
Pros:

Sturdy, protective case
Room to carry accessories and other items

Cons: