We use affiliate links. If you buy something through the links on this page, we may earn a commission at no cost to you. Learn more.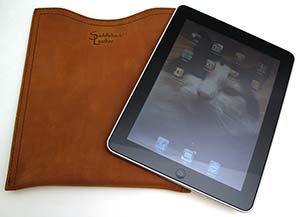 After one month, I'm still loving my iPad. 90% of the time it's left sitting on my coffee table at home, but the other 10% of the time I carry it with me to other locations via my gear bag. I haven't found the perfect play through case for it yet and am not sure I ever will. I've pretty much become a caseless person these last few years. I like to use my gadgets naked (the gadgets, not me). But that doesn't mean I don't want to protect my favorite gizmos when I'm transporting them from location to location. That's where a good sleeve comes into play. Today I want to show you a sleeve that will probably outlive anyone reading this review. It's the iPad Pouch from Saddleback Leather Company.
Most of the images in this review can be clicked to see a larger version.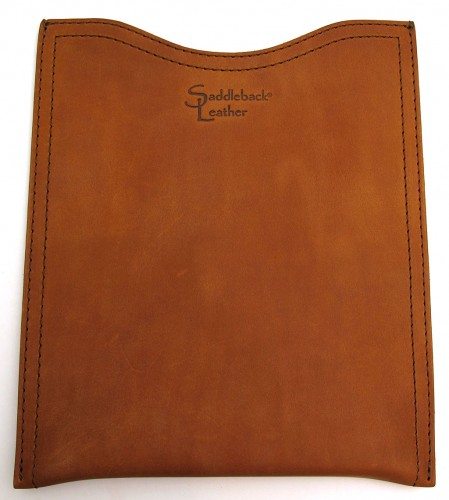 The Gadget Pouch Large as Saddleback calls it, is made from one piece of 4 – 5oz full grain boot leather. It's stitched on two sides to create a 8 ¾" x 10 3/8″ ((22.2cm x 26.4cm) sleeve. It is available in several colors including Tobacco Brown, Carbon Black, Dark Coffee Brown, and Chestnut. I was sent the Tobacco Brown version of the sleeve.
The only marking on the sleeve other than the natural scars and scuffs in the cowhide is the Saddleback Leather Company logo.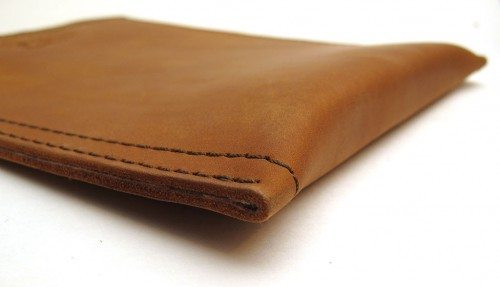 The image above gives you an idea of how thick the leather is that is used to construct this sleeve. Industrial marine-grade U.V. resistant polyester thread has been used to sew the two sides.
From the quality of the leather, to the stitching, the workmanship of this pouch is top  notch.  I was unable to find any defects its construction.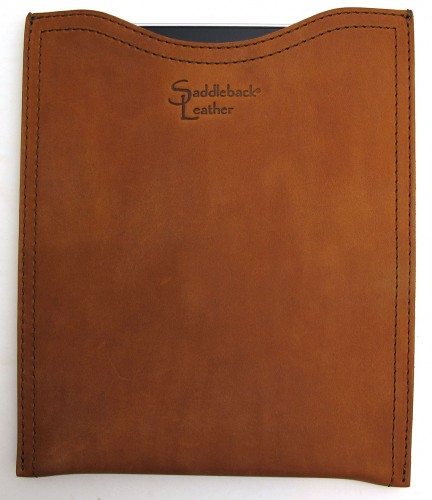 Never miss one of our posts again. Sent MON, WED, and FRI with the latest gadget reviews and news!
The iPad slides into the pigskin lined sleeve from the top opening and fits like a glove. It's not too tight and not too loose. It fits just right. I didn't find it difficult to insert or remove the iPad.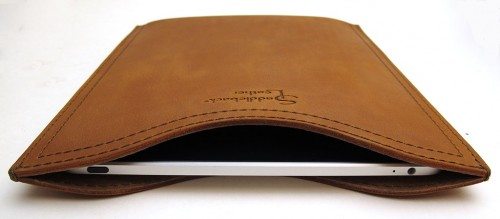 My sleeve is still really new, but it will eventually lie flat once it has had time to break in. This sleeve will protect the iPad from everyday wear and tear while looking really nice doing it. I really love the natural look of all of Saddleback Leather's products. There is something about them just feels more 'real' than all the mass produced bags on the market.
The only down side to this product would be that it does add some bulk and weight to your iPad. The sleeve alone weighed in at 9 oz. on my electronic scale. Add the iPad and you're up to 2lbs. If that doesn't bother you, then grab one for your iPad. It will be the only sleeve you'll ever need.
Note: The links to Saddleback Leather Company on this page are affiliate links. If you use one of these links to make a purchase, we will earn a small percentage of the sale, so we appreciate it if you click through.
Product Information
Price:
$55.00
Manufacturer:
Saddleback Leather Company
Pros:

100 year warranty
Tough good looks
Fits the iPad like a glove

Cons:

Add some bulk to the iPad