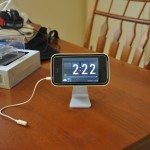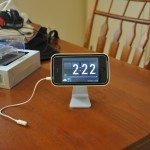 The fine folks at Pyramid Distribution have sent the iClooly Alumi Stand for iPhone 3G/3Gs for review.
It has a metal foot patterned after the iMac and Apple Cinema Display, with a grey plastic enclosure mounted to encase your iPhone and hold it above the surface of your desk. At first glance, it looks for all the world like a tiny little iMac. While the illusion of an aluminum stand is there, be aware – I don't think there's any aluminum at all in this stand. The frame that holds the iPhone is all plastic, and though the metal of the footed base is silver and textured, it doesn't have the feel of aluminum. But it all sure looks the part.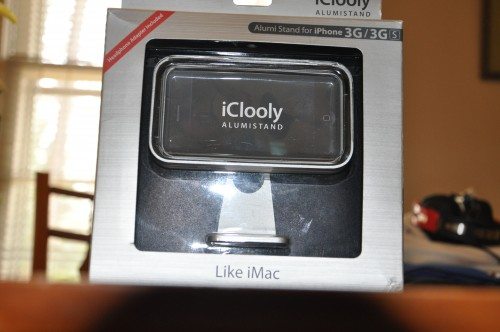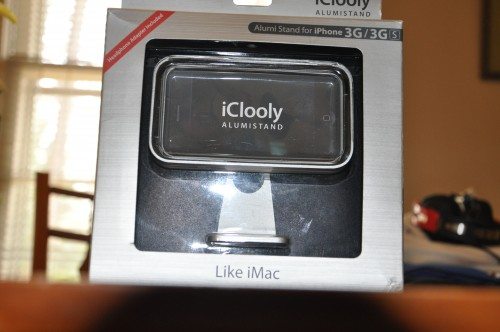 The stand, however, is simple in concept, and fairly well executed. One of the possible problems iClooly could have encountered in the design is that the metal frame, added to the weight of the iPhone would have made the assembly top-heavy. By making the frame out of plastic but textured to look and feel like aluminum, you have the same look, without the dangerous weight imbalance.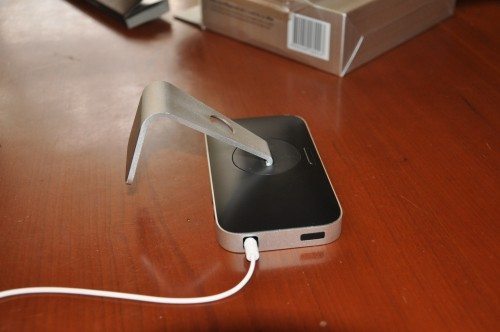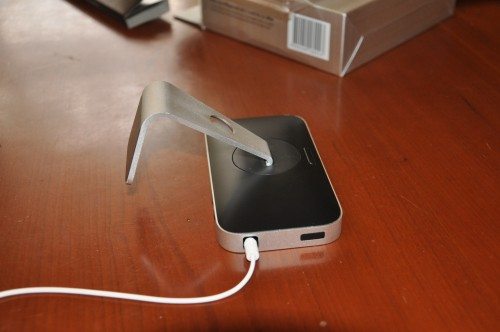 Removing the iPhone from the stand was my biggest worry on first glance, but they have thoughtfully included a button on the back that ejects the iPhone – sort of. It at least gets the iPhone started out of the holder. Being plastic, it doesn't work with a great deal of precision, but it does the trick.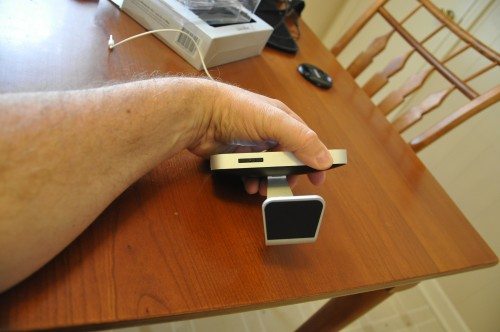 Included on the stand are buttons that trip the volume level and power buttons on the iPhone, as well as pass-through ports for the audio out and syncing port. A space is provided for the ringer mute, but it cannot be toggled while the iPhone is in the stand. Other than that, every function of the iPhone is able to be accessed. A short audio cable is included, in case your speakers or headphones have a large plug.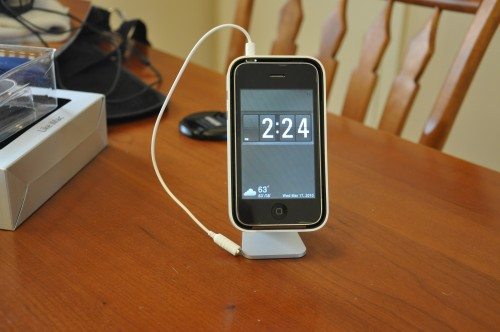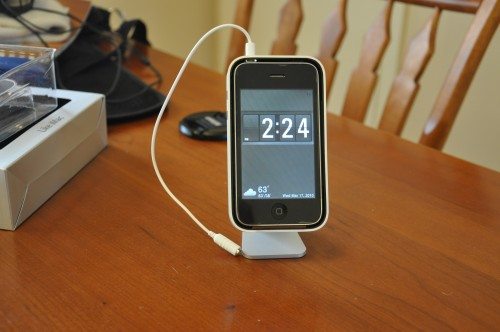 In use, having your iPhone elevated above the items on your desktop is a nice benefit. I usually have mine just lying on the desk, or on a slightly angled ramp-like stand I cobbled together from an old memo-pad holder, but having it standing up in this fashion means I can run something like Rise & Shine (from Kensington) as a desk clock without a problem.
The stand retails for $30, which, to me, is quite a lot to pay for just a stand to hold your iPhone. But Apple's own dock also sells for $30, and the Apple universal dock (which includes line out, a remote, power plug and cable, and adapters for most iPods/iPhones) is $50, so these folks just might be in the ball park.
Overall, I give it 4.5 stars. 5 for idea and execution, 4 for workmanship and pricing.
Product Information
Price:
$30.00
Retailer:
Pyramid Distribution
Pros:

Looks great, especially if you have an Apple display or iMac of similar design
Securely holds iPhone, and will not tip over
Includes cable and eject button

Cons:

"AlumiStand" has virtually no aluminum in it
Plastic feels cheap, and would not stand up to rough use
A bit on the pricey side