We use affiliate links. If you buy something through the links on this page, we may earn a commission at no cost to you. Learn more.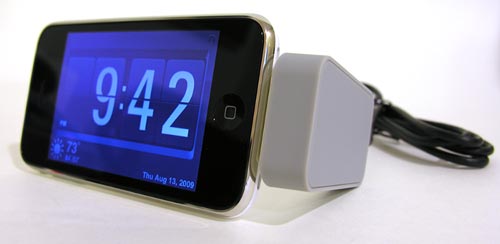 How many of you use your iPhone as a replacement for a bedside clock? With all the clock applications in the app store, or even the built in clock app, it's an easy transition to make. The only issue would be leaving the app running all through the night so that you can easily check the time if you wake up. Can you say dead battery? Kensington has come to the rescue with a product that is part software and part hardware. It's the Nightstand iPhone charging dock and clock / weather application. Interesting concept, but do you even really need it? Let's see…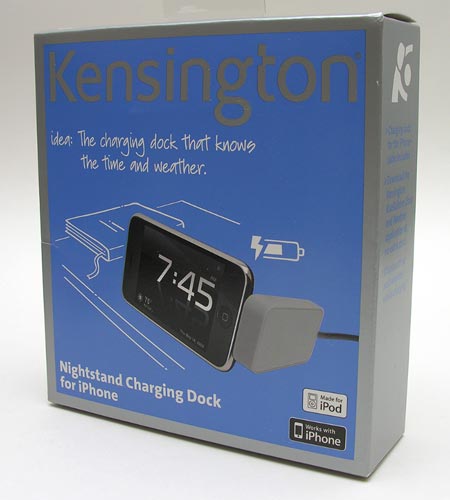 I'm kind of a clock fanatic and am always on the hunt for the ultimate clock. One with a bazillion alarms, buzzers, etc, so that I can completely customize my morning routine. When I saw the $40 price tag for the Nightstand, I hoped the features would impress me.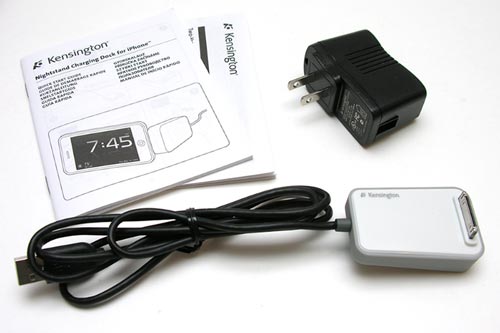 Package Contents
USB charging dock
USB AC wall adapter
Quick start guide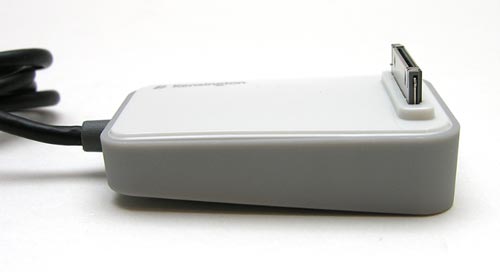 The charging dock is a one piece wedge shaped module that is weighted and has non-slip rubber covering on the bottom and sides.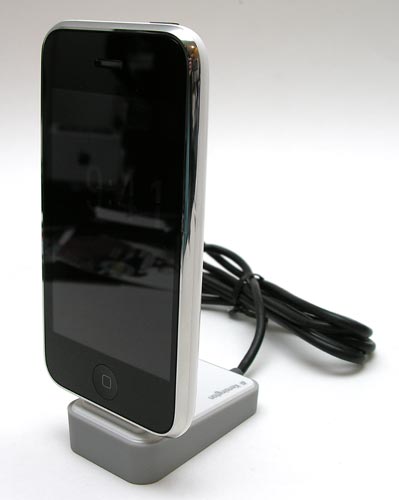 When connected to the dock, your iPhone or Touch can be oriented either in portrait (shown above) or landscape orientations (shown below).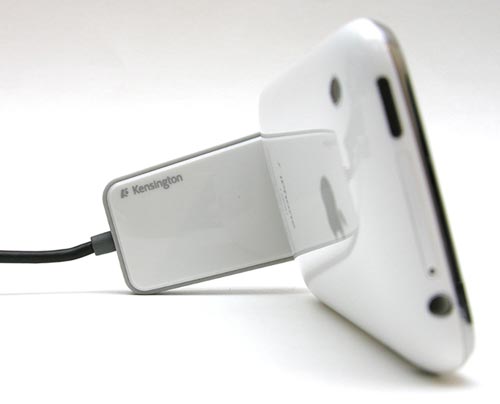 In either orientation, the rubber covering on the dock keeps your device from sliding around on your night stand or desk. As you can see from the image above, the dock keeps your device at the optimal viewing angle when in the landscape orientation.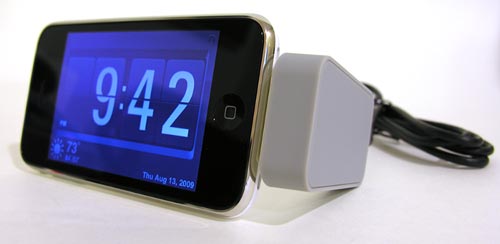 The USB cable attached to the dock is 4 feet long, which may be too short for some people.
The other half of this product is the clock application which is called Rise&Shine. It's a quick and free download from the app store.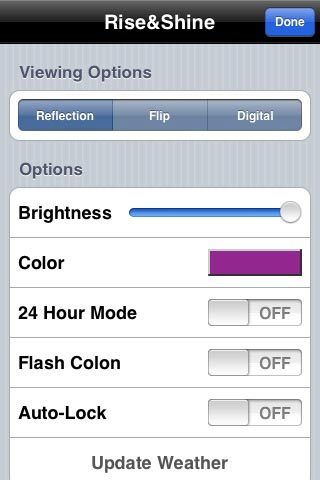 The application is very simple. Your only options are clock type, brightness level, color, 24hr mode toggle, flash colon toggle and auto-lock toggle.
There are three clock styles: Reflection, Flip and Digital. All three can be used in either landscape or portrait orientations. Reflection and Digital can be customized with color. Flip is stuck at black and white.
As far as clock features, I was hoping for a bunch of alarm options. Unfortunately the Rise&Shine app doesn't even have one alarm feature. If you want an alarm, you have to be set in the stock clock app. Bummer. 🙁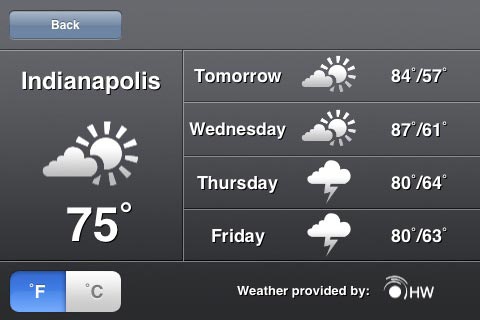 The Rise&Shine app does incorporate one additional feature though… a 5-day weather forecast that is based on your location. Again, it's pretty simple…
I tried using the Nightstand on the nightstand in my bedroom for a few nights and didn't have much luck. Although it worked fine as far as keeping the iPhone charged and powered on, I wasn't able to tolerate the amount of light that the display projected. Even with the brightness turned completely off, to where you couldn't easily read the time on the clock, it still lit up the room. I like my bedroom to be pretty dark, so it just didn't work out for me.
But even if the light wouldn't have been an issue, I'd have to say that this product is pretty much a waste of money. Why would you spend $40 on an iPhone charger cable and a USB AC adapter, when your iPhone comes with both? Granted, the cable doesn't have a nifty built in stand like this one does, but you can easily hack something together with some LEGO bricks or even a piece of cardboard.
I usually like Kensington's products, but this time they've disappointed me. My advice is to skip this one and go the DIY route. And if you do go DIY, tell how you're using your iPhone as a bedside clock.
Product Information
Price:
$39.99
Manufacturer:
Kensington
Pros:

The charger doubles as a stand

Cons:

Too expensive
Unnecessary purchase
Alarm features are access through the stock clock app