We use affiliate links. If you buy something through the links on this page, we may earn a commission at no cost to you. Learn more.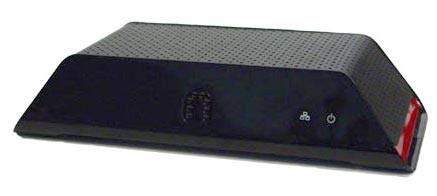 Let's get right to the nitty-gritty.  The Slingbox Solo lets you watch TV on your computer when you are not at your home.  (For a few bucks more you can watch on your cell phone.)  Why in the heck would anyone ever want to do that?  Well there are those who would love to do that.  I'm one of those.  And the Slingbox – well, it just works.  When I'm at work, trapped in an interminable meeting, waiting during a doctor's appointment, on a lay-over at an airport, or working away from the office, having CNN show up on my laptop just appeals to me.  Of course, you require an internet connection to receive the stream, but I'd still rather watch Wolf Blitzer on the internet during a waiting game than browse through idiotic bloopers on YouTube.
The Slingbox Solo sells for $140 and requires a broadband internet connection at your home.  The box can then control your VCR or DVR (and, hence, video stream) over that connection.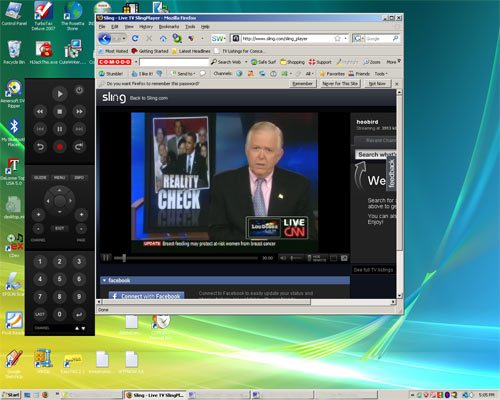 The Slingbox comes with a power wart, Ethernet cable, one (yellow) composite video cable, two (red and white) audio cables, and a set of infrared controllers.  Everything except the instructions and set-up software came with my kit.  I had to go to the web site to download the instructions and download the controller software.  Given how smoothly the thing works and installed and other high marks for this product, I thought it odd and annoying that they did not include these items in the box.  In fact that is one of the reasons that I imagined that the setup of the thing would be a challenge (I set aside my weekend for the project).
However the technical setup was very straight-forward, if you are used to setting up VCR's, or game consoles, you'll know instinctively what to do and the instructions (printed from the Web site) simply underscore the simplicity.  In fact the rear of the Slingbox itself is also fairly simple.  I had a few problems with the particular brand of internet router that I have  –the Actiontec M1000 with a wireless W1000 module but somehow the system connected itself up properly with the help of the installation software which was as simple as TurboTax to use.  (By the way, I had to connect a hub in order to have a Cat5 connection from the Actiontec to both my PC and to the Slingbox, yet another gadget and yet another needed power source.)  Slingbox also has a chat line which worked well when I had a question about he installation with that particular router.  This makes be think that they are serious about the product.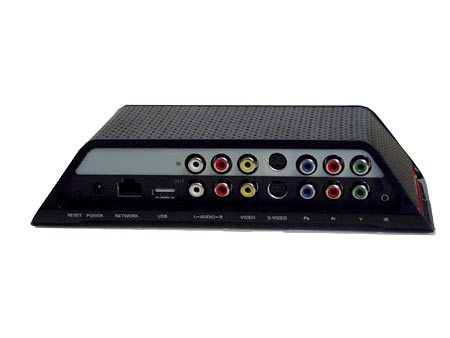 Probably the most interesting piece of the Slingbox is the manner in which it controls your DVR: through a set of infrared modules (see figure below) attached to the Slingbox.  These must be attached to or point to the infrared receiver of your DVR unit.  Again I thought that this would be the downfall of the product, but they work just fine too.  In the photo below the modules are merely placed atop the DVR and are hanging by gravity – I didn't even attach them with the sticky tape backing.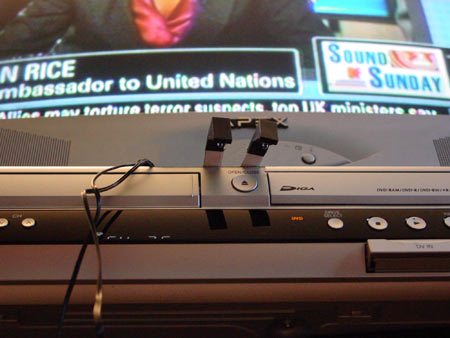 Finally you are required to set up an account in order to login to a web site that will connect you to your Slingbox and your video stream.  This was all accomplished without incident and it was extremely gratifying to see CNN and live video especially on my computer at work.  Finally connection to the outside world!  The resulting view includes the video stream, a mock up of your DVR remote control, and an optional TV guide listing.
As mentioned, the technical set up went fairly well.  As for logistics, however, you will need some planning for this contraption because it needs a (potentially long-haul) Ethernet Cat5 connection and poses as yet-another-box to connect to your probably-overloaded and over crowded video cabinet.  Be aware that extra video, audio, power, infrared, and now an Ethernet cable must all be contended with.  And the 800 pound gorilla in the room will still be the need for that long-distance Ethernet cable, one that reaches from your internet connection to the Slingbox.  Now you can get around this gorilla in a few ways.  First, Slingbox sells the SlingLink – a product that can route your Ethernet connection through the power lines in your home and you could tap into the connection there.  You could also get and connect a wireless bridge to the Slingbox (yet another gadget) to allow for a true wireless connection.  These require more cables and more power.  So, for the most part, you are potentially stuck with a long cable running from your internet connection to the Slingbox.  That, however, doesn't deter me; I still like this thing even though right now I have to walk over the Ethernet cable.  I may breakdown for a wireless bridge in the future, but right now this works for me.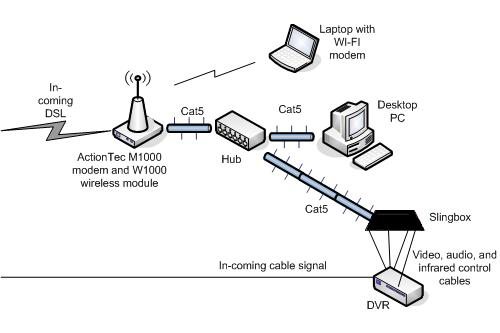 The biggest down side to my particular set-up is that my DVR is about two years old and the Slingbox only supports a certain number of units.  I never did find a list of compatible DVRs on the Slingbox web site.  Although my DVR was not one of the supported DVRs, the Slingbox can mimic the basic controls such as channel up/down; record and play.  I cannot, however, program the unit over the internet.  For that I'd need a newer model DVR.  That is not likely to happen for a while but the mere fact that I can have access to TV over the internet right now compensates for that.
Something else that is not apparent from the various hype pages about the Slingbox is the fact that the computer you want to view your video stream on will require either a thick-client stand-alone program or a plug-in download for your browser.  Not a huge problem for most of us but if your computer is locked from downloading new software you may have an issue there.
A couple of other things that could be considered by the company:  showing the channel up and down buttons on the main viewing page (currently only the volume up and down are shown and you need to go to the remote control mock up to change channels); more information on the web site about compatible DVR units; an option to turn off the video and just stream the audio (to save bandwidth); and an option to tune the quality (again in an effort to control bandwidth).
In summary, this is a product for a certain type of person and if you are that type I think you will enjoy it.  If, however, you are on the border about its utility, you may become very annoyed at the Ethernet connection issue raised above.  Given the quality I've seen in the product, service, and software implementation, my guess is that the company will be solving this issue before too long: there are simply too many people with wireless internet and not enough patience to architect a Rube Goldberg approach to getting it connected.  Now if you'll excuse me,  I think Oprah's on.
Product Information
Price:
$140.00
Manufacturer:
Sling Media
Requirements:

Careful thought about connecting Cat5 cable

Pros:

Easy installation
Works as expected

Cons:

Requires long-haul Ethernet cable or connection
Requires installation of browser plug-in
May not support your VCR/DVR model