The Gadgeteer is supported by readers like you! If you buy something through links on our site, we may earn an affiliate commission. Thank you! Learn more.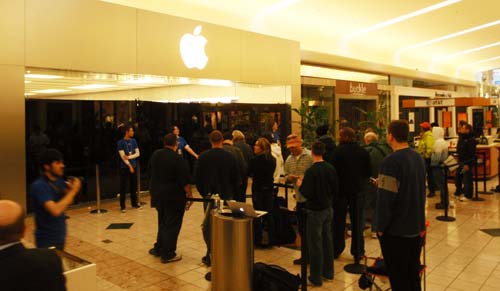 Unlike Julie, I live in an area with six Apple Store all within 15-20 miles of my house. So, instead of having my iPad delivered, I chose to embrace the hype and pick my iPad up at a brick & mortar store. Fortunately, unlike NYC, the line to pick up my iPad did not stretch blocks long but a mere 20-30 feet.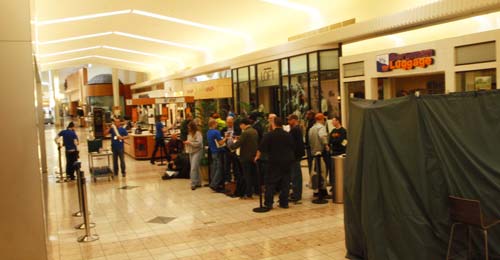 I arrived at SouthCenter Mall (Tukwila, WA) an hour early (0800). There were approximately 25 people in line ahead of me. The first 20 people were in the main waiting area (shown here). The rest of us were asked to wait in a holding pen off the main walkway of the Mall to keep us from clogging the path of early rising mall-walkers. Everyone was excited that the magical day (and our new tech-toy from Apple) was finally here. It was a lot of fun talking with all those waiting about how they were going to use their iPads and the type of accessories they were going to ultimately buy.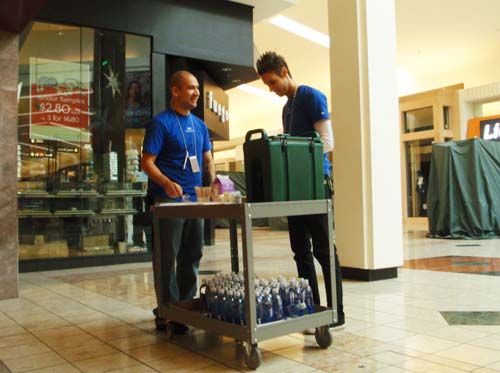 I their usual classy/smooth Apple-style of doing things, the Apple folks had Starbuck coffee, water, Jamba Juice, and cookies for everyone waiting in line.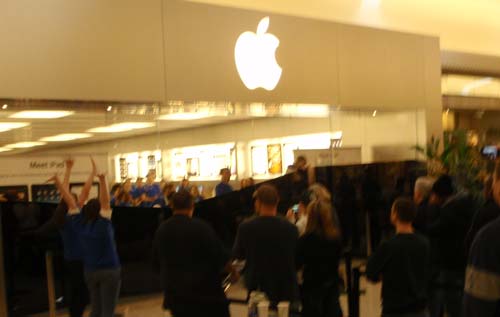 At the t-minus 20 minute mark, the Apple employees did a small, ceremonial iPad unveiling of the new store layout.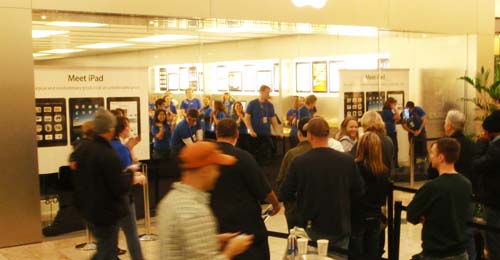 The moment was more subdued than I would have expected but fun enough. The Store had many iPads available for everyone to give them a test-drive.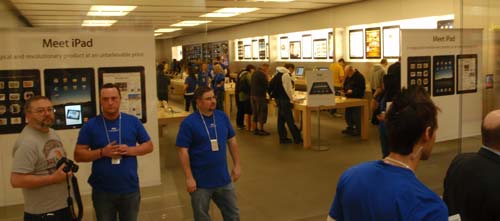 It took about 20 minutes for me to make it up to the head of the line. Once an iPad sales person took me inside, the purchase of my fancy new tech-toy took less than 10 minutes. That time included looking at the limited amount of cases and accessories they had available.
Overall, I enjoyed the experience (and the fact I did not have to wait hours in line) of picking up my iPad in person. Admittedly, by not having it delivered, it cost me two hours of my life but fun none the less. I am glad Apple had all of their logistics dialed in and the process was quick and easy….nearly seamless. You could definitely tell they have learn from the bumps in the road during previous iPhone and iPod launch days.