We use affiliate links. If you buy something through the links on this page, we may earn a commission at no cost to you. Learn more.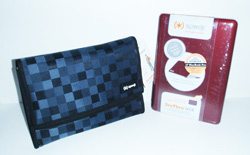 Where Julie protects (covers up) the dings and scratches she puts in/on her MacBook Pro with stickers, I prefer to protect my laptop with something more substantial. Most recently I have been using the Vaja i-volution Leather Suit I reviewed late last summer to protect my Unibody MacBook. But while the Leather Suit is very protective, it adds a pound of weight to your laptop and some would argue that it impedes heat from dissipating. Speck produces many products engineered to protect your precious tech equipment. Recently they have added a new variant of their SeeThru line of form-fitting shells for MacBooks; the SeeThru Satin case.
Meredyth reviewed Speck's original SeeThru case for the MacBook Pro back in 2006. Since then, Speck has continued to tweak this form-fitting case to accommodate Apple's design changes in their laptop line. Last year, Speck released the SeeThru case in Satin. The semi-translucent plastic case looks pretty much the same, but has been given a soft, rubbery texture and feel. Speck describes it as having a 'a grippy edge' that is 'silky-soft to the touch'.

As you can see, the SeeThru Satin case is actually two pieces, one covers the top and the other the bottom of your laptop.Speck explains it best: the 'SeeThru Satin is made of our special hard polycarbonate plastic with an added soft-touch rubberized exterior coating to give it it's silky and grippy feel'.

Installation was literally a snap. Speck recommends cleaning the exterior of the MacBook to prevent anything to get between the laptop and cover that might scratch its aluminum casing. Speck even goes so far as to include a dedicated cleaning cloth to make that step even easier.

Once the exterior is cleaned, the SeeThru pieces click into place. They are held securely in place by small tabs along the edge of each of the pieces.

The case fits my MacBook perfectly. It is 100% form fitted. Speck has engineered venting on the bottom of the case for heat dissipation and rubber feet to keep the case from sliding around.

The leading edge of the SeeThru Satin case provides access to the latch opening and the power indicator.

The back of the case covers the back edges of the unibody MacBook but leaves the hinge exposed so that it may operate correctly.

The right side allows access to the disc drive slot.

The left side allows access to the power, ethernet, usb, video, mic, earphone, and lock ports.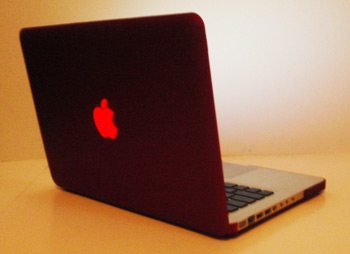 The SeeThru Satin case is available in black, pink, purple, and red; all adding some color to your MacBook while allowing the world to see the Apple logo shining through. The case feels great to carry around. While this case does not provide as much protection as Vaja's i-volution Leather Suit, it does provide very good protection at a fraction of the weight and cost.
Speck TuckPack Slipper Case for 13″ Laptops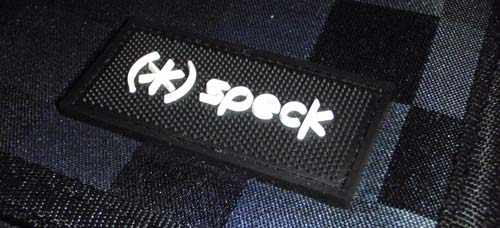 If you are bolder than I am and prefer to use your laptop without a form-fitting, 24/7 case/shell you might choose to transport your computer in a slipper case like Speck's TuckPack.

The TuckPack is a well made, padded slipper case. The exterior is a rugged nylon with double stitched piping around the edges.
Features:
Ideally sized to hold up to a 13″ MacBook or similar-sized notebook
Compact, lightweight, stylish notebook protection
Slim design ideal for carrying or placing inside a bag or pack
Adjustable, removable, padded seatbelt-quality shoulder strap
Durable exterior with double-needle stitched bindings
Thin front inner pocket for quick access to documents
Duraflex high-performance buckles
Secure velcro closure
Holds notebooks sized up to 1.5″ thick, 9.5″ deep, 13.5″ wide
One year Speck limited warranty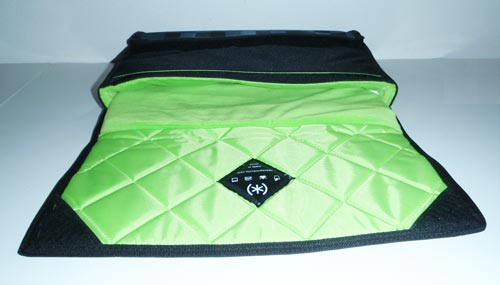 The interior has silky soft lining. The flap is nicely stitched as well.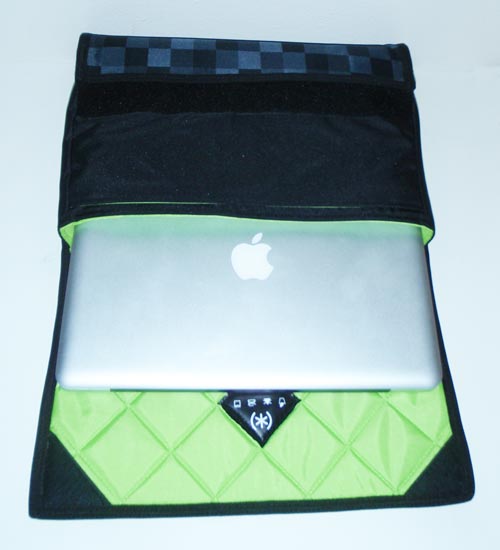 My 13″ MacBook easily slips inside.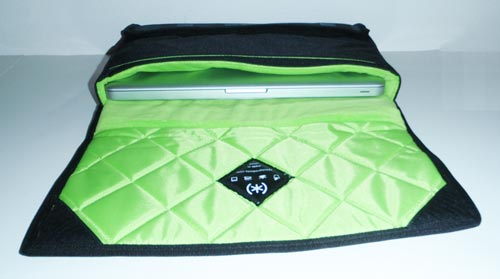 The TuckPack is sized to hold up to a 13″ MacBook or similar-sized notebook/netbook. The interior material is silky soft/smooth and provides good padding on all sides of the laptop.

The TuckPack is really only designed to carry a naked 13″ laptop/MacBook. When I put my MacBook with the SeeThru Satin inside the TuckPack the fit was pretty tight.

The TuckPack is available in three designs:
Speakeasy Grey Pinstripe
Restart Greyscale Pixel
Velocity Plum Stripe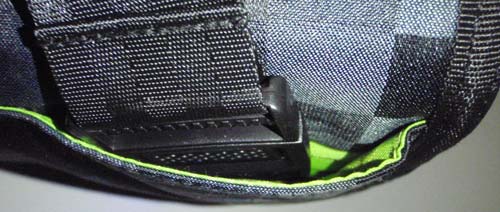 Speck has engineered hidden clips to the back of the sleeve to attach a shoulder strap for additional carrying choices (over your shoulder versus tucked under your arm).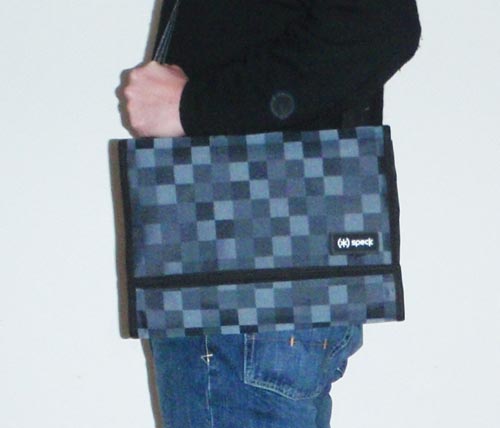 As slipper cases go, Speck's TuckPack is a good bang for the buck. At $40, this padded sleeve provides a great, safe, protected way of carrying around your 13″ MacBook or MacBook Pro.